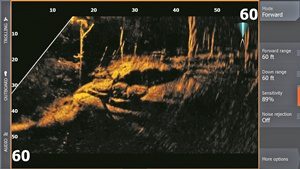 LOWRANCE, a world-leading brand in fishing electronics since 1957, announced the launch of its new, high-resolution ActiveTarget Live Sonar system recently, revealing live-action views of fish moving in and around structure as they respond to lure presentations.
This new technology delivers top-of-the-line live sonar functionality to the high-resolution HDS LIVE Ultimate Fishing System, as well as HDS Carbon and Lowrance's recently introduced Elite FS displays – providing ActiveTarget Live Sonar connectivity with a wider range of displays and pricing options.
The ActiveTarget Live Sonar views show high-resolution images of fish movements in real time and in detail. With this immediate feedback, anglers can adjust the presentation to trigger a strike and know if more than one predator fish is active in the area. Offering three viewing options, ActiveTarget can be set to Forward, Down or Scout mode.
Forward and Down views allow anglers to track fish in front of or below the live sonar transducer, and Scout mode delivers an ultra-wide, overhead view of structure and fish activity in front of the transducer – perfect for finding bait balls and big schools of fish.
ActiveTarget is a perfect complement to the Lowrance Active Imaging 3-in-1 sonar, which includes extreme high-resolution SideScan and DownScan Imaging views for finding structure, and the superb target separation of Lowrance CHIRP Sonar. ActiveTarget Live Sonar complete with black box module and transducer is the recommended retail price of $2,299.00.
For more information on ActiveTarget, HDS LIVE, Elite FS or the full range of Lowrance products, visit lowrance.com