It's been a very busy spring on Lake Monduran.
A great population of fish and reasonable weather has meant that many anglers had the opportunity to land some lovely fish.
With a lot of reports of fish between the 100-110cm range and a few 120cm beasts being landed as well.
As always though, not everyone has been as lucky, but that's the nature of barramundi fishing.
To ensure you aren't one of the unlucky anglers, there a few things you need to be doing to increase your chances.
For people who don't have the time to do regular trips to the lake, it is important to give yourself the best chance of locating fish by purchasing the best quality sounder possible.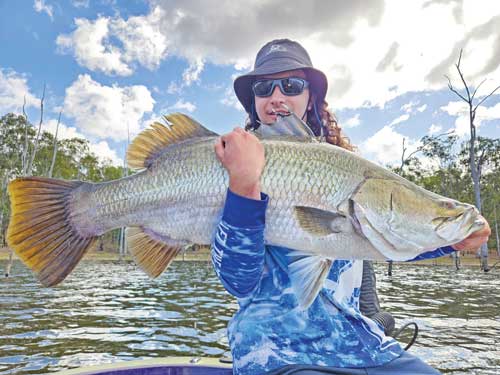 Being able to find and be confident that you are on to decent numbers of fish is the first step to a good barra session.
All sounders will work in a way, however there are light years between the cheaper models and the more expensive brands.
In my experience, the Humminbird side scan – such as the one on my Helix 12 – is the best you can get and is a vital tool in locating the better numbers of fish.
Points, flats and backs of bays will be your go-to in November as the water really starts to warm up.
The fish are likely to be very shallow at times in the afternoon and often up on top of weed beds in the back of bays.
Making excess noise when you're in the shallows is a killer when it comes to a pressured waterway such as Lake Monduran.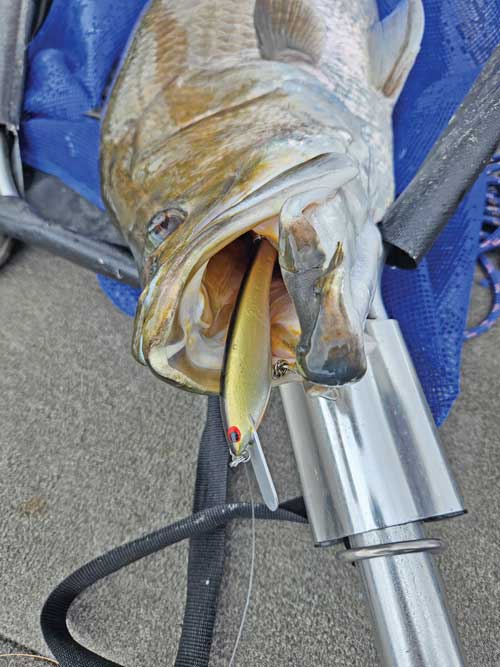 These fish are very aware of your presence, so the less noise you make, the more chance you have of catching good numbers of fish – and more importantly, the trophy sized fish we've all come for.
A good quality electric motor and an anchor or rope to tie on two trees are important tools to staying stealthy.
In windy conditions, your electric motor will often spook fish, so in these conditions tying to trees and anchoring may be necessary.
It is no secret that there are many different lures that will work for barramundi in various circumstances.
One mistake that anglers can make is using a thousand different lures, in particular, lures that they have used for other species but that may not work at Monduran.
There is a heap of information available online and on social media on what lures to use.
A few lures to keep in mind for November would be 100-130mm jerk baits rigged to suspend with a diving depth of 1-2.5m.
Suspending means not sinking or floating and this allows you to keep the lure in the strike zone for longer.
This can be achieved through changing the size and weight of treble hooks and split rings.
It is important to fish these lures very slowly, with twitches and pauses.
Paddle tail plastics in the 6-10" sizes are also very effective on big barramundi through the warmer months.
These lures can be fished anywhere, from a slow wind through to an almost full-speed retrieve when the fish are high in the water column and active.
Putting the above into action should result in success for those heading to Lake Monduran.