THE Moreton Bay Fishing Classic is back for 2022, thanks to the Green Beacon Brewing Co and Wynnum Marine.
With seven days of family fishing fun, Moreton Bay's favourite event will cast off from August 21 to 28.
A lucky winner will walk away with a super cool Stacer boat, Yamaha motor and trailer package – with a few awesome extras – thanks to our friends at Wynnum Marine!
Don't tell anyone… but, you don't need to even catch a fish to win!
And that's not all, the first 50 children to register, score a free rod and reel, thanks to Wilson Fishing.
With daily weigh-ins, weekend entertainment featuring live music, a dash for cash event, on-water displays and plenty of awesome prizes to be won.
Register now at mbtbc.com.au or search for Moreton Bay Fishing Classic to enter.
See you there!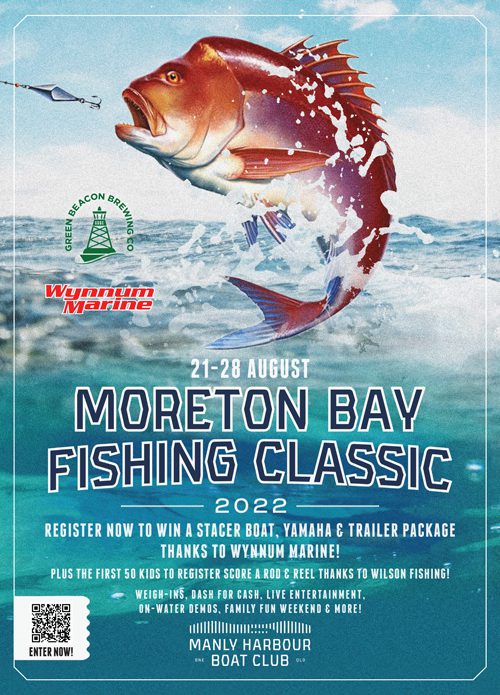 Open category – all ages
Pelagic (Tuna, dolphin fish, mackeral,  amberjack, kingfish, cobia)
1st heaviest overall
2nd heaviest
3rd heaviest
Whiting
1st heaviest overall
2nd heaviest
3rd heaviest
Largest Jewfish
1st heaviest overall
2nd heaviest
3rd heaviest
Threadfin Salmon
1st heaviest overall
2nd heaviest
3rd heaviest
Pearl Perch
1st heaviest overall
2nd heaviest
3rd heaviest
Bream
1st heaviest overall
2nd heaviest
3rd heaviest
Squid
1st heaviest overall
2nd heaviest
3rd heaviest
Tailor
1st heaviest overall
2nd heaviest
3rd heaviest
Mangrove Jack
1st heaviest overall
2nd heaviest
3rd heaviest
Snapper
1st heaviest overall
2nd heaviest
3rd heaviest
Sweetlip
1st heaviest overall
2nd heaviest
3rd heaviest
Longest Flathead (as photographed on a brag mat)
1st heaviest overall
2nd heaviest
3rd heaviest
Previous competition reports here