By the time trout cod were identified as a species in Australia, they were almost extinct.
But, according to renowned fish ecologist Associate Professor Mark Lintermans, thanks to decades of conservation efforts, they are on the verge of being upgraded from endangered to vulnerable.
University of Canberra's Centre for Applied Water Science, Freshwater Fisheries Ecology and Management, Assoc Prof Lintermans has been at the forefront of native fish protection and habitat restoration for more than 30 years.
Up until about half a century ago, trout cod were not even identified as a separate species to Murray cod.
They are currently listed as endangered, and anyone who catches one must immediately release it back into the water with minimal harm or face heavy fines.
As part of an extended interview with OzCast – the official podcast of OzFish Unlimited, Australia's fishing conservation charity – Assoc Prof Lintermans said, "They are a species that was so misunderstood."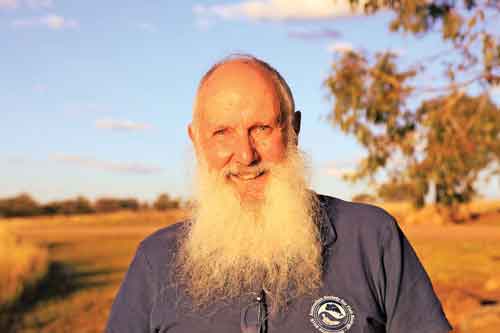 "Trout cod was described as a separate species in 1972 and since then there's been another two cod species described.
"We have four freshwater cod in Australia – they're all threatened.
"A fish is a fish to a whole lot of people's eyes, and they don't understand the subtle differences.
"Murray cod are a yellow-green colour with coarser mottling and trout cod are this bluey-grey speckled colour.
"By the time they were recognised as a separate species, they were in deep trouble and we've been pedalling as fast as we can to try and recover them."
In the 1800s and early 1900s there were commercial fisheries all through the Murray Darling Basin, so huge amounts of fish were going to markets for food after being caught in totally unsustainable ways.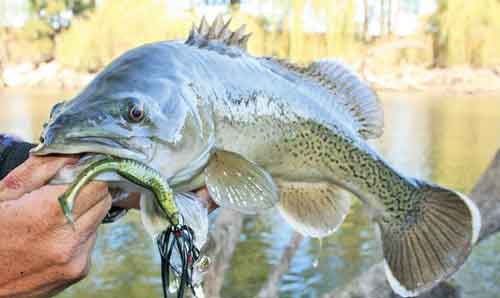 Trout cod disappeared altogether from several rivers in Victoria, NSW and around Canberra in the 1970s.
"They're a great angling species, a bit more aggressive than Murray cod," Assoc Prof Lintermans said.
"If you had the two cod species in one location and you flicked a lure out, trout cod would hit it first and hard.
"People loved to fish for them.
"Back in those days, fish were a limitless resource.
"There were millions of them in the water, so you'd just catch them hand over fist, and that didn't do them any favours.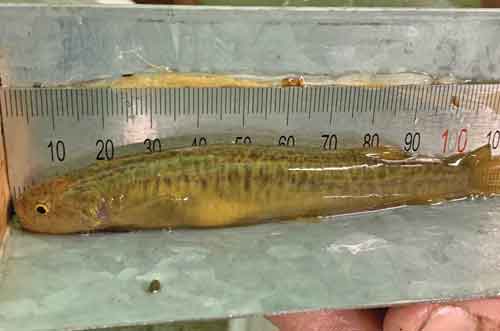 "They tend to occur in slightly faster and deeper water and they're slightly more aggressive, so the remaining isolated populations got hammered harder by recreational fishers, but it was habitat loss and alien fishes that are mostly responsible for their decline."
The major factor that has helped their partial recovery and upward trajectory is that they breed well in captivity, with as many as 40,000 eggs produced by single female trout cod.
"We've been going at it for 30 years, but I think they've improved in conservation status," Assoc Prof Lintermans said.
"They're still listed as endangered, though we did a review about three years ago and we reckon they have improved to 'vulnerable'.
"With trout cod, we started re-introducing populations into small creeks and we would put about 400 fish in a stream.
"All of these re-introduction efforts are a numbers game – it's about how many fish you can put in and how long you can do it for."
Assoc Prof Lintermans has worked extensively with OzFish and other community groups and government agencies in habitat restoration, which is crucial to ensuring methods such as restocking waterways for threatened fish to have a better chance of success.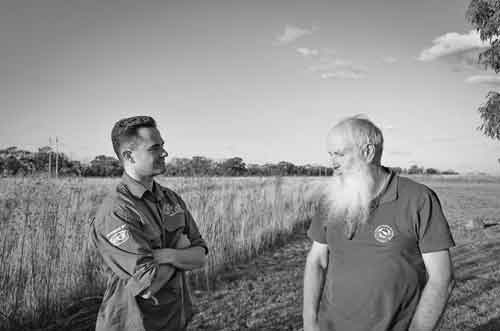 Stocking on its own is not enough, with a project in the Ovens River in northeastern Victoria where about 30,000 trout cod were stocked annually for a decade highlighting how it's not a sure-fire solution.
"In that 10-year stocking program, there were only two where the stockings did really well," Assoc Prof Lintermans said.
"What you've got to do is keep things going for a length of time, so you can hit the good years when the flows and temperature are just right and you're in the 'Goldilocks' zone – everything is just right and your stocking takes.
"If you did it for only two years and they were bad years, then you've missed out, you've failed.
"It's about perseverance, it's about bloody-minded people who just want to keep going."
There's often an outcry when a native animal becomes extinct, though Assoc Prof Lintermans said aquatic species don't get the same kind of attention as their land-based counterparts.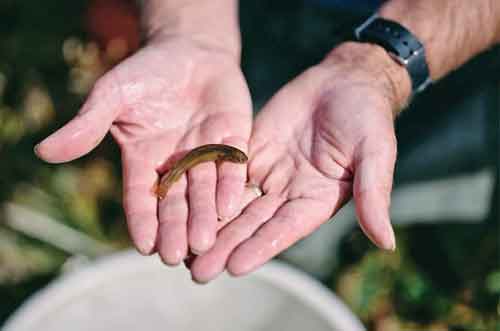 "We have no freshwater fish known to have become extinct in Australia," he said.
"We probably lost some before we knew they were species.
"It's currently estimated that we've described only two thirds of our freshwater fish.
"Some of them we sort of think we know what they are.
"The majority of those are small bodied."
Some people argue that animals that are endangered should be left to become extinct because they're not tough enough.
"Well, I don't think that's right, otherwise you'd just let everything go," Assoc Prof Lintermans said.
"You could kiss koalas goodbye for starters.
"You say that to people and they'd be up in arms.
"If a fish goes extinct, they're probably a little more relaxed about it."
The delicate balance between fish and survival hinges upon the restoration of vital habitats.
As the plight of threatened fish echoes through Australia's rivers and streams, the urgency becomes ever more apparent.
By embracing the call to action, we hold the power to rejuvenate these aquatic ecosystems, ensuring the continuity of both the intricate biodiversity they harbour and the stories they whisper for generations to come.
With Mark Lintermans and other dedicated people fighting the good fight for Australia's native fish, their chances of survival are on the rise, particularly with the backing of organisations such as OzFish.
Mark Lintermans is considered a leading expert in freshwater ecology and fish conservation in Australia.
The second edition of his book Fishes of the Murray-Darling Basin was released recently.
Paul Suttor
OzFish Unlimited