K'gari is a magical place and I've been very fortunate to have had the pleasure of visiting it since I was a kid.
I still have fond memories of my first trip to Lake McKenzie as a young boy with my family, swimming in the crystal-clear water and watching turtles play.
This year, I headed back on my annual camping pilgrimage with my good friend Nick Bock and his colleagues from Energex – I was a bit of a ring-in.
The only difference with this trip to K'gari was that we had each decided to bring one of our kids along – Mason Bock and Amaya Collins – so they could begin their experiences of this magical place too.
Our home base for the four nights of camping on was Cathedrals on Fraser, which is located slightly past the SS Maheno.
Camping at the Cathedrals is easy because toilets and showers are only a short walk from your camp.
And you can have a fire here, which ticks one of my many boxes when camping.
Another benefit of this site at K'gari is that there is a dingo fence around the entire camp, which puts your mind at ease, especially when there with your kids.
Our camp setup is basic – a 6x3m gazebo with two tents off the side – as that means we have more time to wet a line and less time is spent setting and packing up.
However, with the kids in tow this year, we opted to take a trailer because it made packing a breeze and allowed us to bring extra firewood.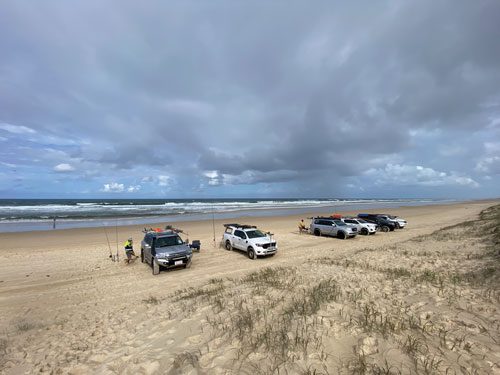 The beach this trip was very flat, and we had to take the road around Poyungan Rocks. The flat beach also meant there were too many gutters that looked as though they would hold fish.
Thankfully, the best gutter we found on the trip up the beach was right out the front of the Cathedrals, which meant we didn't have to go far for a fish.
Over the next few days, the team managed to pull dart, tailor, whiting and flathead out of this gutter, with the fish caught ending up as dinner each night.
After a long day on the beach fishing, there is nothing better than tucking into some smoked tailor, dart or freshly battered and fried whiting, washed down with a few beverages.
Despite big tailor not being caught, the numbers made up for it, with bait of both ganged pilchard and slugs working a treat.
At one point, it was a fish for each cast on the Ron Mole 40g slug with a single hook. I prefer to use a single hook when chasing tailor as it's much easier to release any fish that are under size, and I find you get a better hook-up rate.
This kind of fishing was a lot of fun and perfect for the kids, who both caught a few fish on this trip to K'gari.
Another activity the kids loved – especially Amaya – was chasing worms.
Thankfully, there were good low tide banks at the end of the gutter that produced plenty.
Chris Helmy – or 'the fish whisperer' as Amaya called him – put in plenty of hours showing her how to catch beachworms.
And, despite only getting a head by herself, which she was very proud of, with help she managed to pull a few worms out.
Amaya is now a very keen wormer, which will pay dividends in years to come!
Though we had plans to visit Lake McKenzie and other magical places on this trip, we didn't venture too far from camp.
Yet the kids were kept busy and entertained with fishing, beach cricket, badminton and chilling with their dads around the campfire.
Overall, it was a fantastic trip to K'gari – one I hope the kids remember for many years.