Not long to go – With another week of cool temperatures and sunny days, it's been a case of watching the weather and timing your bar crossings for some great fishing. The swell has been present but holding around 1m. This has allowed most offshore anglers to have a crack.
North Reef has been popular and for good reason. With more species than you can shake a stick at, anglers have been doing well on bait and lures. The usual run of cod, moses perch and sweetlip were overshadowed with some cracking spangled emperor and venus tuskfish. On the jig, even an iron-jaw jobfish was caught, which shows that more northern species are showing up. There have also been some chunky kingfish and cobia showing up. All of this lined up with a run towards the full moon. Out wide around Double Island, sharks are making their presence known, however amberjack and longnose trevally continue to stretch arms. These fish are both great eating and, though thought of as poor table fish, you may well be surprised by the sweet flesh trevally offer.
Bait anglers were doing well with pilchard, fresh strip bait of mack tuna and mullet on heavy paternoster rigs around 50lb. Lure anglers have a wide range of choices from jerk shad style soft plastics in deeper water with 2-3oz jig heads. Jigs have also been working well with the rear-weighted Berkley Skid jigs in 100g a popular choice. They come equipped with a single strong VMC hook, so you need not change this. Combine this with a long length of Shimano Ocea fluoro leader and see what you can tempt.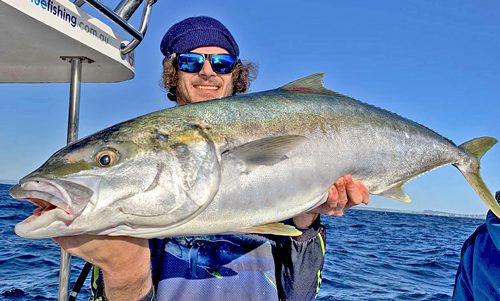 Surf fishing has seen cracking dart to 45cm landed, as well as bream getting near 40cm in length. Both of these fish are exceptional fighters on lighter surf gear. Try to keep lines around 6-8kg and a suitable rod, such as the Shimano Maikuro II Surf Light. Tailor are plentiful around Bribie Island and are starting to push towards the coast, so trips to K'gari should be planned soon. River fishing continues to see a continued run of trevally, flathead, bream, the occasional chopper tailor and even mangrove jack. With the river changing its course, the usual holes and drop-offs have filled with sand, but new ones are always forming. It's always worth exploring the river around the turn of the tide because this can be a trigger for fish to feed. Using your sounder can help you discover new spots to fish and those with live mapping can build up an accurate map of the bottom. This not only helps you navigate but also to find likely fish-holding spots. Great fishing
Bait anglers have continued success with prawn and herring as well as mullet chunks for bream. If you are finding your bait is being picked off easily, try switching to mullet. Lure anglers will find a huge array of options in the shop, so be sure to ask us how the river is fishing and what colours are working best. If you are looking to get a cast net, we can show you how to throw one, and even spool your reel while you wait.
Freshwater continues to be quiet with the cold air temperature. If you are intending to fish the local dams, be sure to fish those areas that receive the most sunlight. The majority of fish are seeking out warmth and this will boost their metabolism. Once you find the fish, be sure to try small lures, such as 2-3" grubs, and use suspending lures in the smallest of sizes. Zerek Tango Shad and Jackall Squirrels are great starting lures. Keep leaders light so these lures suspend for long periods of time because fish may be less aggressive and take longer to hit a lure. Don't forget that Mary River cod are in closed season and snapper are back on the catch list as of Tuesday August 16.
Now, for all the latest information log onto www.fishingnoosa.com.au for up-to-date bar and fishing reports, don't forget to drop into Tackle World Noosa, Noosa Boating and Outdoors and Northshore Bait & Tackle in Marcoola for all the right equipment, bait and advice to get you catching. Be sure to follow us on Facebook and remember, tight lines and bent spines!