Far and wide NOOSA

WITH the start of the full moon cycle and building neap tides this week, the lead up saw some slightly rougher weather but with some great fish captures along the way. With the SCF competition on last weekend, anglers travelled far and wide to take part in the weekend's events. Fortunately, the wind and swell dropped to allow everyone a shot offshore. NOOSA
During the week, anglers were catching jewfish from areas holding baitfish in dense schools and deep water. You can try North Reef and the back of the Hards. Out here you can also expect to find amberjack and other reef fish, including pearl perch and maori cod. For amberjack, you can try high-speed jigging with Samaki Hummer V2 in the 200g size or use a big soft plastic on a 2oz plus jig head for jewfish and reefies. Snapper have also been found in the deeper cooler water, with many anglers picking up fish in the 70cm size range on traditional paternoster rigs. Nothing beats a squid pilchard combo, and we have plenty of pre-made rigs to make life easier and quicker.
In closer, the full moon slowed the bite period during the day, but anglers persevered in magic conditions to catch all the usual reefies around the 20-40m depth line. Most fish took bait, with many anglers dropping plastics on lightweight gear in the 20lb range. When the sea is calm and the visibility is great, you have to fish lighter. Be sure to pick up some Sunline FC Rock leader and tie longer leaders than usual to help your lure or bait have the best presentation. NOOSA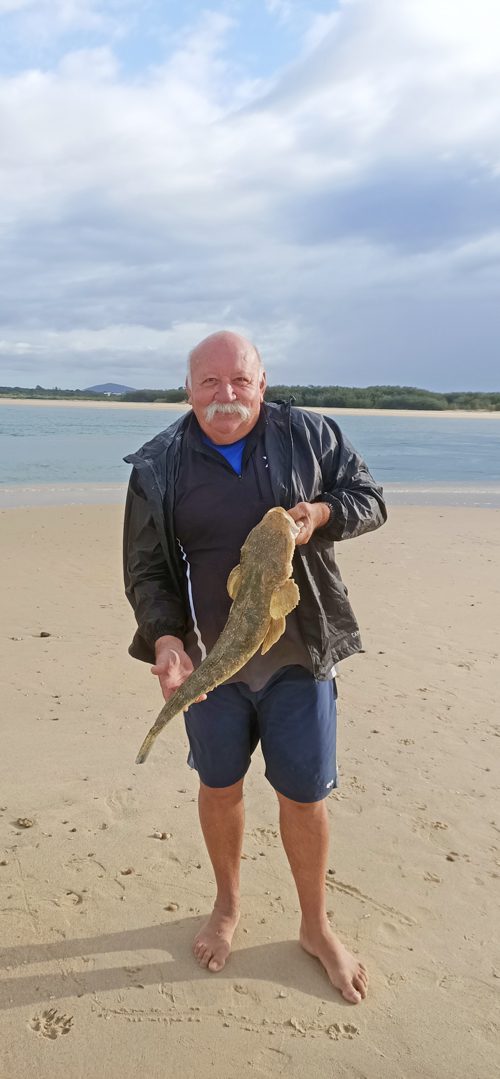 Surf fishing saw a push of tailor south of Noosa around the various headlands and river mouths. With most anglers fishing during the end of the day, the classic 5/0 gang hook and a pilchard has claimed good numbers of fish. For those with a four-wheel-drive, K'gari (formerly Fraser Island) has seen great numbers of fish. The gang-hooked pilchard has been working wonders, with a few anglers claiming great fish on smaller stickbaits, such as the Rapala X-Rap Long Cast Shallow hard-body, or metal slugs.
In the rivers, we have seen various trevally and smaller flathead to 60cm. With the water beginning to clear up, you'll find fishing starting to improve further upstream. And though we had rain, it was light, so the river didn't experience any flooding. Mangrove jack are also starting to wake up, with anglers turning their attention to what has to be the hardest fighting fish in the river. Jacks will take almost anything because they are not only predators but scavengers. Many an angler has caught a sizable jack on a prawn intended for a bream, as well as live bait. If you want to target jacks, you need to think about how they hunt and feed and gear up accordingly. Jacks are masters of taking you back into cover and busting you off, so fish with 15-20lb plus lines and 20lb plus leaders. Once these fish wake up in summer, they can often bust you off in the snags on 50lb gear. Slow rolling a soft plastic, such as the new Bite Science Thump Shad in 3/0 size, will also pick up big flathead. These are a simple lure to use and make a great entry to soft plastic fishing.
As the water continues to clear and warm up, it won't be long until flats fishing for whiting and bream starts to fire up. This is one of the most exciting ways to fish lures, so keep an eye out on future reports.
Now, for all the latest information log onto www.fishingnoosa.com.au for up-to-date bar and fishing reports, don't forget to drop into Tackle World Noosa, Noosa Boating and Outdoors and Northshore Bait & Tackle in Marcoola for all the right equipment, bait and advice to get you catching. Be sure to follow us on Facebook and remember, tight lines and bent spines!