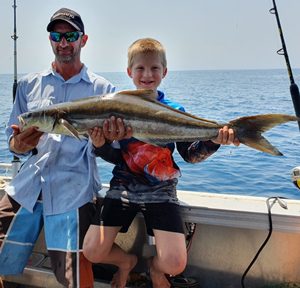 With a bit of luck, everyone has recovered from their Australia Day activities last weekend.  It was awesome to see so many families and friends in the great outdoors enjoying what the Bundaberg region has to offer.
BUNDABERG OFFSHORE
By all reports, the bigger boats that headed to the islands out off Agnes Water all managed to boat plenty of quality fish including red throat, coral trout, red emperor, grass sweetlip and parrot.  Let's hope the weather holds out and anglers can have another crack this weekend.
THE BURNETT RIVER
The big news is that the barra season is open after midnight on Friday, 31st January 2020.  I'm sure that plenty of local anglers are itching to get out and chase these fantastic sports fish in the rivers and creeks around Bundaberg.  Some really nice mud crabs have come out of the Burnett River this past week.  Prawns have been patchy but should improve over the next few weeks.
THE KOLAN RIVER AND BAFFLE CREEK
Now that the school holidays are over, the boat traffic should go back to normal.  Both the Kolan and the Baffle hold good numbers of barramundi so it will be interesting to see how many are caught this weekend.  Mangrove jack continue to be active smashing both live baits and soft plastics fished around rock bars in both systems.  Around the sandbars towards the mouth some excellent whiting, flathead and dart have been keeping holiday-makers and locals happy.
THE ELLIOTT RIVER AND COONARR BEACH
The Elliott River always continues to produce the goods.  With the big tides last weekend summer whiting and big flathead were on the chew.  Grunter, mangrove jack, moses perch and barramundi will all be worth targeting upstream from Shark's Nest.  This is a great time of the year to chase dart, whiting and flathead along the beach.  Dart are usually easy to identify as you can see them in the waves.  Best baits for dart are beach worms, yabbies and fresh prawns.
LAKE MONDURAN
There are only a couple of weeks left in the Bundaberg Toyota Golden Barra competition this year.  You can still fish for the elusive golden barra until 19th February 2020 and you can register on the website at   https://www.goldenbarra.com.au/    Although the impoundment is dropping around an inch per day, good numbers of barra have continued to bite.  Better numbers of barra are holding in slightly deeper water and either trolling the timber line or casting lures such as Jackall Squirrels or Luckycraft Pointers through the tree tops has been deadly on the Monduran barra at this time of the year.
Fish with confidence nice mud crabs burnett river
Dale Smith