AT times it seems like I'm chained to the desk working on BNB, so when an opportunity arises to break the shackles and test a new boat I jump at it. This was the case recently when someone from well-known Australian boat manufacturing company Sea Jay called and asked me to head north and play with a few of their new models in Bundaberg.
In this review I will be focusing on the 520 Velocity Sports, but some of its features such as the Samurai Hull are also used on other Sea Jay boats. As the name suggests, the new hull has been designed with samurai-like precision and accuracy using the latest 3D performance modelling software.
The Samurai Hull incorporates a sharper deadrise at the bow, giving a finer entry point that means you slice through chop better, which improves the ride. In addition, the hull boasts a wider waterline, providing a greater surface area that aids with lift and ensures you get onto the plane faster and more efficiently.
The wider hull and reverse chines also deliver increased stability. When you add it all up, the new hull design has greatly improved the overall ride for both inshore and offshore conditions.
It also gives additional fishing room, with the swept bowline carrying the beam further along the boat.
The increased stability with the reverse chines and high sides makes it a perfect all-round fishing machine. And that is how I would describe this boat – a fishing machine.
With an overall length of 5.3m and a very healthy 2.4m beam, you have ample fishing space to cater for a huge variety of fishing applications. The 520 Velocity Sports is a boat that would be an ideal platform for flicking lures for barra in impoundments as well as chasing black marlin offshore.
This type of versatility is what will make the Velocity a popular choice for anglers. So how did it handle on the water? Well the claims made were well and truly proven. The test boat was fitted with a 115hp Yamaha four-stroke engine that suited it very well.
Punch out of the hole was impressive and smooth, with the 4mm-thick hull providing a solid feel. With a hull weight of about 580kg, you have a boat with some substance to punch into rough weather, yet still be nimble enough to get thrown around, and you could easily tow someone on a wakeboard or tube.
A 150-litre underfloor fuel tank is also a standard inclusion and would give a massive range with the economical power plant on the back. This is especially so with the new hull design being more efficient in the water, which was demonstrated through the planing speed of about 22km/h at 2800rpm.
But the test day wasn't just spent finding the ideal planing speed, we also put the 520 Velocity Sports through some tough track work and managed a top speed at WOT of 66km/h. Fairly good numbers I think.
Now as much as I love the protection of a cabin boat, especially in winter, I seem to have a special affiliation with side consoles.
I'm not sure of the exact reason, but maybe because the overall concept and layout works well for a mix of applications. With a side console you get the convenience of the console, which in the case of the 520 Velocity Sports is ample in size and allows plenty of room for larger-screen electronics and Yamaha gauges.
There is also plenty of room to move around and access the bow or casting platform that you can easily stand on and flick lures without having to worry about the boat rocking. You have exceptional vision when driving around or launching and retrieving the boat as well as that feeling when the salt air hits your face while you scoot across the water (I definitely need to get out from behind the desk more).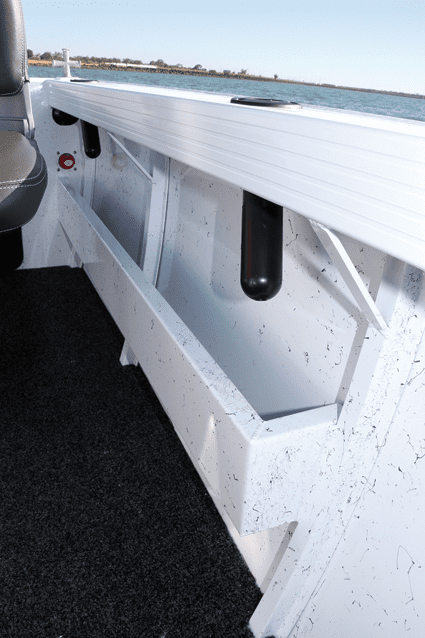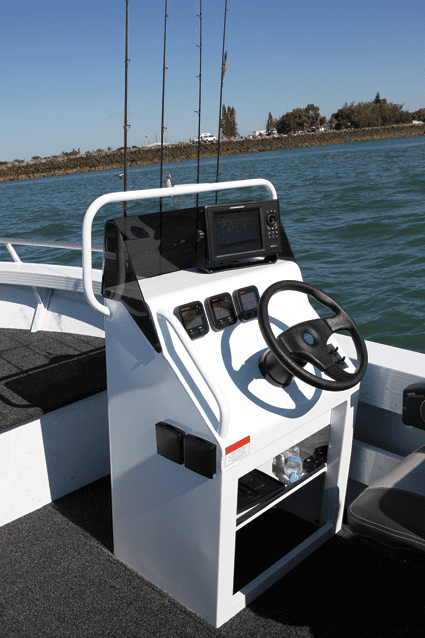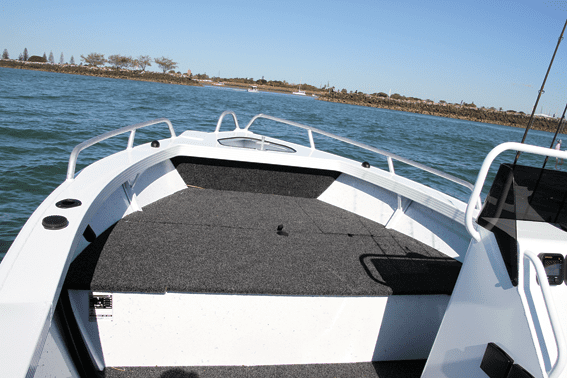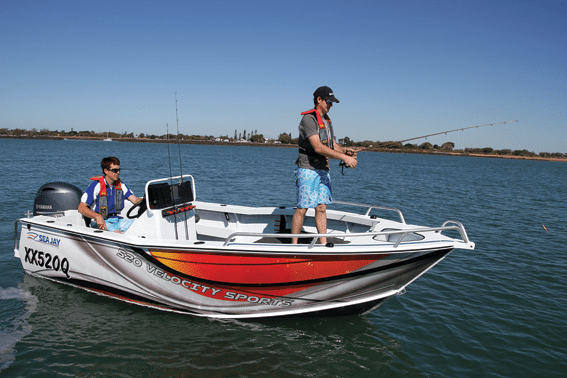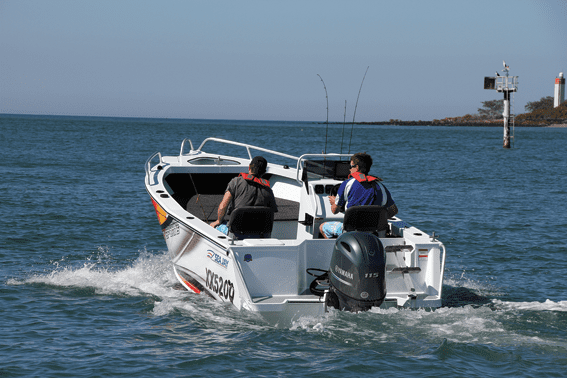 PERFORMANCE
| RPM | KM/H |
| --- | --- |
| 2800 | 22 |
| 3000 | 29 |
| 4000 | 43 |
| 5000 | 56 |
| 6200 | 66 |
In terms of storage, there is a shelf in the console and room underneath to stretch your legs or stow anything that you want kept within easy reach. Side pockets on either side of the boat also make sure additional items are kept secure and out of the way, leaving your boat clutter-free for fishing.
There is bulk storage under the casting platform, with room for larger items. On the test boat, the section that housed the battery for an electric motor also had plenty of space to keep the larger PFD-style life jackets. A separate hatch under the casting deck makes an ideal place to keep your tackle trays.
In addition, a very large hatch provides enough room to put large tackle boxes, buckets or even an Esky, which again means you can keep everything secure and protected, leaving your fishing space clutter-free. This type of creative thinking in terms of layout and design is something the guys and girls at Sea Jay have been doing for a number of years and why their boats are so popular with fishos.
However, while it is great to have all these ideas you need to back them up with a quality product that is functional and built to last, even when punished in waterways over many years. And quality work is something Sea Jay does very well and is proud of, which anyone who looks at their boats will see.
In summary, this is not your average 5.3m tinnie. A lot has been packed into it in terms of design, layout, functionality and performance. It really is a boat that most people would love to own and use because it ticks so many boxes.
For more information on the entire Sea Jay range, check out www.seajay boats.com.au
You will also find a list of dealers on the website if you are keen to have a closer look or get a price.