Turkey is often high on the menu for Christmas roast but this delectable glazed duck alternative is sure to tempt you to break tradition this year.
Ingredients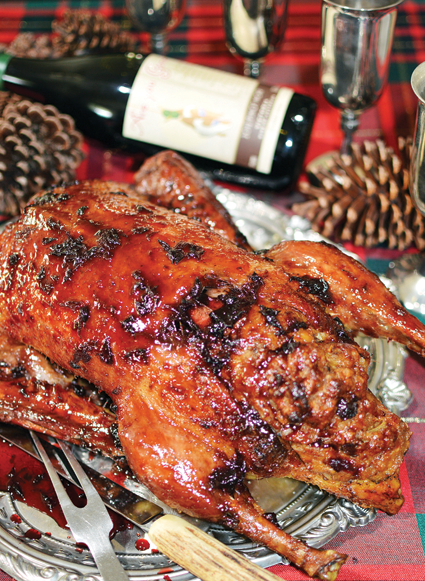 Rosella glaze
1 cup rosella jam
1/2 cup red wine
2 tbsp brown sugar
1 tbsp honey caramelised
balsamic vinegar
2 tsp cornflour
Mango stuffing
1 1/2 cups mango chutney
12 slices white bread
1 medium onion
1 egg
1/2 cup water
1 tsp crushed garlic
Method
Preheat oven to 150C.
To make stuffing, finely chop onion and combine mango chutney, onion and egg in a large bowl. Pull apart each slice of bread into small portions and add to mixture. Add water and combine using your fingertips. This will form a soft but not soggy stuffing.
Remove excess fat from around the duck's rear cavity. Fill the duck with stuffing.
Place duck in a large oven bag, and then sit it on a rack in a baking tray and put in oven. Cook for two hours.
Combine all the rosella glaze ingredients in a saucepan and mix well. Heat the mixture until it becomes bubbly and thick.
Remove duck from oven and do away with the oven bag.
Put duck back on oven tray and baste generously with rosella glaze every 10 minutes for the next half hour.
Place duck on a platter, drizzle with remaining glaze and serve immediately with roast vegetables and steamed greens.