Hi everyone, here we are at the end of 2022 already! The months have flown by so fast and we're now into the summer fishing season.
We are still in a La Niña phase of weather – in fact, this will be the third summer in a row of this type of pattern – which means higher-than-average rainfall, and this has certainly been the case. The forecast is for La Niña to weaken in early 2023 and many people, including us fishing guides, will be happy about it.
So far this season, there have been some minor floods, though we're still getting out fishing most days. The fishing can be tough when the water is dirty from mud run-off.
Of course, this can vary greatly between a run-in and run-out tide and depends on where you're fishing.
During these times more than any other, it pays to switch up lure colours, sizes and types to crack the code for the day. Over recent months, I've noticed an abundance of baitfish and shrimp – presumably the rains have had an influence on this, flushing out food and causing them to breed quickly.
This also means that the fish are well fed and not overly hungry. If we want to attract regular bites, we need to downsize lures.
While it's true that big lures catch big fish, on the other hand small lures catch all fish – big and small.
Live yabbies also work extremely well in discoloured water at this time of year.
With clear water and a clear sky, use dull and transparent colours, and with murkier water and a cloudy sky, use darker, solid and brighter colours. In between conditions, it's anyone's guess!
Apply Sax Scent or Pro-Cure to these lures every ten minutes for added effect.
Here are some of our favourite small lures for catching large numbers of fish.
Z-Man 2.5" ST GrubZ
Z-Man 2.5" ST GrubZ have only recently arrived on the market but are already making a big impact. They have a great tail action in the water, a range of colours to suit all conditions and wide ribbed bodies that hold scent and hide jig heads well.
Either drift and teabag them or cast and slowly hop. Fish really slam them hard.
The new Z-man 2.5" PrawnZ are also well worth using and are a very natural-looking prawn imitation.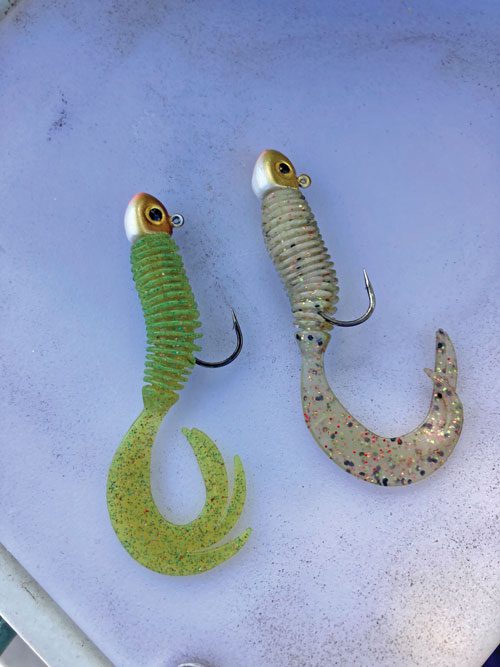 Pontoon 21 Crackjack 48SP DR
The Pontoon 21 Crackjack has long been a favourite of ours. They are a very good casting lure, but we troll them slowly – mostly over shallow water up to 2m deep.
They simply swim true and catch fish – as per most Japanese lures that are backed by scientific research.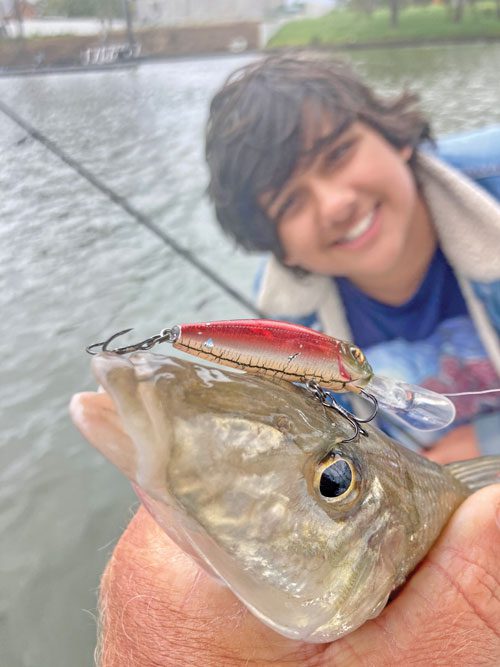 Samaki Vibelicious 70mm Fork Tail
Samaki Vibelicious sink and vibrate cleanly, have a huge range of impressive colours to choose from and are made from quality components that last.
They match baitfish very well and catch many species.
Either cast and hop slowly or teabag while drifting. The much-hyped Samaki Hardlicious vibes are due to arrive on our shores soon and will also be a deadly small lure.
Keep an eye out for them at your local tackle store.
Ecogear ZX40 and Breamer vibes
Ecogear ZX40 and Breamer vibe blades are up there with any lure in the world in terms of strike rate. The perfect shrimp or small prawn imitation – they may look unusual but catch everything that swims. Once again, another genius Japanese fishing invention.
As for other vibe lures, twitch them on the bottom while drifting anywhere from 2-12m deep, or cast and hop them over shallows. They come with assist hooks, which are very sticky.
Merry Christmas and happy new year to all readers, catch you in 2023.
To book on a charter with myself or Brad – or if you have any fishing related questions – visit goldcoastrivercharters.com, SMS 0432 990 302 or email fishingwithclint@gmail.com, or find us on Facebook – Brad Smith Fishing Charters.