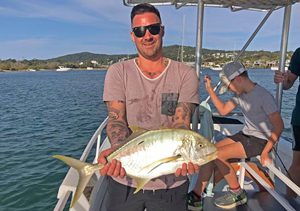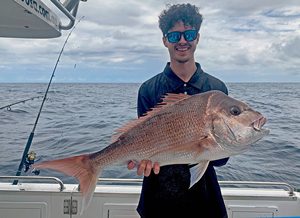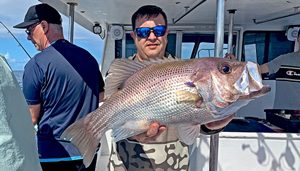 Spring has landed with thump and the sun has let us all know it's going to be a hot one ahead. With temperatures on the rise it won't be long until we are all chasing pelagic monsters and hooking the big one! Offshore had a great week post full moon with some cracking fish landed for our snapper comp. For those in the know, snapper have been reaching 90cm and huge pearlies and tuskies in the deeper waters around the Hards. In closer snapper to 70cm have been picked up around north reef along with cobia and jewfish. Other species include tuskies, sweetlip and coral trout. With the clear water make sure you have a pilchard floater out and run long 6-8 meter mono leaders if using braid to help float the bait. For those using lures then a Berkley nemesis rigged on 16lb leader allowed to drift slowly to the bottom on 1/6th jigheads really secures the big fish. Big midwater fish love a slow fall soft plastic and the light leader helps to make it look natural. With the low tides in the morning make sure your boat is properly loaded with all gear secured so you can make the bar crossing safely as even the smallest wave can unbalance you. Don't forget to pop into Davos boating and outdoors for any last minute supplies like bungs or lifejackets.
Surf fishing has had mixed results with tailor reported around Teewah, Noosa River mouth and along the Mudjimba north shore. These fish taking smaller pilchards on gang hooks and lighter sinkers now the tides have less run. Spinning smaller 30 gram slugs has also worked well on chunky GT around the rocky headlands of Arkwright and Noosa national park. For those heading to Fraser you can certainly expect to get rewarded with good tailor catches reported. Check out our instore special on all Spanyid Raider slugs.
Noosa River continues to fish well and with the change in weather the lower estuary will become more popular for flathead fishos. On the flats and drop offs around the river mouth rocks you can certainly expect to crack a PB on lighter 12-15lb outfits. For lure anglers try the Samaki Redic hardbodies worked along the drop offs in mullet and whitebait colours. For bait anglers nothing beats a free running whole bait like a hardy head on a 2/0 snelled rig. If you need help snelling feel free to ask us how. Live baits continue to work well especially during busier times on the water. If you need a quick lesson to get the best cast we can show you how and also talk you through the benefits of drawstring nets around the rockier areas of the river.  Upriver the run of school jew continues and fish over 75cm have been caught and released but these bigger fish are hard to catch. Lures will usually outsmart these fish and they love a well presented soft plastic that has time to drift in the current before reaching the bottom. Take a look at any of the Powerbait grubs and minnows and run 12lb leaders on 2-4kg rods.
Freshwater is now more accessible with the Australian wild bass closure now finished. The Noosa everglades is open and ready to explore with some great fishing to be had. Up here you can run spinnerbaits and small diving lures. Surface fishing is a lot of fun on low light days and these wild bass sure do pack a punch. Go armed with a Lucky Craft Sammy 65 and work the edges. The dams are warming up and there is a good edge bite right now. For lure fisherman small frogs, minnows and shallow divers will work very well. Keep leaders around 12b in case you hook a toga and be sure to keep any sizable fish in the net upon landing so they settle down before bringing them onto the boat for hook removal. If after a landing net then Take a look at any of our rubber mesh nets which protect the fish and don't get hooked by lures.
Now for all the  latest information log onto www.fishingnoosa.com.au for up to date bar and fishing reports, don't forget to drop into Davo's Tackle World, Davo's Boating and Outdoors in Noosa and  Davo's Northshore Bait & Tackle in Marcoola for all the right equipment, bait and advice to get you catching. Be sure to follow us on Facebook and remember Tight Lines and Bent Spines!