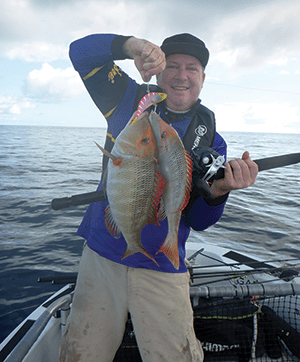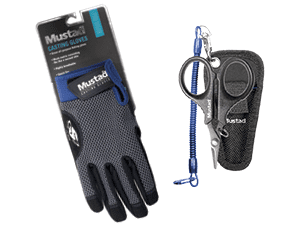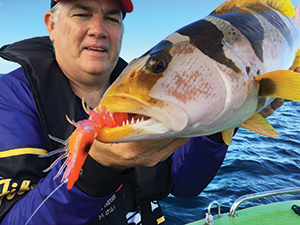 FOR those who missed last month's part one article, I recently embarked on the trip of a lifetime with a crew put together by Wilson Fishing.
We went on a Swain Reef adventure chasing everything from big GTs to awesome-looking coral trout and everything in between. The aim of this trip was to destroy some fishing gear (well, test its limits) and catch a fish or three for a feed. In part one, which you can find in the August edition, I covered the rods used and abused.
This article can be checked out online at bnbfishing.com.au/exploratory-sojourn-swain-reefs and on Issuu at issuu.com/bnbfishing This month I'll look at a selection of lures we used and other gear I think will be appreciated by dedicated fishos.
Lures
To accompany the plethora of rods was what seemed like an endless supply of lures, but like most fishing trips, you soon end up with a few favourites that seem to do the damage. My lure of choice for chasing GTs was the Zerek Zappelin stickbait in 220mm size.
This lure weighs 125g and was a pleasure to cast on the PE8 rod, working straight out of the box with the supplied 6X strong Mustad hooks.
However, as we were there to test the gear, I mixed up the hooks a little and ran assist hooks on the back, which also worked. You could also change the front treble to a larger size if you wanted a slightly deeper retrieve or action. While we did throw some poppers, the stickbaits definitely outfished them, with erratic retrieves encompassing fast twitches working better than the traditional longer rip.
This retrieve also seemed to keep the lure in the strike zone longer. Interestingly, a lot of our strikes came from deeper water off the bommies or reef edges but as always, when we found the bait we found the fish. Another standout in the lure department was the Zerek Fish Trap.
This lure was absolutely deadly on a mix of fish, with 110mm and 160mm sizes the go. Colour wise, it was hard to tie on anything other than Flying Bear (white with red head) or Fat Betty. If you haven't heard of Fat Betty, jump on Facebook as she has her own page with a heap of fish captures.
It might seem a bit far-fetched but we saw a lot of double hook-ups on single Fish Traps, with one fish hooked on the front treble and another on the rear. The first time it happened I thought it must have been a fluke, but the flukes kept coming all week. It would have been really interesting to have an underwater camera on these lures in the deep to see multiple fish climbing all over them.
On the trolling front, which we did a fair bit of, especially when heading from one possible GT spot to the next, the Zerek Speed Donkey was the go. However, I usually had to get my lure out pretty quickly because my fishing partner Shaun often hooked up seconds after deploying his lure.
It was insane how fast these lures would get hit and a lot of the time we just kept the boat going for a few more seconds after the first hook-up and the other person would be on as well. While we didn't manage any monsters (though the head of a dogtooth Shaun brought in was massive), we did manage a mix of fish including shark mackerel, dogtooth tuna, barracuda, spanish mackerel, green jobfish, bluefin trevally and the list goes on.
Like the Zappelin, we ran the Speed Donkeys straight out of the box with Mustad 9430MD trebles. These lures copped an absolute hiding and if a hook did get a little bent, we just applied the fastest remedy, straightening it with pliers, to get the lure back in the water and bang, have a fish on again.
In saying that, we did run a few of the Speed Donkeys with single hooks, which also caught fish, but I think they worked better with trebles. Standout colours were SM, RH, SB, SLM, PBY and GM, which is almost half the colour range, so I don't think it would have mattered what colour we tied on.
Other impressive gear – gloves 
I've never been a big fan of wearing gloves when fishing, even the sun-protective ones, though the sunspots on my hands suggest I should reconsider this. So, I decided to give the Mustad Casting Gloves a go and soon wished I'd been using them for years.
They were relatively heavy-duty casting gloves and while I probably wouldn't wear them finesse fishing for bream, they were awesome for throwing big stickbaits at GTs, often for hours on end. They were also great to wear when bottom bashing with bait and flicking some of the bigger lures.
The gloves also give plenty of protection when jamming your thumb against the braid, as it peels off the spool, in order to stop the brute on the other end of the line bricking you in the coral.  Unlike some of my other week-long fishing adventures where my hands ended up cut to pieces from spines, spikes and braid, I managed to keep my soft keyboard hands in prime condition.
Braid scissors
Even if you don't use braid, I highly recommend everyone having a good pair of braid scissors when fishing. Whether cutting braid, thick fluorocarbon or mono, the Mustad Braid Scissors, with their pouch and spring lanyard, were well and truly tested over the week. My scissors were attached to my shirt and spent the week cutting a plethora of lines as plenty of lures were changed and rigs retied.
Despite the gruelling week, the scissors survived unscathed and continued cutting lines of all diameters with ease.
Mustad hooks
As mentioned, the lures were often tricked up and played with to change how they worked, but one element remained constant and that was the use of Mustad hooks. It didn't matter if you were putting a big 4X or 5X treble on the front of the Zappelin stickbait to make it sit a little lower in the water or were running Mustad assist hooks on the rear, a whole range of hooks were tried and tested and I did not lose a single fish to hook failure.
We also tested the trusty 7766 in 7/0, which was pushed to its limit with sharks scavenging our prized reef fish before we could retrieve them.
Next month
The adventure to the Swain Reefs continues, and next month we'll investigate fishing techniques for a mix of fish, reveal a bit of karma and take a good look at Big Cat Reality Charters and what the operation offers keen fishos, so stay tuned.
For more information on all the Wilson Fishing gear, head to wilsonfishing.com