Welcome to this week's Sunshine Coast Fishing Report. Recent weeks have seen less than ideal conditions for our anglers, with relentless winds making it tough to make fishing plans.
What we're really looking for is a good drenching to give the rivers and estuaries a proper flush. With any luck, the coming weeks forecasted warmer temps will brew up some storms to deliver the rains we need.
Anglers should prepare for varied weather conditions for the upcoming week on the Sunshine Coast. The weekend is looking wet and windy, with showers and thunderstorms predicted through the weekend and into next week. These conditions suggest an opportunity for the much-needed rain to refresh our local waterways.
Tidal conditions show high tides peaking at around 1.8 meters. Offshore anglers will want to take advantage of the calmer morning periods before the wind strengthens, particularly on Friday.
Mid next week looks to be the best offshore days, with winds picking up again heading into the weekend. The wave data indicates moderate conditions, suggesting a cautious approach for offshore activities.
OFFSHORE
This past week, offshore fishing has been productive, with a good mix of reef fish keeping anglers busy. Snapper, pearl perch, tuskfish, and cobia are making regular appearances, especially around The Hards.
There's also been a surge in amberjack catches. With the arrival of blue water currents, it's clear that the summer fishing season is upon us. These conditions are creating great opportunities for anglers of all levels to enjoy some successful offshore trips.
MAROOCHY RIVER
It's been a mixed bag in the Maroochy River recently, with reports of a few quieter days on the water. Despite this, the river is still offering good catches.
The mouth of the river is teeming with whiting, while flathead and grunter are more active in the mid to upper reaches, thriving in the murkier waters. Trevally are also showing up around the Motorway Bridge pylons.
We've had lots of customers asking about lures for mangrove jacks over the past few weeks. While some have been caught, the increase in fish activity in the river is a good sign that they might soon be making their presence known.
NOOSA
Noosa continues to be challenging, with many hard days reported. The river system will hopefully benefit from the rain predicted over the coming week.
Catches of sand whiting have been reported at the mouth and Woods Bay. Reports of trevally and grunter bream around Tewantin continue, whilst some good flathead have been caught neat the mouth. Meanwhile, Lake Cooroibah is not to be overlooked, with bream, trevally, moses perch reported in good numbers.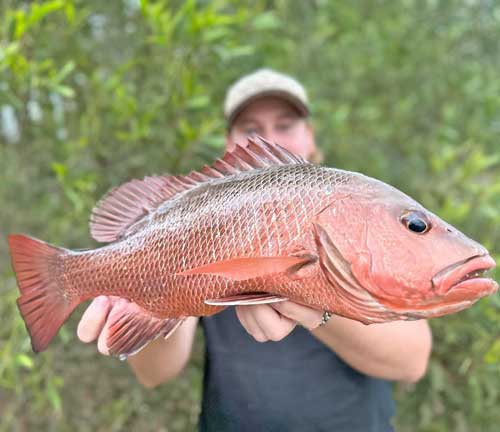 CALOUNDRA
In the Caloundra area over the past week or so, mangrove jacks have been very active, eagerly hitting a variety of baits, from hardbodies and soft plastics to both dead and live offerings. The waters have also been productive for trevally and some quality flathead, keeping anglers on their toes.
BEACH
The beaches stretching from Mooloolaba to Coolum have been a haven for beach anglers, with bream and dart commonly found along Mooloolaba beaches. Northward, from Mudjimba to Coolum, we've had some reports of dart, tailor, and whiting, offering a diverse beach fishing experience.
FRESHWATER
With the recent warmer weather, the fishing conditions in our local freshwater areas have been favorable, similar to last week's trends. The increased river flow from recent rainfall has led to more active fish and a higher rate of bites. This has resulted in a variety of catches, including bass, mary river cod, sooty grunter, bass, and occasionally saratoga.
As we wrap up this week's fishing report, a heartfelt thanks goes out to our loyal customers who continue to detour around the Bli Bli Bridge closure to visit us from North Shore, Coolum, Noosa and beyond. Your support means the world to us! Excitingly, new stock is on the horizon just in time for your Christmas shopping.
Once the bridge reopens in early December, expect a fresh array of gear in our store. Remember, we're one of the few on the Sunshine Coast offering live beach worms, European and African Nightcrawlers, and a selection of premium baits. And don't forget, we also provide rod and reel repairs and servicing to keep your equipment in top shape. Thanks for being a part of our Bait Master community!
Tight lines and good times ahead!
Trent & Corinne
Bait Master Fishing and Tackle