Welcome to this week's Sunshine Coast fishing report. Apologies for no report last week, but we're back at it now and finally, it looks as though the weather gods may be nicer to us than they have been for the previous month or so! A moderate easterly wind around 15-25km/h is forecast into early next week, picking up again from Wednesday.
If you're looking to get offshore, the earlier will be the better. Currently, there's minimal tidal movement – which is affecting estuary fishing – and little to no rain predicted for the coming week. We may have a few showers on Friday but nothing worth changing your plans for.
Offshore Fishing
Offshore weather conditions over the last week have proved tricky at times, with those managing to get out enjoying some good catches. The Hards continue to fish well, with amberjack, snapper, and pearl perch in abundance. The Barwon Banks and closer reefs have reported good catches including tuskfish, cobia, and sweetlip, alongside the steadfast snapper and pearl perch. Mahi mahi were also reported in good numbers around the FADs. With offshore conditions looking to be testing again this week, try the early morning before the wind picks up, or closer into shore.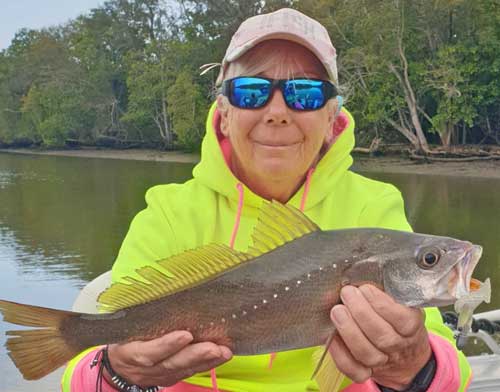 Mooloolah River
The Mooloolah River's lower areas have been good for catching flathead, while fishing around structures such as pylons and trawlers have been hotspots for trevally and mangrove jack. Additionally, the canals have been a quiet but effective place to fish for bream and trevally, especially when using smaller lures. These calmer waters offer a nice change of pace from the more challenging open sea conditions.
Maroochy River
The Maroochy River has been fishing well, with plenty of baitfish spotted in both upper and lower reaches. Good catches of jewfish and trevally have been reported, caught on Holt Productions Swim Prawns and Pro Lure Clone Prawns.  Flathead and whiting have been making a strong showing at the mouth of the creeks, with the flats also a hotspot for flathead.
Dart, whiting, bream, and flathead continue to congregate near the sand bags at the river mouth, with sand whiting also biting around Goat and Channel Islands. Additionally, the mouth of Eudlo and Petrie Creeks are turning out to be favorable spots for flathead catches. For those with a taste for the elusive mangrove jack, the mid to upper reaches of the river are the places to be.
Noosa River
Small tides and congestion have continued to make Noosa River fishing a challenge. A few queenfish catches have been reported at the mouth, while trevally continues to be caught around Tewantin, and tailor at Woods Bay. Those trying their luck at Lake Cooroibah have reported catches of whiting, bream and flathead.
Beach Fishing
We've had some reports of dart, whiting, bream catches of Mooloolaba, but conditions don't look to be favorable for beach fishos this week. Similarly, to offshore, try early mornings on the beaches to wet a line before the wind picks up.
Freshwater Fishing
The recent rainfall has increased the river flow, which has in turn activated the fish, with more bites being reported. The water movement and the presence of prawns and bait fish have resulted in some good-sized fish on the move. Catches have included Mary River cod as bycatch, along with catches of sooty grunter, bass, and the occassional saratoga.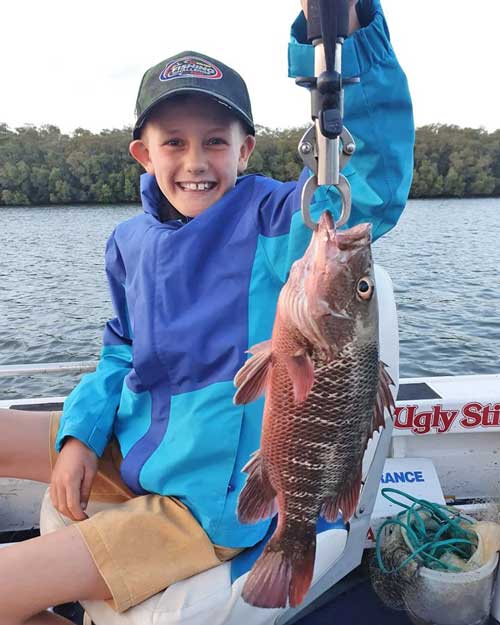 As we reel in this week's report, remember that Bait Master Fishing and Tackle is your one stop shop for bait, tackle and local advice. Whether it's the rush of landing a feisty queenfish at Noosa or the satisfaction of a hefty flathead in the Maroochy, we're here with the tips, tackle, and local know-how to help you make the most of your next adventure.
So come on in, share your stories, and let us equip you with everything you need for the week ahead. You'll find live beach worms, premium bait options and more in store at 311 David Low Way, Bli Bli.
Here's to tight lines and the tales of the one that didn't get away. See you on the water!
Trent & Corinne
Tight Lines!
Trent & Corinne
Bait Master Fishing and Tackle