After a bumper school holiday period, mother nature seems to want to test our patience again, with the upcoming week not looking great for fishing. We are in for a wet and windy weekend, with showers and strong winds forecast until Monday. Things look like they'll settle down slightly by mid-week, but overall it's shaping up to be a pretty ordinary week. Remember to always check conditions before heading out. We recommend checking FishRanger for the most up to date weather information.
Offshore
Offshore fishos were rewarded this week with snapper, pearl perch, tuskfish, kingfish and amberjack at The Hards plus some nice sweetlip at Sunshine and North Reefs. Those chasing mahi mahi have found the FADs the hot spot. North Reef has continued to deliver snapper and pearl perch.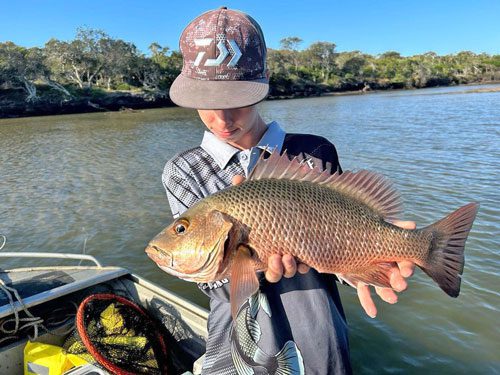 Maroochy River
Good catches are definitely starting to ramp up in the Maroochy River. Anglers have been particularly pleased to see mangrove jacks making their presence felt thanks to the warmer conditions. MMD Splash Prawns and Pro Lure Clone Prawns have been flying off the shelves, with fishos keen to nab a good-sized jack.
The Cod Hole has delivered some nice sized jewfish, trevally and flathead this week, with the occasional mangrove jack. The creeks continue to fish well for flathead, with paddle tails being the pick of soft plastics. Crabs are also on the move. The predicted rainfall over the coming weekend should help to flush the big bucks out.
Noosa River
Fishing in the Noosa River has been challenging recently, with many anglers finding themselves with more empty hooks than they'd care to mention. However, if you're persistent, there are some bream and whiting to be had. For those willing to play the long game, the occasional flathead is still making an appearance.
Freshwater
Smaller creeks are seeing plenty of bass action, with 3" Paddle Tails rigged on a lightly weighted jig head getting the job done. Saratoga are also starting to bite, with 3" soft plastics such as the Keitech Paddle Tails or straight tail lures on a 2/0 weedless hook working well. Topwater options including frogs and poppers are also a good choice. We've had some reports of saratoga, nass and spangled perch at Ewen Maddock Dam and in the surrounding overflows.
Caloundra
Spring conditions have settled in, with anglers reporting a mix of catches from big snapper to mahi mahi offshore, and grunter bream, flathead, school jew and hairtail in the passage. Keep an eye out as there have been reports of stonefish in popular spots.
As we conclude this week's fishing report, we want to extend a warm invitation to make Bait Master Fishing and Tackle your trusted source for all things fishing. With the unpredictable weather ahead, it's the ideal time to ensure your gear is up to scratch, and we're here to help you do just that. We offer rod and reel repairs as well as reel servicing at the best prices on the coast.
Our shelves are stocked with premium locally caught bait, frozen at its freshest, and a wide range of quality tackle. Whether you're a seasoned pro or just getting your feet wet, we've got the gear and the expertise to set you up for success. You'll find us located at 311 David Low Way, Bli Bli. We can't wait to be a part of your next fishing adventure.
Tight Lines!
Trent & Corinne
Bait Master Fishing and Tackle