The Sunshine Coast has offered a mixed bag of fishing conditions this week. While estuary fishing has been relatively subdued, offshore waters have been hot with some great catches reported. The weather has been a blend of sunny days and light breezes, punctuated by windier spells and the odd thunderstorm. Looking ahead, the forecast suggests that we're in for a bit of a rough patch, with windy conditions expected to dominate.
For the upcoming week, Friday and Saturday mornings stand out as the best times for fishing. These days offer favorable tides, with lows at 0.2 meters and highs reaching 1.6 and 1.7 meters. On Friday, expect northeasterly winds of 15 to 20 knots and seas around 1 to 1.5 meters, along with a chance of showers. Saturday's winds will shift to north to northwesterly at similar speeds, but seas could rise to 1.5 to 2 meters. Both days also boast "very high" solunar activity, often a good sign for fishing. However, there's a risk of thunderstorms, so it's crucial to check the latest weather forecasts before heading out.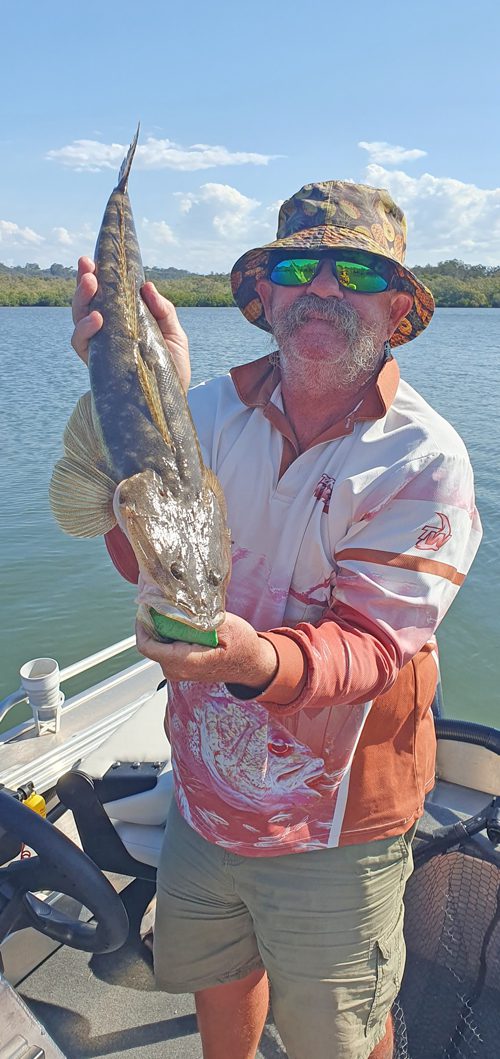 Bass Season 
Bass season is heating up on the Sunshine Coast, offering a range of freshwater fishing spots to explore. Local favorites like Baroon Pocket Dam and Ewen Maddock Dam are excellent for boat and kayak anglers, while the Mary River provides a more natural setting. If you're up for a drive, Borumba Dam is another top spot, especially for its scenic beauty. Ewen Maddock Dam is particularly kayak-friendly as only non-motorised craft are allowed on the dam. When it comes to tackle, soft plastics, spinnerbaits, and surface lures are your best bet, suitable for light to medium gear. Bass are structure-loving fish, so look for them near logs, rocks, or underwater vegetation, especially during the low-light conditions of early morning and late afternoon.
For those interested in technique, surface lures work well in the early morning and late afternoon, especially in areas where underwater vegetation sits at least a foot below the surface. A twitch-and-pause action can be particularly effective. During midday, aim for areas where the wind is parallel to the weed beds and use sub-surface lures close to the bottom. Surface lures around 65mm are effective, along with spinnerbaits and vibrating blades. Try Bassman Spinnerbaits or Tiemco Tiny Cicadas.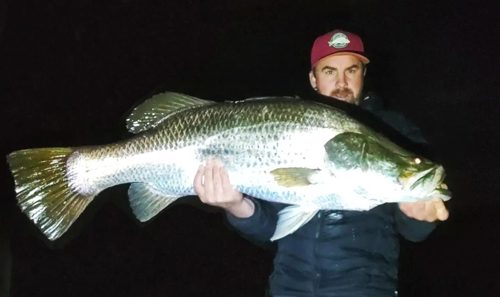 Offshore
Offshore fishing has been nothing short of spectacular this week, with a variety of species making a strong showing. The Hards have been a hotspot for kingfish, cobia, amberjack, snapper, and pearl perch, making for a great day out. The Barwon Banks and North Reef have also been bustling with activity, boasting catches of snapper, pearl perch, cobia, longtail tuna, and moses perch. For those fishing off Caloundra, the deeper waters around the rocky headlands have been particularly generous, especially for snapper and tuskfish.
Maroochy River
The Maroochy River has seen some action this week, with catches of jewfish, bream, tevally and flathead. A few jewfish around the 80cm mark have been caught on 3 inch paddle tails, including Keitech Easy Shiners. The Cod Hole continues to fish consistently, especially for those casting Pro Lure Clone Prawns, which have nabbed a number of beam and big-eye trevally. Flathead are still a common catch throughout the river, especially in the shallows and mudflats and seem to be less picky about bait. The outgoing tide has been the most productive, especially for trevally and jewfish in local creeks. For those after whiting, the stretch from the river mouth to Bli Bli has been productive, with live beach worms being the ticket for the larger fish. Mud crab enthusiasts have reported some quality bucks, although there's still many undersized crabs filling pots. Fresh mullet heads and fish frames are the recommended bait choices. With the temperatures rising, mangrove jack are starting to make their presence felt, with a few caught on low tide this week. We've also had reports of a few barra getting about too.
Caloundra
It was a pretty good fishing week in Caloundra, with flathead and large summer whiting making their presence known. Mangrove jacks have been active in the canals, with good catches on prawn imitation soft plastics near bridge pylons.
Noosa
In Noosa, sand whiting have been spotted at the river mouth and Frying Pan area, while bream and flathead continue to frequent the Tewantin stretch. Grunter bream have been active in Lake Cooroibah, and we've had some reports of good sized sand crabs in the lower reaches. Near the dog beach at the river mouth, flathead and bream are still on the chew, with trevally around Woods Bay.
That wraps up this week's report. With the weather warming up and school holidays just around the corner, it's a great time to plan your next fishing adventure and we'd love to be part of it! For that old-school tackle shop feel and friendly service you can trust, make Bait Master Fishing and Tackle your new favourite local tackle shop.
Drop by and see us at 311 David Low Way, Bli Bli. Happy fishing, and we look forward to seeing you soon!
Until next week, tight lines!
Trent and Corinne
Bait Master Fishing and Tackle