My greatest disappointment from the swing to the Greens is that my hopes global warming would bring an end to frosty winters in southern Queensland are dashed… Tropical pelagics
Yes, I'm being satirical.
Well, if winter won't leave southern Queensland, then I guess we cryophobes must.
(Cryophobia is an abnormal and persistent fear of cold, including cold weather and cold objects.)
Heading somewhere north of Townsville allows us to enjoy a minimum temperature in double figures… as long as we stick to the coast.
Tropical marine fisheries have plenty of options but the pure convenience and enjoyment of inshore pelagics puts them close to the top of the list.
Possibly the most renowned of the tropical inshore surface species is spanish mackerel.
For several reasons… they are generally large, akin to the mulloway of the south, and large fish capture the imagination, they are a popular table fish and are speed demons on the end of a line.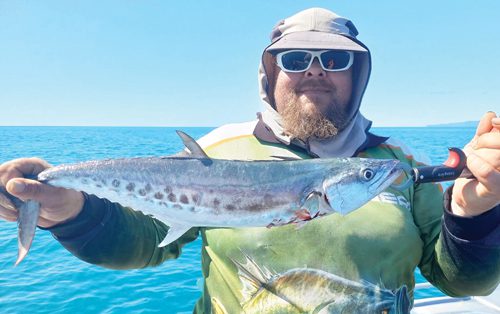 There is so much more on offer in the north for those areas and months when spaniards are not around.
Conveniently, there are several smaller mackerel species that offer similar sport and, many believe, are better table fare than their larger cousins.
Tackle can be as light as you care to fish because these surface feeders don't usually try to reef you – trevally excluded.
Downsizing lure size to about 85-100mm is all that's needed to switch from spaniard gear, though I still tend to run a short length of single-strand wire.
Common along the Queensland coastline is the smallest of the lesser species, the school mackerel.
Schoolies tend to turn up wherever small baitfish congregate or migrate, with small islands, rock bars, channel edges and similar always worth a look.
Along with school mackerel, spotted, grey and the much lesser-known shark mackerel inhabit the same inshore areas, and all respond to the same techniques.
Trolling lures is still the most effective method of searching for inshore pelagics, when they are not busting up on surface bait schools.
Distilled to its absolute basics, trolling for pelagics consists of pitching out a couple of medium running lures and motoring around likely looking areas at speeds between four to six knots.
Along with the aforementioned mackerel, other surface predators frequent the inshore tropics.
Queenfish are a welcome catch, with spectacular aerial displays a feature of their antics when hooked.
Other species likely to be encountered include the often-maligned great barracuda, several trevally species and the much-appreciated cobia.
All offer great sport and will take the same lures trolled in identical areas and times.