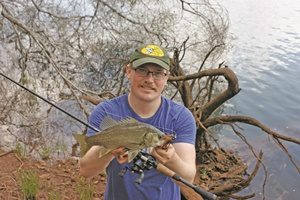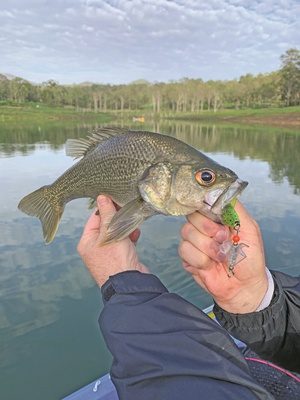 FEBRUARY to April in southeast Queensland and on the north coast of NSW is a time of green earth and higher water levels in the freshwater rivers and impoundments. This is a recipe that our most beloved Australian bass battlers absolutely revel in, and not far behind are the dedicated bunch of anglers who wait for the right time to target them.
Floodwater bass
The greening flora provides excellent conditions for insects and other small life to thrive above and below the water, while the swollen systems offer opportunities for bass to get close to where the action is and enjoy a smorgasbord of prey. While these hot bite times are often short-lived, late summer and early spring will see multiple opportunities to get stuck in.
Timing is everything
Being there at the right time can be the difference between a spectacular session and an ordinary one. For lakes, the few days following a sharp rise in water level is the time to be out there fishing. As water floods into healthy vegetation, bass will use this to their advantage and venture into the shallows – occasionally in only a few inches of water – and pick off any hapless creature within reach.Floodwater bass
In rivers and creeks, the principle is much the same, though the days immediately following a flood may not provide ideal fishing conditions, with brown fast-flowing water making feeding difficult for predators. In this situation, it pays to be on the ball and ready to fish as soon as the water passes the 'elbow test'.Floodwater bass
The elbow test is performed by sticking your arm in the water up to the elbow, and if you can still see your fingers, it's clear enough to fish. Small creeks tend to clear up faster than larger rivers, however each waterway is different.
Hunting the hunters
When hunting bass feeding in super shallow water, it makes sense to use presentations that are designed to be fished as such. Topwater lures are a perfect presentation for bass mooching among flooded grass chasing insects, with poppers, stickbaits, bent minnows, fizzers, frog imitations, buzzbaits, wakebaits and surface flies all great options.Floodwater bass
Below the surface there is often heightened activity for worms, nymphs and small baitfish, so spinnerbaits, beetle spins, skirted jigs, along with a range of soft plastics will cover the bases. Casting where vegetation meets water is key to this pursuit, and generally if you land your lure up in the greenery near a fish, it will come over for a look.Floodwater bass
Now's the time
Whether you're sliding your boat quietly along the edge of a lake, paddling up a rain-swollen river or crashing along the bank of a gushing stream, this form of fishing brings out the hunter within. Storages such as Maroon, Hinze, Macdonald, Borumba, Lenthalls and Gregory in Queensland, as well as Clarrie Hall and Toonumbar in northern NSW offer great post-rain opportunities.Floodwater bass
For rivers, the Mary, Noosa, Pine, Brisbane, Logan, Nerang and Tweed systems – along with the many creeks in between – can all fire at the right time. I know I'll be chomping at the bit next time it rains!