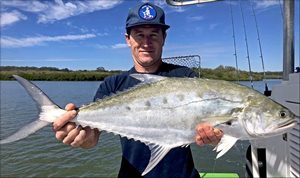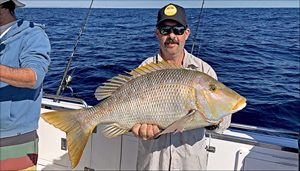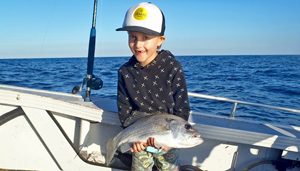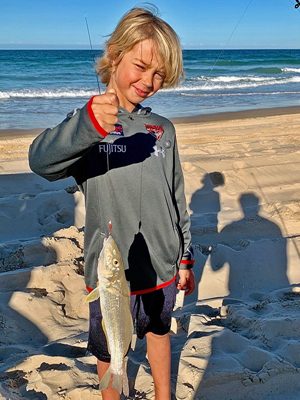 Offshore has been slower mid week due to the increasing winds. Earlier in the week and especially the weekend we had lighter westerly winds in the mornings and almost no swell! The main target have been snapper and pearl perch and we have even seen a continued smattering of pelagics too! Sunshine has smaller snapper, coral trout, sweetlip and pearl perch throughout this system. Most fish taking pilchards on lighter reef rigs and also floated down berley trails while on anchor with a gang hook. With lighter conditions bigger boats went winder to Double Island and landed bigger knobby snapper as well as cobia, amberjack, tuna and tuskies. Anglers reported catching quality fish on plastics like the Chasebaits ultimate squid as most big reefies will hammer a squid given the chance. Take a look at the purpose built jighead to suit this lure for the very best in realistic presentation.
Surf fishing saw an increase in activity with the lead up to the new moon bringing out the jewie anglers all along the coast. Good fish up to 120cm were landed on a mix of baits including mullet. Larger octopus circle hooks are great for this style of fishing and help with hooking the fish in the corner of the mouth vs gut hooking them. During the early mornings smaller tailor have been reported from the close gutters along with bream and whiting. Many of these fish are smaller so keep your combo's as light as possible to keep it fun. Be sure to stop in and grab some fresh beach worm as nothing beats a live worm.
In the river the queenfish are still smashing up the baitfish and getting caught. Soft plastics cast out and ripped through baitfish as well as larger 80-100mm surface stickbaits will trigger a solid bite. These fish are well known jumpers so keep rod tips under the water to keep their heads down. Other fish include flathead and bream which continue to dominate the entire lower river. You can find bream schooling alongside whiting on the flats. With the recent westerly winds the sand flats of the frying pan are perfect for lighter lines and rods. Look at the NS Black hole bream for flicking small surface lures. This rod is very light with a crisp action and braid friendly stainless steel guide frames. Mud crabs are also on the move especially in the Maroochy River. Remember the new bag limit of mud crabs and be sure to load up on our pot and float kits to save yourself some dollars.
Freshwater has seen an improvement following the gusting winds from last week. The bass are still harder to find and still spread out. This comes from their natural instinct to school before spawning which you know they can't do in dams. The edge bite is starting to become better across Lake Mac and Borumba with the warmer weather. Small weedless frogs and plastics on smaller weedless hooks like the Mustad Megabite work perfectly for this. 12lb leader and 4 strand braids like Siglon X4 work best in heavy cover. Rougher braids help to cut through the weed when you hook up to a big fish and you are less likely to bust off. Be sure you have a small blade or vibe rigged up for any deep schools and be sure to have a zx40 from Ecogear ready to go as this is a proven performer.
Now for all the  latest information log onto www.fishingnoosa.com.au for up to date bar and fishing reports, don't forget to drop into Davo's Tackle World, Davo's Boating and Outdoors in Noosa and  Davo's Northshore Bait & Tackle in Marcoola for all the right equipment, bait and advice to get you catching. Be sure to follow us on Facebook and remember, tight lines and bent spines!