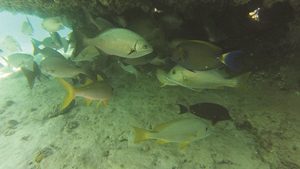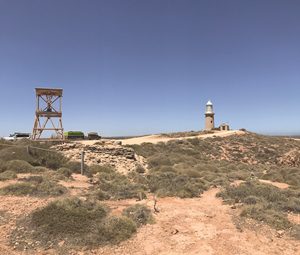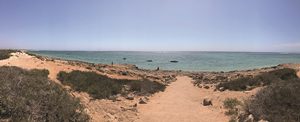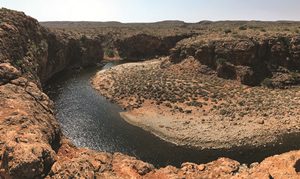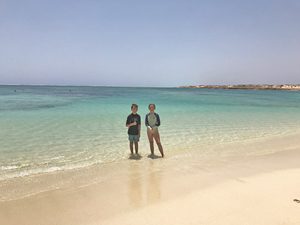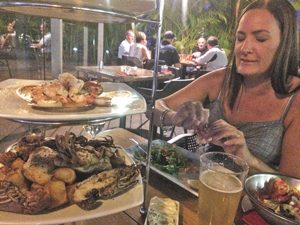 WELL people, still some crazy times with COVID-19 reappearing in big numbers through Victoria, with further restrictions and border closures for that state who are having a bit of a hard time of it – our thoughts go out to Victorians. This month we will talk about our time in Exmouth and Cape Range National Park.
As it will be a long time before international travel is on the cards, it's the perfect opportunity to get out and explore Australia, and support Australian tourism the best way we can. Exmouth is situated approximately halfway down the Western Australian coastline and almost lines up with Stanage Bay, north of Rockhampton on the east coast. Exmouth Cape Range National Park
It was originally founded by the fishing and pearling industry but became a military base during World War II and numerous Americans called Exmouth home. Pretty amazing stories are around, with lots of drinking and dancing – and American soldiers blowing off some steam when they were off duty – at the Exmouth Hotel back in the day.  The information centre at Exmouth – the Ningaloo Discovery Centre – has an amazing little museum, which explains the history of the town, and a great aquarium with beautiful fish and live coral showcasing the colours through the reef.
It is a fantastic place to take the kids and we adults really enjoyed it too and is definitely worth a visit. Exmouth itself is quite a small town, with only a couple of service stations and little IGAs, and doesn't have major supermarket chains such as Coles and Woolworths.  It does have fantastic accommodation options ranging from waterfront apartments, cabins, houses and caravan parks. Exmouth Cape Range National Park
We stayed at the RAC Exmouth Caravan Park, which had a beautiful pool, very clean amenities, super friendly staff, and you could hire snorkelling equipment and bikes – great for riding to different areas for a snorkel off the beach. Exmouth has wonderful restaurants with scrumptious seafood on offer. We went to the beautiful Mantarays restaurant for date night and had the most amazing seafood platter, which we both thoroughly enjoyed.
There are also great pubs and places around town for a cold beer and a coffee. Amazing snorkelling, diving and fishing charters are on offer for day trips out of Exmouth, with one of the major attractions on offer being swimming with whale sharks, as well as guided tours to different locations from Exmouth. Exmouth is well set up and caters to tourists with plenty of things to do and see. Exmouth Cape Range National Park
When people talk about Exmouth, you mostly associate it with amazing fishing. Whether it be fishing flats for permit (snub-nosed dart) and bone fish, reef fishing for bottom fish such as coral trout, redthroat emperor and sweetlip or throwing stickbait along the coral fringes for giant trevally and spangled emperor – it's all possible here.
Exmouth is one of the most amazing billfish regions in Australia – you can get double figures of billfish such as marlin and sailfish in a day trip from Exmouth.  On the western side of the Exmouth peninsula is the remarkable Cape Range National Park.  On the way to Cape Range from Exmouth, it's worthwhile checking out the lighthouse, which is perched on top of quite a steep ridge. Exmouth Cape Range National Park
You can drive up to get an amazing view of Exmouth peninsula, numerous beaches and the coral reefs fringing offshore along Ningaloo Reef. Another point of interest are the very low frequency towers – the tallest tower is 387m and was for many years the tallest structure in the southern hemisphere.
At Cape Range National Park there is a wonderful campground called Osprey Bay, which we booked in to stay for a week.  There are only long drop toilets and no showers or water on offer, so you need to be very self-sufficient during your stay. Exmouth Cape Range National Park
Osprey is located almost in the centre of Ningaloo Reef, and though we camped on the beach and could swim, fish and snorkel where we were staying, we were directed to many other well-known snorkelling locations a short drive away, such as Turquoise Bay, Drift Loop and our favourite, Oyster Stacks.  So, we made daily trips on the high tide to snorkel all the amazing locations straight off the beach and they were incredible.
We absolutely loved it – to be able to snorkel straight off the beach and see amazing corals and lots of big fish of different species was truly amazing.  If you were on the east coast, you would have to travel at least an hour by boat to see the same level of corals and fish. Behind Osprey Bay is a rugged mountain range, with a four-wheel-drive track for the more experienced off-roader. Exmouth Cape Range National Park
So, one afternoon we decided to tackle it and went off-road to the top of the ridge to once again overlook the amazing views of Ningaloo beaches and reef. About 40km south of Osprey Bay is Yardie Creek. This creek only flows in the wet season when the area gets significant rain and actually gets landlocked in the dry season from the ocean.
Sand dunes form across the creek mouth and block it off completely.  At Yardie Creek, tour boats can take you into the gorge to view it from the water. You can also hike the Yardie Gorge Trail and walk along the gorge, with beautiful scenery and the chance of seeing a yellow-footed rock-wallaby early morning and late afternoon. Exmouth Cape Range National Park
Whether you want to live it up and eat out every night, go on one of the many paid tours, or have a more conservative family holiday where you can literally camp on the beach, with a variety of amazing snorkelling and sight-seeing destinations which are reasonably affordable to see – Exmouth and Cape Range National Park have everything to offer.
The region caters to many people on a variety of budgets and wanting different experiences. This is just one location we've writing about, but we have written about many locations in Australia over the past few months. So have a read about the top end of Australia – from the east coast to the west coast for ideas, insight and travel inspiration around the amazing place we call home.
Have an amazing holiday in Australia and support our struggling Australian tourism industry. Exmouth Cape Range National Park
Stay safe until next month.