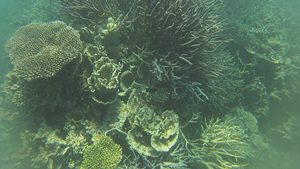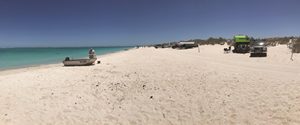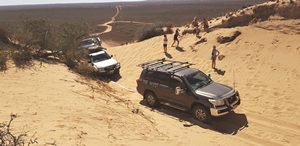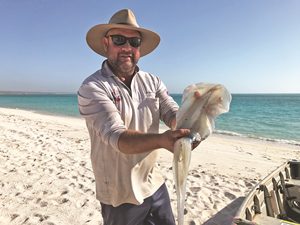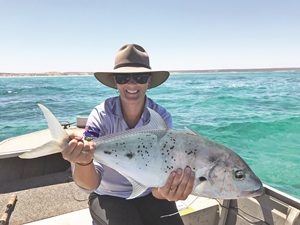 I HOPE everyone is staying safe during these crazy times The Western Australia border was still closed at the time of writing this article, though I am sure it will reopen in due course to allow us east coasters the opportunity to venture over to the west coast to explore. A couple of our favourite destinations on the west coast after our trip, were Coral Bay and Warroora Station, which are located virtually along the same latitude line as Gladstone on the east coast.
Coral Bay consists of a very nice caravan park, a couple of resorts and a few pubs, and is set up for tourism. An interesting fact is there are no permanent residents at Coral Bay, and you are not able to purchase a house or land in this beautiful part of Western Australia. Another interesting aspect of Coral Bay is that all the water is desalinated and can be purchased at some of the resorts for $2-$4 for 20 litres, which is pretty reasonable I think, and while it doesn't taste that flash, you can live off it. Coral Bay Caravan
The pubs and restaurants offer amazing food and it are great places to hang out for lunch, dinner or cold refreshments. There are also dive, snorkelling and fishing charter operators running out of Coral Bay, with some amazing experiences on the reef. There are also amazing snorkel sites straight off the beach at Coral Bay itself, and from the surrounding beaches.
Off the main beach is an amazing coral structure called Ayers Rock that you can swim out to for a lap. It's approximately 250m from shore and best to head out at low tide, plus it makes for fantastic GoPro footage. When you first hop into the water, it goes from a nice sand bottom to a quick drop-off and then onto amazing coral formations out to the rock. Coral Bay Caravan
You are immediately welcomed by all types of fish species, with some amazing spangled emperor, parrot and all other types of reef dwelling species, and I have to say many large specimens at that. It's a great location for the whole family to have a snorkel because it's very sheltered with very little current, so the kids can get right among the action.
A short walk from Coral Bay Beach around the bay will take you to the shallow flats of a shark nursery, where you can walk out at high tide and have literally hundreds of small reef sharks swimming and relaxing around you in the clear shallow water of the bay. This was both amazing and concerning, though funnily enough while snorkelling around Coral Bay we actually didn't see any, which was fine by me! Coral Bay Caravan
There are other beautiful snorkelling areas on adjacent beaches off Coral Bay, with a little more care needed because they are more exposed to weather and stronger currents. We chose to stay at Warroora Station and had this as our base camp. It is approximately 20km south of Coral Bay. There is a back track from Warroora to Coral Bay, which offers some adventure four-wheel-driving up big sand dunes and over headlands to amazing little coves and bays with incredible outlooks.
After buddying up with a couple of fellow travellers, who we now call friends, we had many great adventures and laughs exploring the dunes and tracks on the way to Coral Bay. Warroora Station was truly an amazing place to camp and for $100 a week for a piece of sand right on the beach, it really was fantastic value. Coral Bay Caravan
The only catch was you need to be completely self-sufficient – you must have portable facilities such as a toilet, shower, water, food and other necessities. It was a fantastic family destination because there were many other families, so all the kids got to hang out together, go snorkelling, swimming, play epic games of beach cricket and soccer, while the adults played Klop or Finska on the beach, with plenty of beers and even more laughs.
If you have a car topper, this is a fantastic place for it as you can just leave a tinnie sitting on the beach above the high tide mark and drag it down to the water for a fishing session. The fishing here was exceptionally good, with Raylene and I heading out to the reef edge, which was within sight of the caravan. By just casting hard-body lures to the shadows and holes in the reef, we caught a half dozen redthroat emperor in around 40 minutes. Coral Bay Caravan
With that we had dinner sorted for the next few nights. I went out for a few solo trips too, casting soft plastics on a broken bottom and had an amazing time with big spangled emperor on light tackle, and the occasional huge one busting me off in the reef, which added to the excitement. I also managed to catch a few nice calamari for evening entrée.
It really is an amazing place that we will definitely return to in future, and maybe do more hardcore fishing. But hey, this place was paradise, so you tend to relax and soak up the atmosphere and beautiful surroundings. There are a number of camping options around Warroora, with beaches, bays and headlands all options, and being in close proximity to Coral Bay, it does give you the best of both worlds. Coral Bay Caravan
You can have your own piece of paradise and not be too close to another caravan, and only a short car ride from a nice restaurant or pub. I hope this inspires you to explore and roam our beautiful country once restrictions ease.
Get over to Coral Bay and Warroora and check out this little slice of paradise for yourself.
For more WA content, click here!