What a year it's been for people visiting Cape York – I reckon it would have to be one of the busiest ever!
And most are having a ball, exploring all the hugely diverse places and landscapes. Plus enjoying meeting new people along the road.
And often these former strangers become friends travelling together. As well as having company, this is also a great help when negotiating tricky tracks or in the event of a vehicle drama.
A remarkable observation on the Peninsula this season has been the number of vans about.
We camped at Kalpowar Crossing in Rinyirru National Park recently and all the campsites bar two were filled with four-wheel-drives towing vans.
It seems the road conditions have reached the point where adventurous caravaners are keen to give the Cape a go.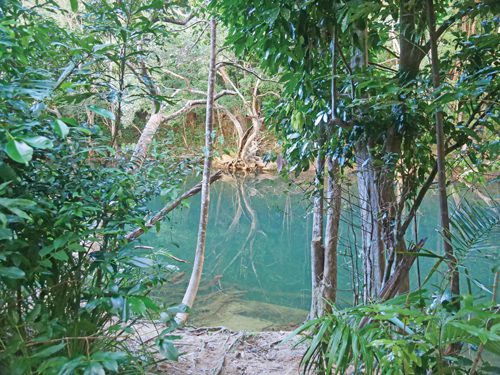 Not that there no rough spots on the main tracks anymore but more that the bitumen seems to be expanding and the gravel sections capped with clay are holding up well as far as corrugations go.
Even if people are towing 'off road' vans, I strongly recommend carrying a selection of screws, silastic, duct tape and some type of quality glue or epoxy.
The chassis and suspension might be 'off road' designed, however the cupboards and most of the interiors generally aren't, and things rattling loose are definitely on the cards.
As far as trip itineraries go, of course they will vary according to available time and vehicle and driver capability.
The thing is, you can drive all the way to the Tip – and many other top destinations as well – in a two-wheel-drive, so long as it can handle the rougher sections.
However, a 4WD gives you more options and greater peace of mind, especially if there's unexpected wet weather.
The extra ground clearance is also an advantage!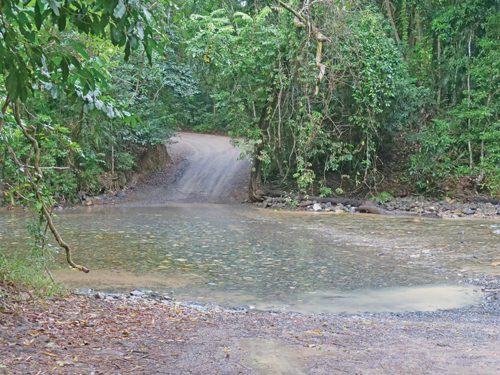 I'm a firm believer in taking the road less travelled and it's a shame that so many visitors do basically only the Peninsula Development Rd up to the Tip and back again.
So, over the next couple of months, I'm going to cover some side roads and other destinations.
Coming from the south, one of the most obvious routes is the Bloomfield Track, from Cape Tribulation all the way up to the Mulligan Highway, about 28km west of Cooktown.
This must be one of the most beautiful drives in Australia, weaving through lush tropical rainforest, with fabulous mountain and coastal views and crystal-clear jungle streams.
There's always a good chance of seeing a cassowary along here, especially at the southern end.
You can also park up at Cowie Beach, between the Cowie and Donovan ranges, and walk out to explore a beautiful sandy beach there.
Swimming in any of the mountain creeks is fine – they are crocodile free in the higher country.
Signage at the start of the track recommends 4WD only for the Cape Trib to Wujal Wujal section, which is also stipulated as not suitable for caravans.
This is because of two very steep hills and one-way sections.
Some do tow through regardless, however it's risky and you're probably not covered by insurance because of the advisory signage.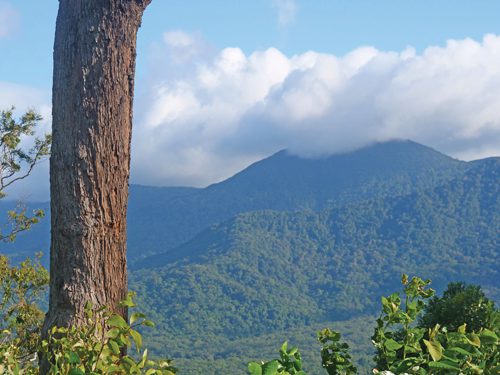 After you cross the beautiful Bloomfield River (Banner Yearie) – the road is now all bitumen – veer left and a few kilometres down you'll reach a carpark, and the spectacular Bloomfield Falls is only a few hundred metres walk away.
There's definitely no swimming here!
Keep your eyes peeled for crocodiles further on when driving beside the Bloomfield again.
There are two great caravan parks at the small township of Ayton, with the beautiful Weary Bay within easy walking distance.
There's also a vehicle track south to the mouth of the Bloomfield River that offers good fishing in a nice secluded tropical setting.
Further north, the bitumen 'track' again travels through some spectacular rainforest and mountain country, the rainforest largely petering out around Rossville.
HomeRule Campgrounds east of Rossville offers great camping beside Wallaby Creek, in grassy areas surrounded by lush rainforest.
Our journey continues next month!