Fresh mornings are still to come for we fishos in southeast Queensland. fishing
In my opinion, August is a great month for all sorts of fishing – from offshore to impoundments – and often it can be quite a tricky situation simply determining what type of fishing to do on the day.
Offshore on the Gold Coast, we're lucky enough to have the end of the snapper closure on August 15, and catching this species should come back with a bang!
Before the closure, I gave these fish a good crack using light gear and had so much fun doing so.
I focused on targeting these fish using lures such as vibes and soft plastics and found I had quite a bit of luck.
I prefer to fish for snapper early in the morning and, if that can be lined up with a sunrise and a tide change, chances will be fairly high.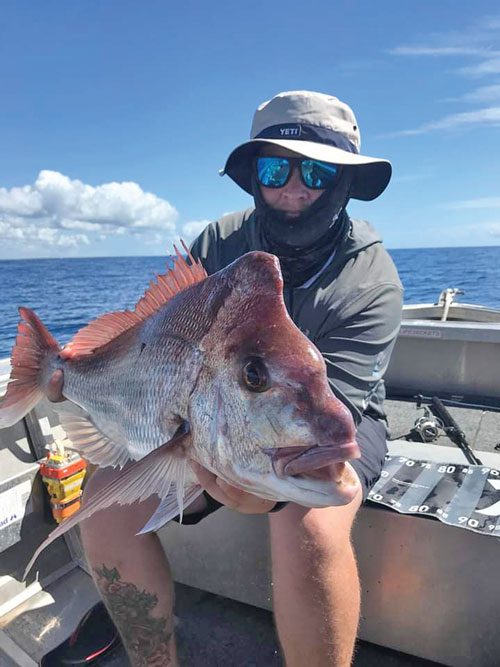 Off the Gold Coast, I favour the closer reefs from about 30m to 45m, as I've found these areas are where I have the most success for snapper.
The way I fish for them is drifting, so I can cover as much ground as possible until finding the fish school I'm after.
When it comes to soft plastics, I vary the weight depending on the wind and current because I prefer to cast in the direction of my drift and want the plastic to slowly waft down towards the bottom as naturally as possible.
A high percentage of the time, the plastic is eaten on the sink.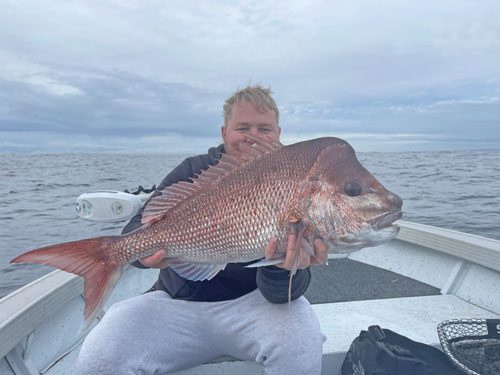 If you're fishing an open bail arm, always make sure you are watching the line speed for the whole sink, so if there are any variations in speed, it will indicate that a fish has grabbed it.
The weights that are my go-to are 1/2, 3/8 and 1/4oz jig heads and 3-5/0, depending on plastic size.
When it comes to plastic options, there are so many on the market to choose from.
My advice is to choose a jerk shad and paddle tail style in 5-7" and mix it up until you discover what works on the day.
Another good technique is fishing with soft vibes, as you can let these sink to the bottom, place them in the rod holder and the movement of the boat is generally enough to get the lure to vibrate and grab the attention of the fish.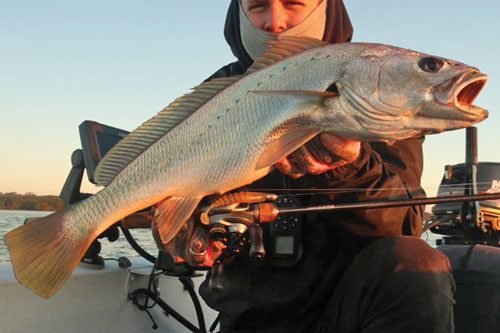 When it comes to the tackle, I normally take only three rods and they range from 6-20lb with 2500-4000 sized reels and 12-20lb line.
If I'm using light jig heads, I prefer to use lighter rods and heavy gear for the vibes.
Due to the lure already being close to the bottom, this helps to stop them from running into reef and busting me off.
Inshore, we have the option of chasing fish such as flathead, jewfish, tailor and even the occasional tarpon.
I've found that fishing around slack tides in rivers with deeper 3-5m holes has resulted in captures of jewfish using only plastics and, where the drop-offs begin, there have been good flathead waiting in ambush – getting a few of them at the same time made for a couple of fun sessions.
Tailor have been running quite thick on the Jumpinpin Channel side of the Gold Coast, caught mostly on lures around the mouth.
They've been quite easy to find – harassing bait and helping to feed the local bird population.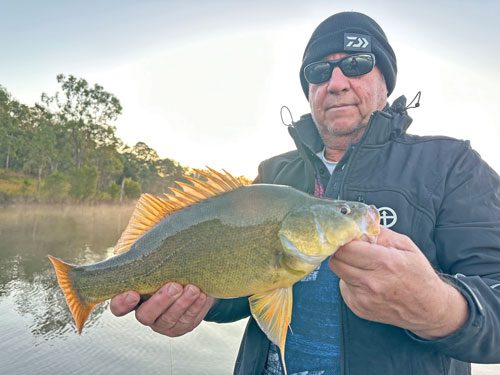 In the impoundments, fishing has been quite successful.
Hinze Dam was producing quite a few saratoga, even in the colder months and mostly on jerkbaits intended for bass.
But it is closing in on their breeding season which usually begins late August, and these are mouth breeders, so during this period it makes them quite a tricky fish to catch.
Better to get in early while you have a chance.
Bass have been moving into schools sitting off the points, making them fun to target on metals and plastics with heavier jig heads.
Maroon Dam has been fishing well on the edge using jerkbaits and smaller paddle tail plastics, with the occasional golden perch making an appearance – a pleasant capture for something different.
So, hopefully the fantastic fishing continues through the month and into September, when the days slowly start to get longer and there are fewer cold mornings, which should help get us motivated and fishing as much as we possibly can.
Good luck out there, and remember, you can't catch fish from sitting on the couch, so give it a crack.