The Toadfish Stowaway Fillet System combines both the folding fillet knife and folding cutting board in a neoprene case that is designed for ease and safety of transportation.
All items are available individually or as a Stowaway Fillet System in two sizes – a 7″ knife and standard board, or a 8.5″ knife and extra-large board.
The clever Stowaway folding fillet knife combines the high-end performance and ergonomics of a full-length fixed knife, with the safety and versatility of a folding knife.
Features include a full-length ergonomic handle, salt-tough titanium corrosion-resistant components, titanium coated salt-tough blade, non-slip raised rubber grip and stowaway carabiner.
The Stowaway Cutting Board fits easily into kitchen drawers, boat boxes, tackle bags or travel packs, and is constructed from solid non-porous high-density polyethylene material for safe food-handling, and features a built-in two-stage knife sharpener – carbide section and ceramic section – and anti-skid bottom.
Check out the Stowaway Fillet System and other innovative products, including seafood tools, non-tipping drinkware and more at www.toadfish.com.au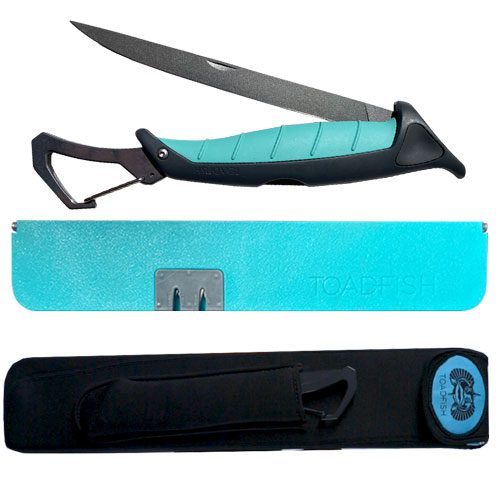 Toadfish Oyster Knife
The Toadfish Oyster Knife is available in two styles – the Put 'Em Back and the Professional Edition.
The Put 'Em Back oyster knife was developed from generations of oyster producers.
It combines all the elements of a traditional oyster shucker with a modern look at ergonomics and the physics of shucking an oyster perfectly and safely.
This artfully crafted multiple-purpose knife will shuck raw or steamed oysters and its sharp blade will cut them out of the shell with ease.
The Professional Edition was designed for opening thicker shelled oysters, use in commercial-volume kitchens and for the experienced shucker – the Toadfish Professional Edition Oyster Knife is for serious oyster people.
This commercial oyster knife features a thicker blade design than the Put Em' Back Oyster Knife, and features a stiffer blade, more shucking power and increased leverage.
This knife also sports a sharp-blade edge for easy entry, so please use caution when handling.
Once you shuck an oyster with a Toadfish oyster knife blade, you will know why folks call these knives the most thought-out oyster shuckers ever created.
Priced at around $49.90, visit www.toadfish.com.au for more information.