Toadfish Tumblers are made from high-grade stainless steel and are double-wall vacuum insulated to keep your drink icy cold or hot to the last sip.
Every tumbler comes with our shatterproof lid, keeping you on the go without worrying about spilling your drink.
Available in three colours and priced at about $44.90, a great gift idea for the angler in your life.
Also, for every product sold, we will replant new oyster beds to help clean our coastal waters.
Let's put 'em back.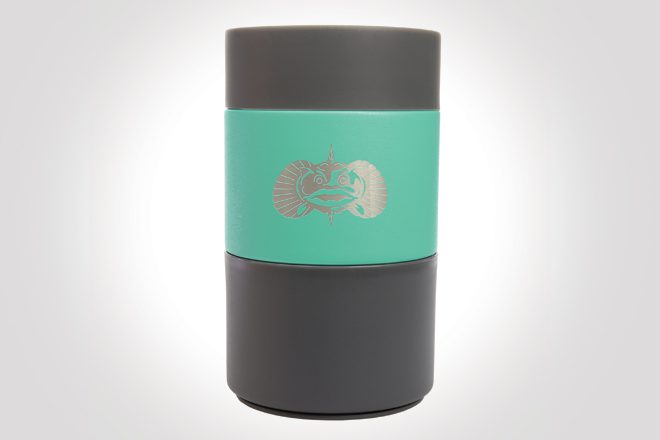 Toadfish Cooler
The Non-Tipping Can Cooler is the first of its kind – an un-spillable beverage cooler.
The innovative Toadfish SmartGrip technology allows the Can Cooler to stick to any smooth surface.
From a lack of cup holders on a rocking boat to wagging dog tails, this product will keep your drink upright, accident-free and icy cold.
Available in three sizes – 12oz regular can, 12oz slim can and 16oz tall can – with an optional lid and four great colour combinations, the Toadfish Can Cooler is a great gift idea.
About Toadfish
Water Quality is the #1 issue threatening coastal waterways.
For every product sold, we will replant new oyster beds to help clean our coastal waters.
Why oysters?
Oysters are the ultimate "friend of the coast."
The number of people living on the coast has increased by 40% in the last 30 years and shows no signs of slowing down. With the population increase, the amount of toxic run off from coastal cities and towns has increased 10-fold, placing an unprecedented amount of strain on coastal resources.
Nature has provided the filter-feeding oyster to keep our coasts clean and teeming with life. A single oyster filters up to 50 gallons of coastal water per day, removing the toxins from run off and creating a habitat where hundreds of species like fish, crabs, and shrimp can thrive.
Toadfish Outfitters was born in South Carolina out of a passion for our coastal waterways. We are committed to cleaning our waters and leaving this world better than we found it. Let's Put 'Em Back!
Visit the website for more information.