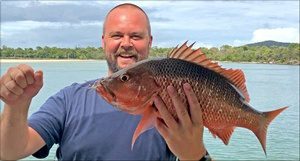 With a few breaks in the rain the rivers are starting to clear up and the dirty water line will start to fade offshore. This means the fishing should start to fire up into the weekend and next week now that we have seen the new moon. With the promise of bad weather now gone and some low wind days the weekend boat ramps were full.
With the vast majority of anglers still in search of their first Spanish mackerel now is the best time to start planning a trip and rigging up. There are many ways to target mackerel, but slow trolling whole dead baits is a must. Must have items are TT bait troll rigs in different colours and hook sizes to suit your bait size. These are pre rigged with a rear hook on a swivel for rigging options. On top of this a short length of wire is a must have around 69lb. A top tip when using garfish is to leave the tag end sticking up so you can use it to fit a stainless nose cone. Put a Neptune Tackle tinsel head on top of this, break the backbone and use a small Shogun 58lb swivel at the end and you're ready!
Sunshine reef, Halls reef and as far as the banks have been producing some good fish. Look for the dirty water and clean water line. Check for current breaks and tide/current lines and troll baits along this line as Spanish prefer cleaner water. Don't forget a boat limit of 6 now applies when two or more anglers are fishing together.
Along the beaches a few reports of smaller sized jewfish have been coming in from south of Point Arkwright. Although not in big numbers these fish at less than a meter are the better size to keep and less likely to be full of worms. Top jew baits are fresh beach worm, squid and mullet baits. Keep leaders around the 40-50lb mark. If looking for a jewfish reel this year take a look at the range of baitrunners from Shimano. These are perfect for big fish that like to run with baits before setting the hook.
The Noosa River should start to see a good change as boat traffic subsides over the next 2 weeks. For now the lack of rainfall is seeing the waters clean up and the flows become less which lines up to better fishing. The lower estuary is still the most popular area as the Noosa Everglades still drains out. In the lower estuary you can expect to catch trevally, flathead, whiting, bream and jacks. While the waters are still a little dirty you can get away with heavier lines up to 12lb in the daytime. This allows you to fish bigger baits and cast them with ease. Big flathead like whole fish baits and our whitebait are huge, making them ideal. Fish these on a small size 1 octopus snelled rig and you are in the running. Lure anglers should definitely check out the new Chasebaits prawns. These super small offerings replicate the Noosa river prawns perfectly and are sure to be a big hit. Whiting are starting to fire up on the surface as the waters around the frying pan and in Weyba start to clean up. Using 1-2kg rods and 4-6lb lines ensure when you get a big 40cm plus fish you are in for a real treat! These bigger fish run hard, jump and will put up a great fight on the light stuff. Be sure you grab a few surface lures with the Bassday Sugapen a must have lure and a few Atomic walkers with orange wonder a must have colour.
The local dams are fishing well and with Borumba dropping quickly, extreme care must be taken in the sticks. There are many trees just below the water line and many boats have been badly damaged by going too fast. Blade style lures with heavy vibration have been getting the job done lately and the Hot Bite spectra have been doing very well. The cicadas are also in full song and although deafening at times if you are a surface angler now is the time to break out the Tiemco soft shell cicada. These have a very enticing slow crawl that bass just love to smash off the top. Lake Mac is spilling making exploration onto the shallower parts a must. If you can find areas where the weed is below the surface you may find bass ontop looking for a feed. Weedless frogs and small Keitech easy shiners on weedless hooks will get the bite without the fouling up in the weed. This makes for great fishing on lighter gear.
Now for all the  latest information log onto www.fishingnoosa.com.au for up to date bar and fishing reports, don't forget to drop into Davo's Tackle World, Davo's Boating and Outdoors in Noosa and  Davo's Northshore Bait & Tackle in Marcoola for all the right equipment, bait and advice to get you catching. Be sure to follow us on Facebook and remember Tight Lines and Bent Spines!