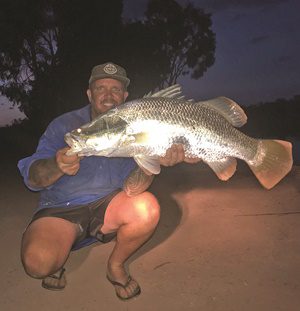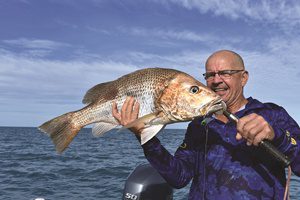 AFTER a particularly long wet season up here on western Cape York, it's finally over and the Peninsula Development Road is officially open, signalling the start of tourist season.
In coming months, adventurers, grey nomads and anglers alike will descend on Weipa from all over Australia with the intention of wetting a line in the waters around this little slice of red dust covered paradise.
With such a diverse range of species to target and endless fishing options, even the most seasoned anglers can find it somewhat overwhelming when working out where to start fishing the Weipa region. With this in mind, I thought it would be helpful to travellers and those who only intend to stay in Weipa for a short time to talk about getting started in the area.
Tides
Tides play an integral part in any fish feeding patterns. It's important to monitor tide and moon phases to help predict fish movements and bite windows. You might notice when you look at the local tide chart that the tides are a little more infrequent on the western Cape than they are on the east coast, however, the fundamentals are the same.
I have found the bite window varies depending on the moon phase, but the last two hours of the run-out and first hour of the run-in is when you seem to see the most action. Keep in mind the bays and beaches around Weipa are very shallow, and on a run-in tide fish such as barramundi and queenfish will move into these shallow areas to feed. This provides a great opportunity for land-based anglers to get in on the action.
Technique
This comes down to personal preference and what kind of fishing you enjoy. Live baiting is not only a great way to target specific species but between bites it's a perfect way to relax and really enjoy your time on the water. Nothing is more exhilarating than the pandemonium caused by a big fish when it unexpectedly inhales your bait. Live bait can be found at any beach, creek mouth or riverbank using a cast net, with the bait of choice being small to medium mullet.
Please keep in mind the waters around Weipa and the surrounding area are home to a large number of saltwater crocodiles, and caution must be exercised when gathering bait or fishing near the water's edge. If you prefer casting lures, you won't be disappointed with what Weipa has to offer. If you are fishing land-based, due to the shallow bays and beaches in the area, your best bet is to wait until the incoming tide floods the sand and rock bars.
Work your lures over the top of them to target predatory fish that come into these shallow areas to feed. If you're fishing from a boat, hundreds of kilometres of snag-lined banks can be cast at, all holding good numbers of barramundi and mangrove jack. Z-Man SwimmerZ rigged on a ChinlockZ jig head are great for this.
Because they are rigged weedless, you can really cast right up to the back of the snag with minimal chance of the lure hanging up. Submerged rock bars and deep holes also hold barramundi, threadfin salmon, fingermark and black jew.
Use your sounder to locate structures with fish and then drop vibes and soft plastics and hop them along the bottom to entice a bite. I like to use Berkley Gulp 7" jerk shads, and the strong vibe and flutter action of Infish 20g vibes seems to work wonders on stubborn fish.
Surface action is also red hot at this time of year and schools of queenfish, trevally and tuna can often be seen rounding up and smashing bait. A popper or stickbait worked through a school of feeding fish usually ends in spectacular surface strikes, screaming drags and sometimes bruised egos. Halco Roosta Poppers work great for these speedsters.
Location
When it comes to land-based fishing, Google Earth is your best friend. If you take a look at Weipa on Google Earth, you will see it is littered with small beaches and rocky points, with most accessible by four-wheel-drive.
The best way to get started when fishing any large system by boat is to choose a specific river or creek and stick to it for the duration of the tide. In my opinion, you are much better off focusing on a specific area rather than travelling long distances during what could be the bite window.
Upon arriving at your chosen area, look for sloping banks with fallen timber and protruding mangrove roots and make sure the banks you intend to fish also have tidal movement. Predatory fish such as mangrove jack love these areas because they provide plenty of ambush points for them to attack unsuspecting baitfish passing by in the current.
You could also use your sounder to locate structures on deep bends. Larger fish love sitting among structure in these deeper spots and a live bait or vibe dropped into these kinds of places often brings on a bite.
If you're looking at heading offshore, the best place to start is the leads off Evans Landing. I simply drive past each lead and watch my sounder for life around the base of the lead. Once fish are located, I spot lock using the electric motor or do a series of drifts past while dropping a soft plastic, jig or vibe.
Trolling is also a great way to find ground. Watching your sounder and marking structure to be revisited often yields great results and if you pick up a few mackerel along the way, that's a bonus. If you are planning a trip to Weipa in the coming months, I hope this little piece of information guides you in the right direction and helps make your next fishing trip to the Cape a memorable one.
I hope to see you on the Cape.