The age-old saying of 'what's on the inside counts' stands true to all things boating, with the sheer strength of build and quality of ride starting from the very core of the vessel and trickling throughout the entire product.
This awareness has underpinned Yellowfin Plate Boats since its conception in 1984. With decades of boating expertise and refinement under its belt, Yellowfin has established itself as one of the most reliable, strong and stable plate boats in the industry.
Thanks to a dedicated team of research and development professionals who specialise in continuing to elevate the boating experience, Yellowfin only continues to evolve the offshore boating experience.
Yellowfin Plate Boat supervisor Peter Steinhardt said, "We are proud of what we deliver, knowing that each day we give local Australians a proven product that delivers industry-best performance, is built tough with the highest marine grade aluminium plate sheets and meets consumer demands."
"Each model in the Yellowfin line up is a fine-tuned, tried and tested product.
"For marine boat building in Australia, we have a state-of-the-art facility – no one can do what we can with the technology, resources and people.
"Every Yellowfin Plate boat is hand-built by a specially selected 15-person team of the best boat builders in the country, and goes through six sections of quality control before heading out the factory doors," Mr Steinhardt said.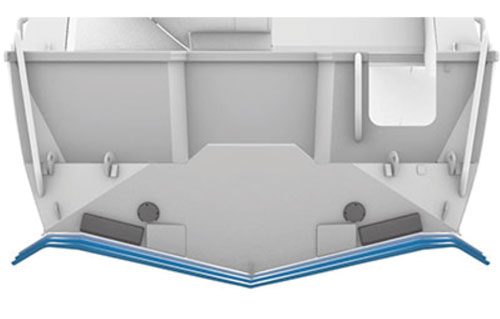 With a great product comes a great team – each design seeing countless hours committed to the build to create perfection and up to 90 hours of welding alone going into each boat.
Heralded as the most sought-after position in all marine manufacturing, each Yellowfin Plate boat builder must go through an intrinsic process to become an expert before being welcomed onto the team.
The journey begins with building small tinnies to lay the foundations of marine knowledge, then large boats to fine tune their skills to perfection, and then plate boats.
The three core elements that separate the brand from the industry come down to the hull, internal construction and flooring mechanism.
Hull
Boasting the largest research and development team than any other boat brand in Australia, Yellowfin has scientifically developed and pioneered the Offshore HD hull. With its sharp entry point and 19-degree deadrise, Yellowfin Plate Boats handle swell with ease, delivering a soft and predictable ride.
Yellowfin is also the only brand in the market to build their plate boats with up to 6mm plate bottom sheets to deliver utmost strength. The design is different due to the reverse chine, which deflects water away from the hull and enhances stability.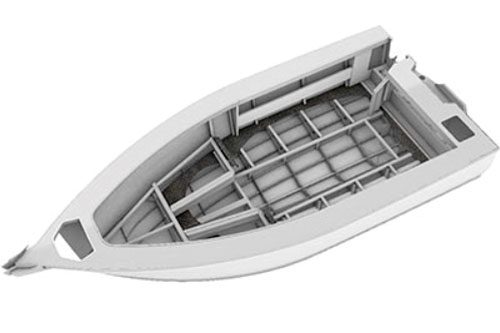 Yellowfin commercial manager for Australia and New Zealand Drew Jackson said, "A good reputation does not happen overnight – it comes from consistent customer satisfaction and exceeding expectations."
"Since the beginning, Yellowfin Plate Boats was known for its superior design, and part of this can been seen in the development of the current HD hull," he said.
Internal construction
The entire range is built with an internal sub frame, comprising a strategically structured longitudinal and latitudinal rib structure for utmost strength. Each boat is constructed with 6mm thick vertical stringers and 5mm horizontal ribs for maximum strength, and is completed with a fully welded checker-plate floor.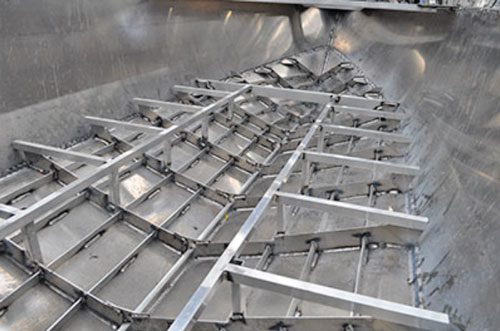 To provide additional support to the self-draining checker-plate floor, a box section floor frame is also fitted. Using extrusion specifically designed for marine products, the chine and the keel are not simply welded but re-enforced by a total of four welds performed by an expert technician for double the strength.
"It's what's under the floor that makes Yellowfin Plate Boats some of the toughest on the market," Mr Steinhardt said.
Auto self-drain deck
For offshore boating, an auto drain deck is essential. The entire Yellowfin Plate range comes complete with specialised technology that expels water quickly and efficiently from the hull.
A rear gutter guides excess water to a lower chamber, ready to be pumped out. Separate to the underfloor bilge pump, the auto drain deck offers another layer of safety.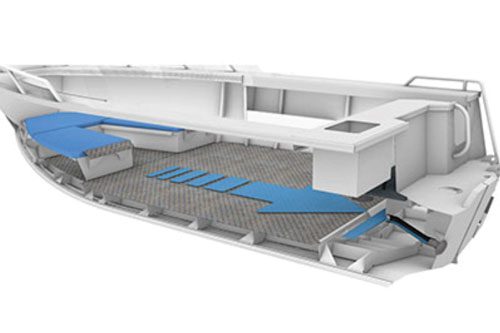 Yellowfin are driven towards delivering a fully equipped vessel catered to every bluewater boater's needs, with a range of seven different model configurations in the lineup – the Southerner Hard Top Cabin, Hard Top Cabin, Folding Hard Top, Cabin Soft Top, Centre Cabin, Centre Console and Rear Console.
Each boat comes standard with all the essentials for stress-free, straightforward boating, and are available with an array of additional options for easy customisation to build that perfect boat.
"We are committed to delivering a world-class plate boat for all offshore boaters, with fine-tuned designs across all layouts," Mr Jackson said.
"Whatever the adventure, you can rest assured that you have an offshore beast with Yellowfin."
Available as a fully configured boat, motor and trailer package, built directly from the Gold Coast factory, buying a plate boat has never been easier.
With a carefully selected network of Yellowfin dealers located across the country, all Australians can experience the Yellowfin Plate Boat difference.
Visit yellowfinplateboats.com.au to find your perfect offshore plate boat and contact your local dealer to become part of the Yellowfin force today.