THE Australian Fishing Tackle Association Trade Show was held on the Gold Coast recently – after two years of cancellations due to Covid – bringing together fishing tackle manufacturers, wholesalers and retailers on Thursday and Friday August 4 and 5, with a trade morning and then public day on the Saturday from 10am to 3pm. AFTA
Behind the scenes there were catalogues and websites to be updated, new products and new packaging to be completed, stands to be designed and manufactured, then a truckload of gear taken to the Gold Coast Convention Centre on the Wednesday before the show for a full day of set up. Tackle Tactics and the team have been attending these shows for many years, however after a couple of years off and a loss of match fitness, it was a wild adventure getting everything together, finalised and set up on the day.
The event went extremely well, with many Australians holidaying and turning to fishing to escape the crowds and to catch a fresh feed of fish for the family. There was also plenty of interest in the many new products that Tackle Tactics had assembled for the show.
In this article I want to share a look at the Tackle Tactics AFTA 2022 stand, for those who couldn't be there on the public day and get a sneak peek at some of the exciting new products released at the show and that will be arriving over the coming months. Let's take a quick look at some of the new Tackle Tactics releases from the show, across the brands.
Stay tuned for more information on these products and when they drop.
Fish on!
TT Fishing
It's been a big year for TT, with the release of the new logo and a stack of new apparel featuring the logo, including tees, hoodies, caps and a straw hat. Since last AFTA event, we have also seen the release of products such as the Big EyeZ jig heads, Snake EyeZ weedless jig heads and NedlockZ EWG weedless Ned Rig jig heads.
A couple of highlights from the show included the ChinlockZ SpinZ weedless belly weighted underspin jig head – which had bass, barramundi, cod and mangrove jack anglers pumped – along with a painted series of HeadlockZ Finesse jig heads for light-line sport fishers.
This selection of popular models will be available in four colours – Orange, Black, Motor Oil and Bloodworm – featuring UV paint to attract fish and trigger strikes.
The best got better and there are sure to be many bream tournaments won on these heads, featuring world-class Gamakatsu fine wire hooks, 'head lock' keepers and a bullet- head design with flat sides for tracking and increased plastic action.
There were also some additions to the TT range of rods, including baitcast versions of the popular Copperhead, Red Belly and Black Mamba rods, along with Black Adder heavy baitcast models and the Slo Jig R range of slow jig rods – beautifully colour coded to their PE rating for ease of identification when the bite is red hot. These rods are all about the quality and value you would expect from TT, built of Toray Carbon blanks and fitted with quality Fuji components.
Another category addition for TT is line, with the development and release of Pursuit Braid and Pursuit Fluorocarbon Leader. Pursuit Braid is an 8-carrier premium PE braid, made in Australia from a newly developed fibre that is colour infused – reducing fading and minimising the need for coatings and dying. With no dying required and minimal coatings, Pursuit is extremely thin and supple for excellent line lay and long casts – even with finesse presentations.
This is going to make this braid extremely popular for tournament anglers and keen social fishos alike. Initially available in breaking strains from 6lb to 80lb, in 150m and 300m spools, complemented by Pursuit FC Fluorocarbon, a 100 percent quality Japanese fluorocarbon, with more fluoro for the angler's dollar.
Z-Man
We have seen loads of new Z-Man releases since the last AFTA show, including the 2.75" TRD BugZ, Goat family, Pro CrawZ, 6" DarterZ, 5" & 7" DieZel MinnowZ, 4" Goat ToadZ and more. And a stack of new colours such as Gitter Done, Slam Shady, Beer Run, Fried Bologna, Dark N Stormy and more.
Tackle Tactics managing director Gareth also managed to sneak away from ICAST 2022 in the US with a couple of new surprises fresh out of the mould, landing back in Australia a week before the AFTA show.
These two exciting new 10X Tough finesse plastics are the 2.5" ST GrubZ and the 2.5" PrawnZ – both of which created plenty of interest at the show.
The Z-Man 2.5" ST GrubZ features a deeply ribbed body that feels soft and realistic, creates micro vibrations and will hold plenty of scent for when the bite is tough.
They also feature a split-tail design, whereby the end of the tail feathers into four sections for a subtle fluttering fall and even more action on slow retrieves and on the pause.
Bream anglers were super pumped on this release, however we have seen the Z-Man 2.5" GrubZ catch hundreds of species around the world in both fresh and saltwater, so we are confident that this little curl tail will have mass appeal and giant killing attraction.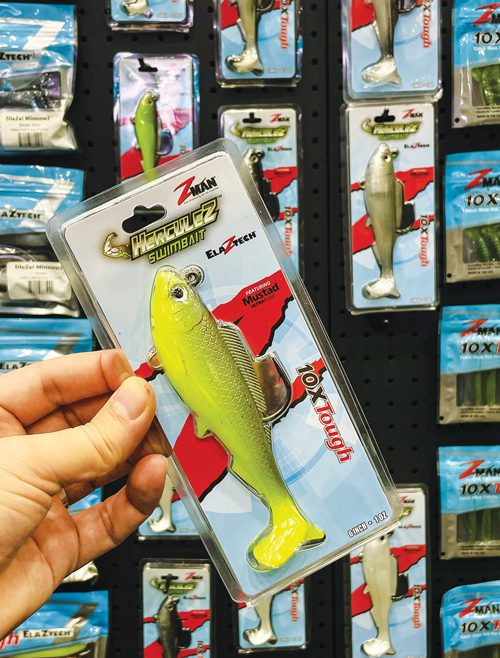 The Z-Man 2.5" PrawnZ has been prototyped and fished through several versions to get to the finished product and it created loads of excitement at the show.
This 10X Tough bite-size prawn imitation is going to appeal to a stack of species, thanks to its realistic profile and design features that include natural antennae and 3D eyes, enough bulk in the head to effectively house a jig head, tapering rapidly to the tail to encourage maximum action and a realistic prawn flick and glide. Legs extend directly out each side of the PrawnZ, slowing the fall and allowing it to parachute down around pontoons, mangroves, rock walls, boat hulls and other higher structure, rigged on a TT hidden weight system or HeadlockZ Finesse jig head.
The legs can also be trimmed off, if required, to create a faster sink and glide, combined with that natural prawn hop or flick. The ST GrubZ will be available in a dozen colours, with 15 colours in the PrawnZ, so loads of cool options, including laminate two-tone colours.
Other additions include Z-Man 2.5" Slim SwimZ in Slam Shady, Houdini and Gold Rush, along with two new additions to the Oil family, Dirty Oil and Blood Oil – stay tuned for release dates.
Okuma
There have been so many additions to the new era of Okuma that I would suggest joining the Okuma Facebook and Instagram pages, if you haven't already, as the range blew a lot of heads off at the show. The award-winning Hakai finesse baitcast reel is a prime example – built on a completely new platform and featuring featherlight magnesium, alloy body, 6+1 premium bearings, Flite spool and shafts from Dream Tackle Design and 10-point cast control for long and accurate casts, even with ultralight lures.
A crowd favourite was the new Ceymar HD, with its stylish red and black aesthetics, HDG-II oversized high-density gearing, EFR-II even flow roller system with DLC coating, lightweight machined alloy screw in handle, frictionless main shaft design, 7BB+1RB and loads more, with its price blowing anglers away. This reel will be in sizes from 1000-5000, starting at only $129.90.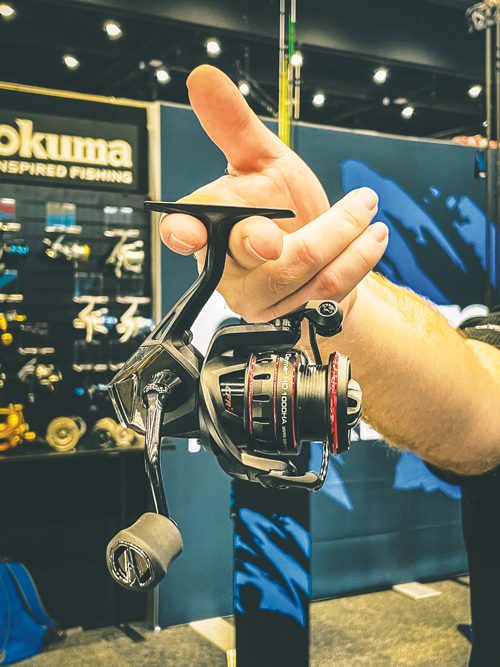 Bluewater anglers were not forgotten with the release of the new Azores high and low speed reels, Cedros series and a sneak peek at the new Salina platform, along with the high-end Tesoro series with its IPX7 rating, lightweight Alumilite body, oversized titanium spool shaft, carbonite drag, 12BB+1RB corrosion resistant, stainless steel bearings and loads more, packed into a stunning looking reel.
Make sure you check out the Okuma Australia Facebook and Instagram to keep up to date with Okuma releases because there will be so many dropping in the coming months – including Azaki and JAW combos, Tesoro, Cedros, Azores XP, Ceymar HD, Hakai, Serrano, Solterra SLX and more across the reel range, along with Terzetto Nibble Tip – multiple tips – Jaw, Coronado, Komodo Spin and more in the rod range.
Platypus
There have been some awesome additions to the Platypus range along with a few refinements. New Australian-made braids have included Pulse X4, Pulse X8 and Bionic X9, along with new releases Downrigger Braid and HC-X16 – 16-carrier hollow-core braid that can be fished as a mainline or used for creating wind on leaders and is available in 40lb to 550lb.
Cutting-edge Pulse Mono has become an instant favourite, after challenging our line technicians to design and manufacture the best monofilament line in the world. AFTA
The latest in materials have created a line with balanced stretch and a finer diameter without sacrificing abrasion resistance and knot strength in a Ghost Clear colour that mirrors its surroundings, much like a fish scale.
Requests have seen the addition of 500m spools, following the initial release in 300m spools. Other developments in monofilament saw the release of Hard Armour Supple and Tough Leaders, with requests seeing lighter breaking strains added, including 10, 12 and 15lb in the Supple and 4, 6, 8, 10, 12 and 15lb in the Tough.
Hard Armour leader is built around increased knot strength and up to 20 percent more strength and abrasion resistance when compared to equivalent diameter leaders from leading brands.
It's also made in Australia and being a nylon monofilament leader, it doesn't sink like fluorocarbon, making it an excellent topwater and general purpose leader with more metres for your money. The popularity of the Hard Armour range has seen the expansion of this range into Hard Armour game leader in both hanks and reusable lure wallet packs, in breaking strains from 100-600lb.
Don't forget, we also manufacture Shooting Line – speargun cord – and Downrigger Line right here in Australia.  Thanks for supporting Australia's longest running fishing tackle brand, family owned and operated and made in Australia since 1898.
Toadfish
Toadfish has been another exciting addition to the Tackle Tactics range, including a selection of quality and innovative products to suit those who love the outdoor Australian lifestyle and those who enjoy the magnificent seafood that this country produces.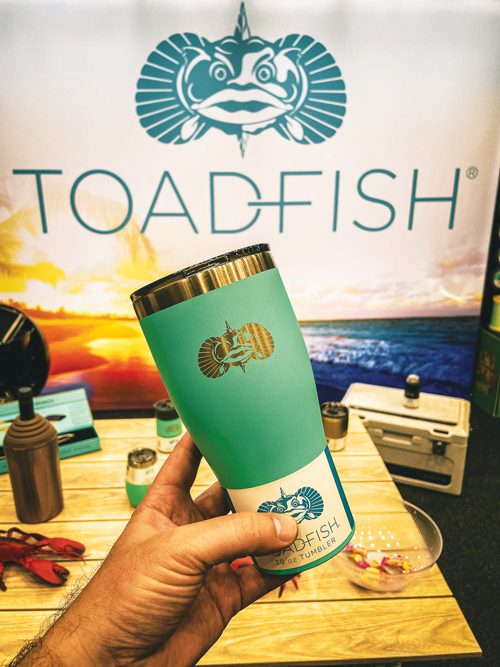 From cutting-edge seafood tools, amazing non-tipping drinkware and innovative barbecue tools to folding fillet kits, dry bags and non-tipping dog bowls.
If you haven't checked out the range, visit toadfish.com.au
New releases at the show included Black and Green in the amazing non-tipping can cooler, non-tipping tumblers, the stainless-steel double-wall vacuum insulated wine chiller, multi-purpose scissors, ultimate grill set, stowaway LED all-purpose lantern and more.
Overall, the show was great to display all our exciting new products that we have been working on in the background, to catch up with our friends in the industry from other brands and shops around the country, and to meet some of you on the public day and shoot a few Z-Man 10X Tough plastics at targets to win some prizes.
Remember to stay tuned for the roll out of these exciting new additions, visit tackletactics.com.au
Fish on!
See you on the water…