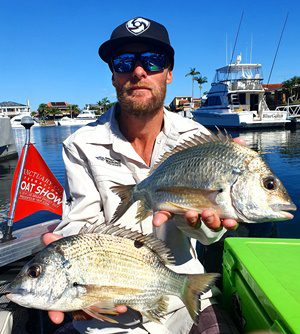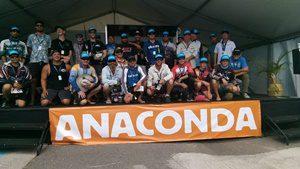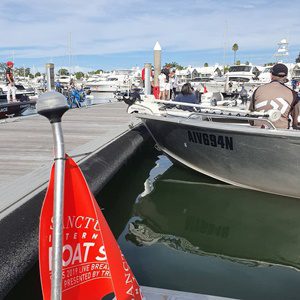 Not a lot of people know about the fishing competition that is held within the Sanctuary Cove International Boat Show. This sees anglers from all over Australia compete over two days fishing for the humble bream.
Paul Burt handles the weigh-in procedure and adds a touch of class to the competition. Over the two days anglers can chase bream on lures or bait. A bag limit of 10 fish per team is brought back live to the weight in at designated times.
Being lure and bait it provides a great opportunity for families to get involved in a fun time on the water and the shot at some great prizes. Over the weekend, Wellington Point Marine was represented by Dale Mavric and Wade walker, who fish competitions all along the east coast of Australia. They used solely lures over the two days, bringing in a respectable 7.4kg.
The winning team for the weekend weighed in a whopping 10.87kg. The guys aboard this boat were using bait and bait only, which goes to show it's not always the $100 thousand bass boats and high-end gear that wins but the humble prawn has a great chance in tournaments like these.
The event was run well with multiple presenters during the weigh-in and a great stage and prizes for all anglers. This is something I think many more people should get involved with as it's so family friendly and no one walks away empty handed, not to mention the cheap entry fee!
Amazing job to all involved over the weekend from the organisers, hosts and anglers.