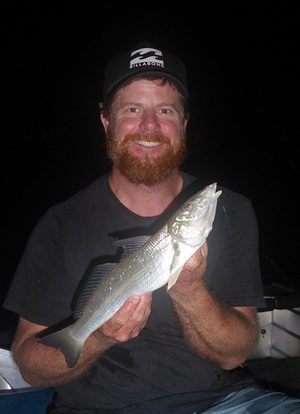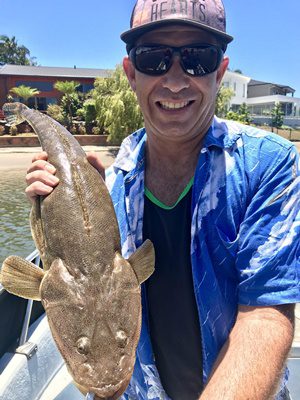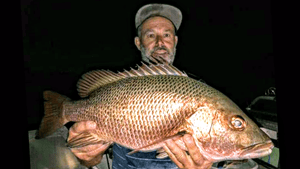 Hi Everyone, hope you've all had a great week, it was nice to see all our Houseboat customers out over the Australia Day Long Weekend enjoying the Gold Coast waterways and scoring a feed of fish and crabs. With school holidays officially over let's have a look at a few options as the boating traffic eases up.
Coomera Bait and Tackle regular Brett took his son Angus (see photos in report) for a night fish up the Nerang River and scored a great feed of quality Whiting up to 40cm in length. Brett was using worms for bait, a nice long rod to help with hooking the fish, an extra long 6lb fluro carbon trace matched with a size 6 short shank bait holder hook and 4 ball sinkers to keep the bait in the bite zone. The Nerang has been producing consistent catches so far this Summer; other good spots to try are the Tweed River, Currumbin Creek, Coomera River, Pimpama River and the Logan River. Using a second anchor out the back of the boat will stop you swinging around and make the presentation of your bait much more natural which intern should produce more fish.
Some quality Mangrove Jack have been landed in the Coomera River over the long weekend with Marinas around Hope Island and Coomera holding some big fish and a bit of bait. Try casting or trolling lures along the rock walls and pontoons. The Tweed River, The Nerang River, Runaway Bay Canals, Paradise Point bridges, Ephraim Island and Sovereign Island. Fishing with bait is a great way to temp a big Jack, also plenty of Estuary Cod and Trevally will respond to this method. Live Herring, Mullet, Garfish and Pike are fantastic bait, also Mullet Fillet and WA pillys will do the trick.
On the Tweed Brad from Brad Smith Fishing Charters has been finding some hard fighting trevally for his guests. They have been turning up around the shallow weed beds around Chinderah at high tide. There are some decent ones and a real thrill on surface lures and light tackle.
Once again the best options at the moment are targeting whiting on surface lures on top of sand banks at high tide, trolling for jacks along deeper rock walls, live baiting for them at night around structure, and tea bagging the deeper holes with vibes for flathead and bream.
Clint has been getting some great results for his charter guests on the Gold Coast Broadwater, catching and releasing over 100 fish some days, with a great range of species showing up. Some nice flathead have been appearing in the dirty water in canals where dredgers have been operating. In the Broadwater the big tides have stirred up some discoloured water. Species caught in the Broadwater on charters this week have included Flathead,Whiting, Tarwhine, Bream, Flounder, Snapper, Spangled Emperor, Grassy Sweetlip,Tuskfish, Barracuda, Pike, Queenfish, Squid, small Cobia, Mangrove Jack and Trevally.
Customers scored a few Mud Crabs this week, with a hint of rain on the forecast this weekend it will be a good time to get the pots in and chase a few. Jumpinpin has crabbed well during the week, Tiger Mullet, Whalleys Gutter, Eden Island and joining feeder creeks have produced the goods. Also have a look around Canaipa Passage and the Logan River. Down the Southern end the Coomera River, Pimpama River, The Never Fails and Brown Island are worth a go.
Hope you all have a good weekend and get out for a fish, if you have any great catches or photos you would like to share, please email us and let us know how you went.
Coomera Houseboat Holidays/Coomera Bait & Tackle now have Hire Tinnies follow the link to view http://www.coomerahouseboats.com.au/our-fleet-type/hire-tinnies/
Seabreeze is a great website to access a local forecast http://www.seabreeze.com.au/graphs/
If you have any great catches to report or fishing photos please email them to brett@coomerahouseboats.com.au Good luck with the Fishing. Brett
Coomera Bait & Tackle operates with Coomera Houseboat Holidays. We are open 7 days a week offering a great range of Fishing Tackle Gold Coast for our local area as well as bait & ice. We have the experience and local knowledge to get you out catching fish in no time. We offer off street parking and also a courtesy jetty for customers arriving by boat. Call 07 5502 6200
Coomera Houseboat Holidays Website www.coomerahouseboats.com.au
Coomera Bait & Tackle Website http://coomera-bait-and-tackle.business.site/
Coomera Bait & Tackle Facebook page www.facebook.com/CoomeraBaitandTackle
Coomera Houseboat Holidays Face Book page www.facebook.com/CoomeraHouseboatHolidays