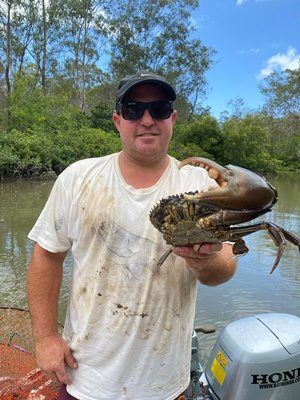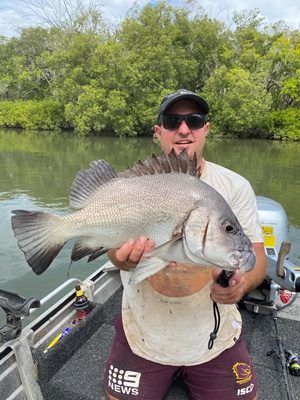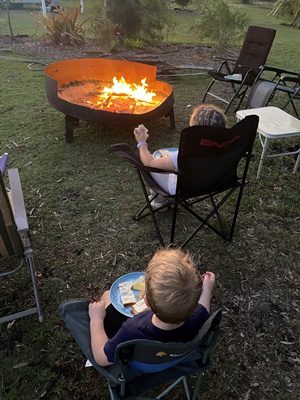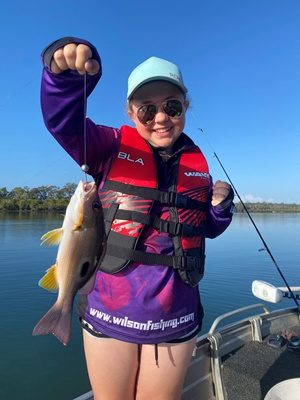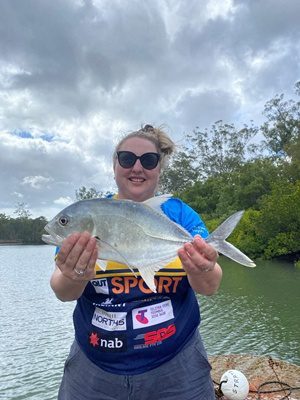 THE Baffle Creek Family Fishing Festival was held in September this year. I've never entered a family fishing competition before, though with my son's sixth birthday looming it was a perfect time to have a go. Last year my partner Ash and I spent a few days on Baffle Creek staying at Rocky Point Retreat.
While we didn't have a lot of luck on that trip – with car problems putting a halt to our fishing expeditions – we thought the campground was excellent, so we booked a spot for the week of the fishing festival. With an overflowing ute and boat, we hit the road early on the Sunday morning to get there in time to set the camp up and get settled in. Baffle Creek Family Fishing Festival
The festival started at lunchtime on the Monday and finished with a presentation on the following Saturday afternoon. This gave us plenty of time to try a lot of different areas and target a range of species. The Rocky Point Retreat, located on the southern side of Baffle Creek at Winfield, allows access to the mouth and the middle reaches of the creek.
It has a boat ramp close by and huge campsites to spread out on. We took crab pots with us to try catching a few mud crabs and get among the prizes for biggest crab. Baffle Creek hadn't had any rain in previous weeks, so the whole system was very clean. Baffle Creek Family Fishing Festival
We decided to spend a bit of time up Bottle Creek, as we had caught a few mangrove jack and other species there before – it also looked pretty good for crabs. We spent the first afternoon getting the pots in and pumping yabbies for the next morning. Yabbies looked to be plentiful but everywhere we tried pumping for them was hard work.
The gravelly sand was quite soft and in places we sank up to our knees. Early the next morning, I took the kids over to one of the big rock bars to float yabbies over. The action was red-hot, with all sorts of species eating the yabbies and a few busting off the kids' light outfits. Because the kids had a ball catching a range of species, we decided it was going to be our plan each morning. Baffle Creek Family Fishing Festival
The crabbing was very slow, with only one crab weighed in on the competition app. Each morning we took the pots further up Bottle Creek until we finally snagged a good crab. It measured a bit over 19cm and took our team straight to the lead of the crab section. We got to know Bottle Creek really well over the competition and started catching a few good fish there on lures.
I only managed to land one small jack there, with a few fish getting the better of me. We caught a variety of trevally, small jewfish, grunter, cod, tarpon and a solid slatey bream (also known as blubberlip) – all on plastics and blades. We were starting to rack up a few species and were only slightly behind the leaders, so we started chasing a few other species out towards the mouth. Baffle Creek Family Fishing Festival
The best part about fishing in this area is it's great for a swim as well. In between swimming, we caught all sorts of things on yabbies, but we couldn't catch whiting to save our lives. We ended up with 22 species of which 17 were legal – that's a lot of species to catch in one system. We didn't know what was going to turn up next.
There were excellent fish caught during the competition. Only one barramundi was captured – probably due to the clean water – but solid jack up to 56cm were caught, along with excellent grunter. Plenty of nice flatties, whiting and bream were also landed. We struggled to find any numbers of flathead there and it took me a few days to land our first legal one. Baffle Creek Family Fishing Festival
We ended up holding onto the crab section and my daughter Amelia also got an award for a mystery length bream. Plenty of cash and prizes were given away at the presentation and the committee did an excellent job keeping the kids entertained and the beers cold for the adults. We all had a great time staying at Rocky Point Retreat and our kids are very keen for the next adventure.
If you're looking for a great week away, check it out next year.
We might see you up there.