Are you as excited as I am? Unless you've been living under a rock, you would be well aware that as of February 1, the Queensland saltwater barramundi season has officially re-opened. Barra season re-opening
I can't wait to get back out on the salt and chase a big chrome slab. Barra season re-opening
The Shimano King of Kings competition is about to kick off in a few days, so hopefully we can get our 2022 barra campaign off to a good start. Barra season re-opening
I would like to run through three simple tips that you should be undertaking to get your barra game strong.
The first is gear preparation.
It's the most overlooked part of the game, which can be very costly.
I've been barra fishing for quite a few years now and I can assure you that preparation is the most important part of becoming a barra specialist.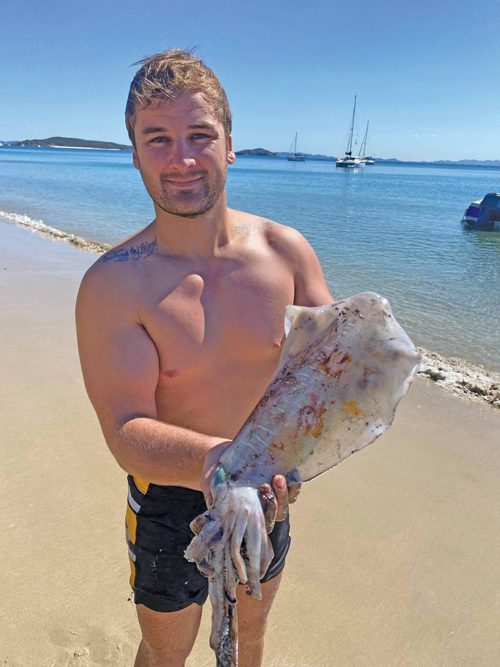 Sticky drags, poorly tied knots and the wrong leader selection are a few of the common mistakes I still see anglers making to this day.
I personally run 30lb Sufix braid, 60 and 80lb FC100 Sunline fluorocarbon leader, Shimano spinning reels and Gary Loomis Edge rods.
I connect my braid to leader via an FG knot.
Get the setup right and your landing percentages will also increase.
Use technology to your advantage.
With the calibre of sounders these days, there's no excuse not to have a quality side image sounder.
They can be expensive but look at the cost as an investment.
If you want to find barra-rich areas, then learn how to interpret what the sounder screen is showing you.
YouTube tutorials, knowledgeable friends and online sounder courses are all there to help.
Correct rigging of lures is also highly important.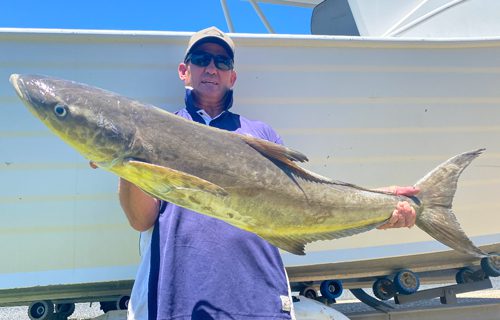 If you mess up rigging a plastic, the chances are it won't swim properly and barra won't even consider eating it.
Make sure you get your lures straight on the jig head and give them a quick swim at the rod tip to make sure they track straight.
These quick tips are very simple and very effective.
Get the simple stuff right and watch your results quickly improve.
So, what's been happening locally?
The offshore fishing has been hot, hot, hot.
Most boats that have headed wide have been getting stuck into some quality fish recently.
Big coral trout, red emperor and nannygai have been coming in thick and fast.
The only disappointing thing is that the sharks have been full on.
If the men in grey suits move in, the best thing you can do is move away.
You will only frustrate yourself and the crew if you choose to stay.
As always, make sure you have a fresh selection of bait when heading wide.
Fresh flesh bait is always a good start.
Keeping a light rod rigged with a small metal flasher is a great tactic to have at the ready.
When you see bait being busting up on the surface, pull up and rip a small flasher through the school.