The warming weather signals the start of the edge bite and it's time to dig out those reaction baits, ready for the shoulder dislocating strikes and screaming runs of big summer bass. Casting to the edges of the banks, weed, lilies and in among the timber, starting the retrieve and then being absolutely crunched by a big bass sees involuntary audibles flowing, smiles growing and high fives flying once the fish is in the boat or on the bank. Bassin' blade baits
Some of my favourite presentations for fishing a summer bass edge include a flashing, spinning or rattling blade, that fires the fish up and attracts those signature strikes. Let's look more closely at a few proven presentations. Bassin' blade baits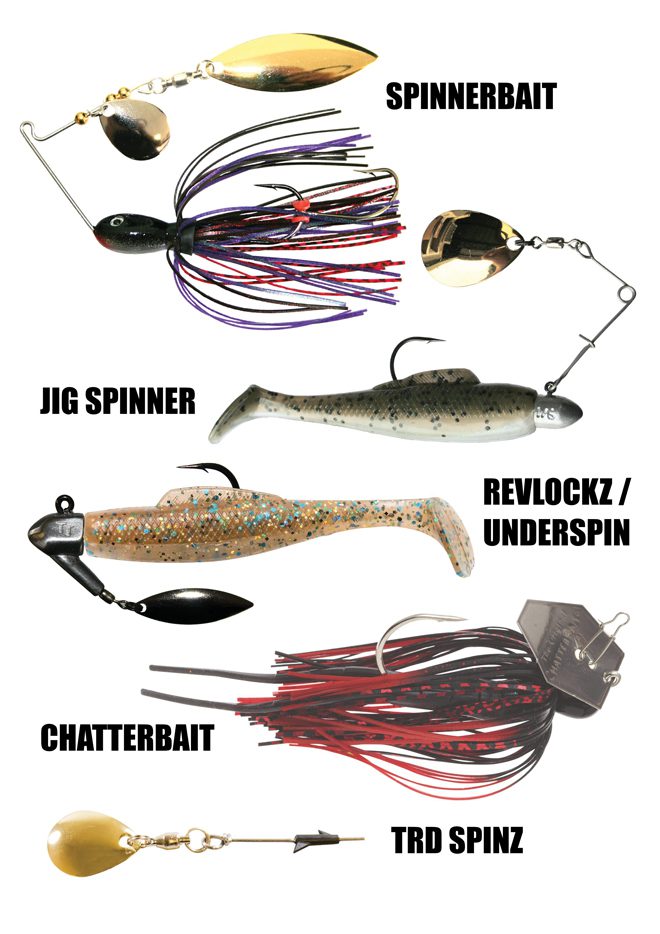 Spinnerbaits
One of the most reliable performers and a personal favourite is a spinnerbait – consisting of a coat-hanger shaped wire frame, spinning blades at the top and a lead head jig on the bottom with a skirt attached. The blades provide flash and vibration, creating the illusion of a school of bait, while the jig head provides weight for casting and sinking and is often fish-head shaped with eyes and fitted with a skirt that is coloured to match. Bassin' blade baits
Spinnerbaits have the added advantage of being extremely snag resistant due to the wire frame, enabling them to bounce through timber, lilies and other structure with less chance of snagging or fouling. A stinger hook can be attached to the main hook in more open water to increase the hook-up rate and removed if fishing heavy structure.
Good quality spinnerbaits feature silicone skirts and quality swivels that allow the blades to helicopter as they sink, enabling you to effectively fish vertical structure such as standing timber and weed edges. Watch your line as the spinnerbait sinks and if it speeds up or stops prematurely, set the hook because a fish has probably eaten it.
My go-to spinnerbait is a TT Lures Vortex as it has a compact frame that is ideal for bass, while also being available in a stack of colours and weights – with 1/8oz and 1/4oz popular for creek bass and shallower water, stepping up to 3/8oz, 1/2oz and 3/4oz for longer casts and deeper water. A slow roll – slow wind – is all that's needed to get the blades spinning and the skirt pulsing, with some anglers utilising a pause every now and then to allow the lure to fall back through the water column. A burn and kill – a few winds and pause – is also a popular retrieve.
A soft plastic trailer can be added to the hook to increase action while adding bulk and colour attraction. Popular colours include whites in water that holds bony bream, along with golds, purples, red and black, and the ever-popular Fire Tiger.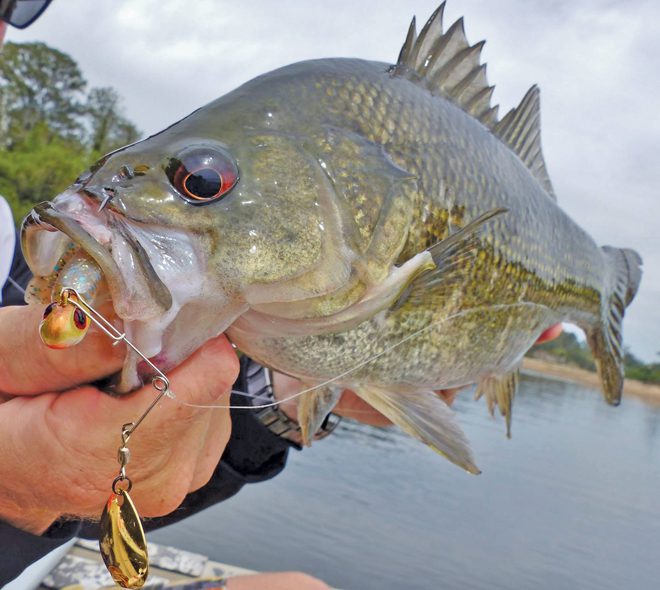 Jig spinners
At times the spinnerbait can feel a little aggressive, especially in smaller waterways and areas where the bass are generally smaller. In these situations, a good alternative is a jig spinner. A jig spinner is a simpler coat-hanger shaped wire frame with a spinning blade on one end and a clip on the other to attach your chosen jig head and plastic.
This is a versatile option as you can select a jig head and plastic to suit your location, then add the flash and vibration along with a degree of snag resistance.