Hi, with September on its way, hopefully COVID is under control and we're able to move around more freely. Fishing wise I haven't been for weeks as, after my two trips north, I've sort of had enough of fishing and boats. And I am selling my 5m tinnie! Exploring Inskip Point
I'm downsizing and buying a 3.55m Sea Jay Nomad style tinnie with 15hp, just so much easier to look after and move around. I am redesigning the roof racks on our 80 Series LandCruiser so I can put the smaller tinnie up there – that way I can tow our wind up Jayco caravan, for more comfort and quicker set ups and pack downs for my northern sorties. I want to check out a few of the old fishing spots I've been to over the years and try and find a couple of new places that are more remote, to get away from the crowds. Exploring Inskip Point
My wife, kids and I did slip up to Inskip Point for three nights of camping. We towed our wind­up Jayco, got a permit for MV Natone and a combined Cooloola and Kgari vehicle permit for $85 for a month. We drove to where there were cracking camps that I'd seen before, where my friends always camp. Just south of the Wide Bay Bar channel markers you used to be able to camp right on the beach and have your boat there with you. Exploring Inskip Point
Well, whoever runs the place has wrecked that area now. There's a fence through the guts of the camps and you're fenced in like livestock – typical National Parks ideas – and with trees in the way, it's a fight to find a spot for a small van. After a while and a struggle, we found a place and set up, but the site was 30m from the beachfront, which was lousy.
We had lunch and kicked back and spent the afternoon walking along the beach in both directions. Next day, we were up early and waiting for the 6am barge over to Kgari, then up the beach to Dilli Village and around to a couple of the lesser-known lakes not visited as much – Lake Benaroon and Lake Birrabeen. It was our family and one other four-wheel-drive and that was it!
We then went on to Central Station for a late lunch and a walk along the boardwalk, which was fantastic. Then to the busy Lake Mckenzie (Boorangoora) – very pretty but busy. On to Eurong and down to the beach to catch the barge and head back to camp – it was a great day.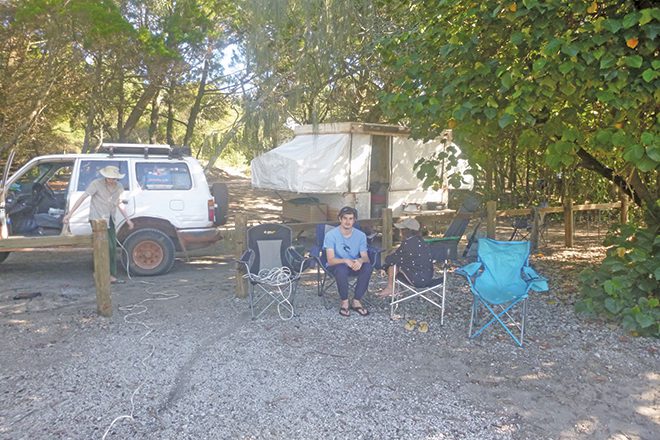 The next day, after bacon and eggs on toast for breakfast, we headed back to Rainbow Beach near Seary's Creek. There's an old forestry logging road called Camp Milo Rd, part of the Kings Bore Circuit 4WD track. You need a Cooloola vehicle permit to do this drive, which we had and, while it's a four to five-hour drive, it's now one of my new favourites – with east coast ocean views and fantastic scrub, and blackbutt and corkwood trees everywhere. We loved it.