Well there had to be a break in the amazing conditions we all experienced last week. With the run up to Friday's full moon the weather closed in and despite the rain it was a glass out day. A few anglers made the trip offshore to fish during the perfect overcast conditions. This time of year bigger fish will become more active as the seas have swell and overcast conditions. This provides a level of comfort to fish as they are less visible to predators and more likely to feed hard.
Sunshine Reef is producing a mixture of plate size and bigger sweetlip and snapper. These fish will hit just about anything you can throw at them. Now is the time of year when slow jigging presents great options and if after a rod you must look at oceans legacy rods. For their price they take some beating and just keep going when others fail! Mid water some small cobia are on the prowl. They are a sucker for a floated pilchard on 4/0 gang hooks. Always use a small length of bait wrap as this keeps the baits in shape when thawed or can be cast off. Keep leaders around 20-30lb or lighter if you dare. Running 3-5kg estuary outfits and 15lb leader is a great way to fish and you really learn what your gear can do under pressure.
Reports from further offshore are limited this week due to the stronger westerly winds. The bigger snapper, pearlies and even jewfish have been holding in the deeper waters. Paternoster rigs loaded with mullet, pilchard and squid have been producing the fish. It is important to brain spike and bleed all fish you intend to keep. This ensures once on ice the flesh stays firmer and there is less blood in the flesh making for the best eating quality.  Check out the iki jimmie spikes we have for doing this.
Surf fishing has been a little quiet, but next week should see an improvement with the bigger swell creating new gutters. The run of mullet and tailor is due to show up with some reports from anglers of bite offs while casting slugs into the surf line. Small Arma slugs in the 30 gram range should suit lighter surf outfits. Take a look at the pre-made Instinct wire traces as these help stop bite off's from bigger fish. Try around the first groyne and river mouth during the early hours of the morning before first light.
Estuary fishing is staying consistent this week with one twist. The biggest diamond trevally measuring the magic meter mark was landed in the lower estuary making this the largest on record for the area. Every once in a while big diamonds do show up in the river, but a fish of this size and calibre goes to show what a varied system Noosa really is. Beyond this specimen the continued run of bream, flathead, GT, tailor and golden trevally continues.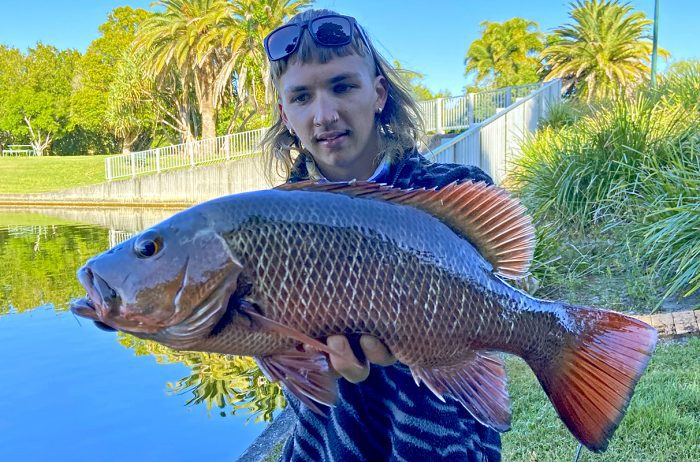 If you are a lure angler then these fish will hit just about anything as long as it is worked correctly. Using light leaders is a must as the water clarity is up making heavy lines stand out. We have a great range of the new Molix RT fork flex in all sizes. These baitfish profile plastics are a great flick bait sure to entice solid strikes from flatties and trevally.  Bait anglers would do well with live bait like herring which are plentiful in the river right now. If you are looking to get into using a cast net then a drawstring is the best for Noosa as many areas are rocky. If you need help bring your phone and we will show you how to best throw one.
Freshwater still dominates with smaller bass coming from the lakes and dams. They are feeding up in prep for cooler months ahead which is often the spawning run. As mentioned in previous weeks wild bass and impoundment bass have the same natural urge to spawn. When this happens they gather in huge numbers and it can be like shooting fish in a barrel. Often deep down these fish respond very well to flashy jigs and blades. With many on offer be sure you crimp the barbs on smaller hooks as a hungry bass will swallow lures making removal very hard. A barbless hook makes life safer and faster and you rarely drop fish. A different lure of choice is the soft vibe. These often overlooked lures emit huge vibration and have the prefect baitfish look. Take a look at the smaller Zerek fish trap and Samaki fork tail in the smaller 65 and 70mm sizes.
Now for all the  latest information log onto www.fishingnoosa.com.au for up to date bar and fishing reports, don't forget to drop into Tackle World Noosa, Noosa Boating and Outdoors and Northshore Bait & Tackle in Marcoola for all the right equipment, bait and advice to get you catching. Be sure to follow us on Facebook and remember Tight Lines and Bent Spines!