Due to high releases from Hume Dam, the yellow chain buoy barrier used to mark the vessel exclusion zone on the Murray River directly downstream of Hume Dam wall, has broken.
Persons and vessel operators are advised to stay well clear of the area as the broken chain buoy barrier is laying against the riverbanks on either side of the river, which may present a significant hazard to persons and vessels in the vicinity.
The exclusion zone commences from the Hume Dam Wall and encompasses all waters of the Murray River downstream for approximately 350 metres.
Despite the absence of the physical chain buoy barrier at the location, Transport for NSW advises vessel operators that the vessel exclusion zone remains in effect.
Vessel access beyond this point is strictly prohibited and penalties apply for unauthorised access.
Water NSW will seek to reinstate the chain buoy barrier as soon as is practicable.
Vessel operators are also strongly encouraged to avoid using flood affected waters until conditions return to normal.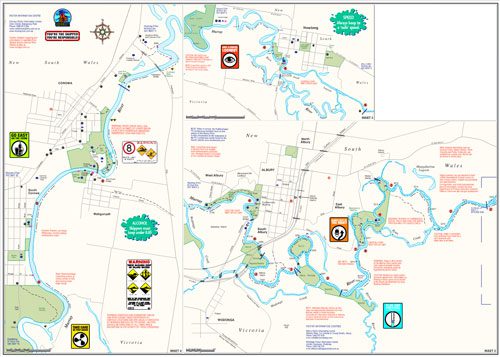 Where
Murray River, Lake Hume Village, downstream of Dam wall.
When
Friday, 4 November 2022 until further notice.
Directions
Transport for NSW advises:
Persons within the vicinity of these waterways must comply with any directions given by a Boating Safety Officer or Police Officer in relation to marine safety. Failure to comply with any such direction is an offence (Marine Safety Act 1998, s.15A – Maximum Penalty $3,300.00).
No unauthorised vessels are permitted to enter the zone under any circumstances, and to do so may be an offence (Marine Safety Act 1998, s12(5) – Maximum Penalty $1,100.00).
To see the area affected, refer to: