OFFSHORE Bundaberg fishing
With the smaller tides this weekend, reef fishing should be on in the deep and shallows. March and April are a couple of my favourite months of year for chasing big red emperor, so be sure to drop some big flesh bait down around the 40m mark. Fingers crossed the weather plays the game and remember to check the weather report before heading out. Bundaberg fishing
INSHORE
The inshore reefs have been producing some very nice grunter and grass sweetlip over the past week. Most of these fish are being caught on 20g soft vibes and 5" soft plastics. With the water starting to clear up finally, looking for spanish mackerel would be a great idea. I'd be thinking that fishing around Elliott Heads way would be the way to go because that's where the water clears up first. Trolling garfish and hard-body lures are ideal enticers to get the bite. Bundaberg fishing
BURNETT RIVER
The Burnett River is slowly clearing up and bream are starting to chew. Working small soft plastics over rock bars and using small prawns as bait have been doing the trick. Plenty of grunter and flathead have been caught near the North Wall at the mouth too, so be sure to try your luck there. Don't forget to drop the pots in, there've been some very good quality mud crabs caught in the main channels.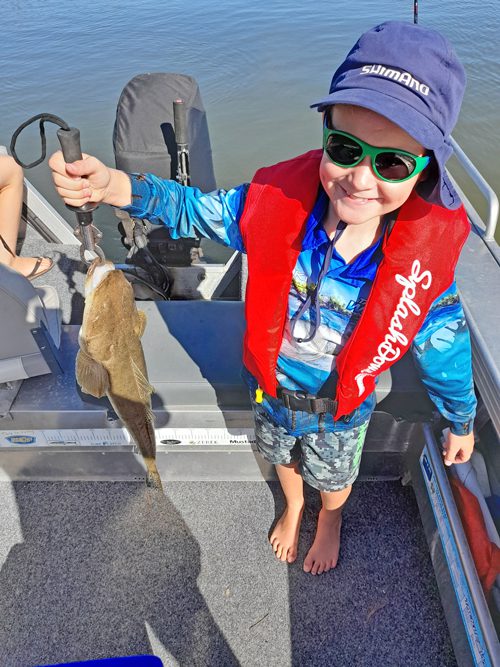 THE KOLAN RIVER AND BAFFLE CREEK
The Kolan River and Baffle Creek have been producing very nice mangrove jack over the past week. The early morning surface sessions several anglers have had with them have been impressive. There are some cracking-sized whiting being caught also. Pumping yabbies at low tide and fishing an incoming tide over shallow sandbars will get you into some whiting action. Be sure to keep your cast net in the boat handy because prawns are starting to turn up. Bundaberg fishing

LAKE MONDURAN
Lake Monduran is still firing on all cylinders. Plenty of fish were caught in the Humminbird Classic last weekend, with the biggest barramundi going to 112cm. Again, Jackall Squirrels and paddle tail soft plastics have been getting most of the bites. Remember to always focus on fishing the windblown points and bays. Always fish with confidence. You never know when that 1m plus barra is going to jump on your line.
Congratulations to the Bulky Boar and Barra team – winning the Annual Humminbird Australia and New Zealand Lake Monduran Barra Classic with a bag of 5.16m of barra!
Till next time
Keep it real
Mitch Beyer
Tackle World Bundaberg
CATCH OF THE WEEK!
If you would like your catch photos published to be in the running for a $50 gift card every week, please email your details and photos of local catches only to accounts@tackleworldbundy.com.au