BUNDABERG INSHORE this week

Last weekend and this week have seen great numbers of mackerel caught in close on a range of different lures and bait.
Trolling large garfish, pike or tailor has been the best way to target the bigger fish, with the old saying 'big bait big fish' working a treat. Trolling deep diving lures such as the Samaki Redic DS80 or casting metal spoons has been super effective on the smaller school mackerel as well.
With all these mackerel around, it's a great time to go out and get a feed while they're here and willing to eat most trolled lures and bait.
BUNDABERG OFFSHORE
Last weekend's average weather certainly wasn't ideal, especially with all the big trout, snapper, nannygai and emperor that have been on the chew.
Those who did manage to sneak out over the weekend and earlier this week, found a few solid fish, with the bottom fish loving big flesh bait. Pilchard and mullet fillet have been working best this week. Coral trout was definitely the standout fish, with a few very big models being caught.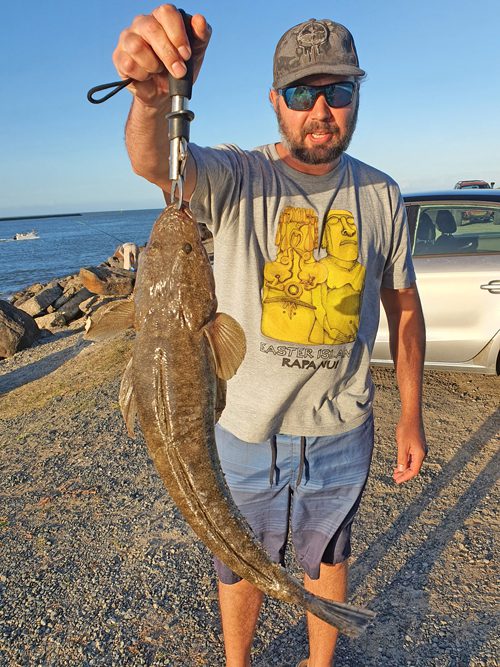 BURNETT RIVER
The Burnett River has had another week of great fishing, with plenty of quality bream, flathead, grunter, and the occasional blue salmon being caught.
Bream have been found at Burnett Heads on the rock walls and have loved bait such as pilchard, mullet fillet or mullet gut. Flathead haven't been far away, with plenty being caught at the base of the rock walls – using a heavier sinker and a slightly larger flesh bait has worked best to get your bait right in front of their face.
This week, grunter have been scattered but a few are being caught further up the river, around town. Big curl tail soft plastics or vibes have been most effective on these fish because you're able to cover ground quickly.
ELLIOTT RIVER
The Elliott River has started to produce some cracking dusky flathead, which have been up in the shallow water trying to warm up throughout the day.
These fish have been very aggressive, loving hard-bodies slow wound or twitched along the flats and yabby beds.
A lot of smaller flathead have been close to these big breeders, so if you are catching a few smaller fish, keep casting because the big flatties won't be far away.
Further upriver some massive grunter were caught, with small vibes such as the Samaki Vibelicious working best.
BAFFLE CREEK
Last weekend's big wind and swell pushed a lot of murky water into the Baffle, which made for some fairly hard fishing conditions.
This didn't stop the fish from biting though, with heaps of solid flathead and grunter being caught in deeper water.
Using larger lures and bait was the go while the water was dirty. Fishing the run-out tide worked best, with anchoring at the mouth of small creeks.
Casting lures upcurrent and working them back to the boat worked well. Otherwise, flicking live bait – such as garfish or sprat – out the back of the boat in the current was as effective.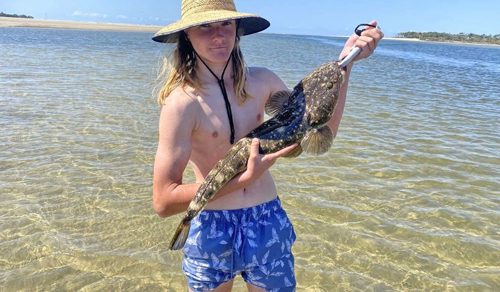 KOLAN RIVER
The Kolan River is still a little murky from the flooding we had recently, and last weekend's big swell definitely didn't do the water clarity any favours.
With the two mouths leading into the river, most of the fishing was done further up away from the wind and swell.
This found anglers using larger bait to get the bite and fishing heavy structure such as rock bars and deep banks.
Flathead were caught in most stretches of the river, with pilchard, mullet fillet and sprat working best. Grunter were scattered but a few solid ones were caught while using bait in the deeper holes of the river towards the mouth.
LAKE GREGORY
This week has seen some bass on the move with the weather warming up, which is a great sign. These fish have been caught in shallow water, with small paddle tail soft plastics getting the bite.
With a few more weeks of warmer weather, we should start to see more fish getting up into the shallows and feeding – ready to smack a lure!
For now, a lot of fish have still been caught in schools hanging off points in deeper water. Small vibes such as the Ecogear ZX40 have been deadly at tempting a bite from bass when they aren't aggressively hunting.
CATCH OF THE WEEK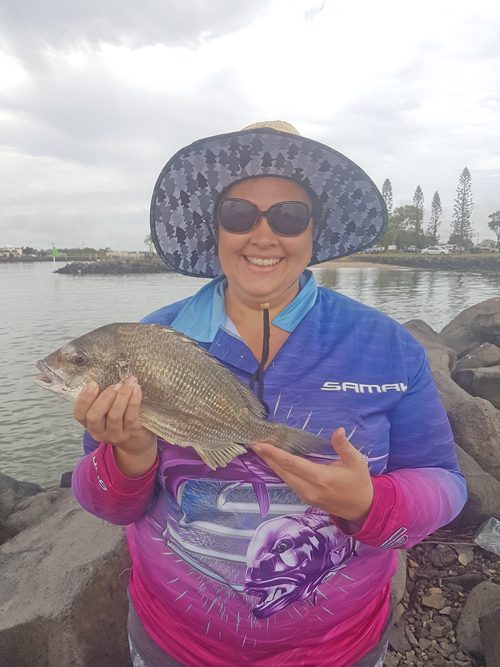 If you would like your catch photos published to be in the running for a $50 gift card every week, email your details and photos of local catches only to  accounts@tackleworldbundy.com.au