As for many sectors, new technology in the fishing industry has changed how we do things – allowing for new techniques and more effective ways to chase our favourite target species. Catching reefies on lures
For many years, lures have been about casting. Catching reefies on lures
Whether it's flicking soft plastics for snapper, launching a metal into a school of tuna or chasing barramundi in the snags, the premise of a lure was traditionally that it was to be cast and retrieved or trolled – hopefully with a fish eating it along the way! Catching reefies on lures
Sure, jigs and vibes are nothing new but coupled with the ultra-light gear and super strong braid that anglers now employ offshore, they are becoming a popular and effective way of catching all sorts of bottom dwelling species.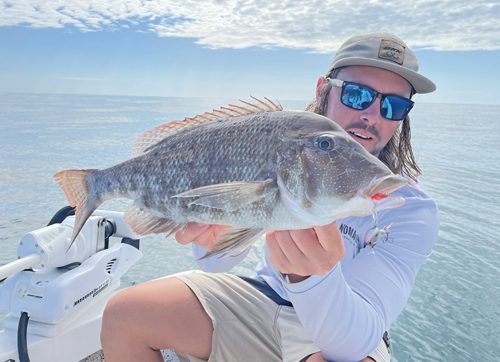 Though still often effective, dropping to the bottom with flesh bait on a paternoster rig and super heavy gear is being replaced by finesse tactics using baitcast gear and light jigging rods.
As with any type of fishing, one of the first things to ensure is that your bait or lure is presented naturally.
Whether you're using jigs, vibes or plastics, natural presentation is critical – particularly when you're looking to target fish on the bottom.
On most occasions, you'll be fishing straight 'up and down' on top of a reef system, bommie or rubble ground.
In these scenarios, the most important factors to consider are water depth, current and wind.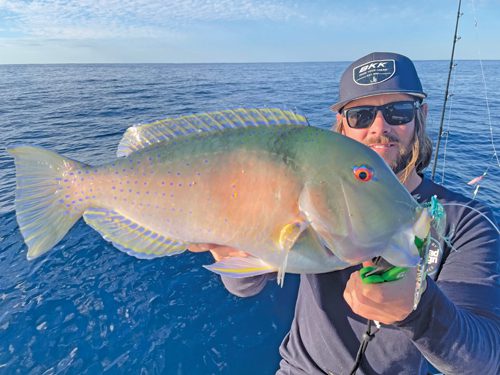 Once you've located fish on the bottom, you'll obviously need an offering that is heavy enough for the depth that you're fishing.
Generally, you want to get your lure to the bottom slowly enough for it to swim naturally when worked across the bottom or desired area of the water column.
This is especially the case with vibes and soft plastics, where the slower the descent, the better.
The current, wind speed and wind direction will determine the drift line of your boat.
Ultimately, you want to cast or deploy your lure in the direction you're drifting so that as it descends through the water column, your boat positions itself on top of where the lure is hitting the bottom.
For knife jigs or heavier jig options, a slow descent is less important because it's about getting down there quickly and working the lure aggressively.
This scenario is normally employed for chasing high-speed critters such as trevally, amberjack, samson fish, tuna, kingfish and mackerel.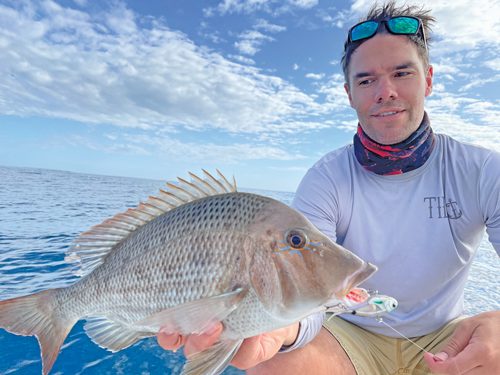 For reef fish – red emperor, coral trout, tuskfish, nannygai, spangled and grass emperor – slowing it down is the key.
When the line stops rushing off your spool, you'll know your lure is on the bottom.
From there, it's as simple as a lift of the rod tip and a half wind.
Drop the rod tip back down and repeat the process.
Once you've worked the lure half a dozen times, let some line out to ensure it remains in close contact with the bottom.
On most occasions, fish will hit the lure on the drop and sometimes you'll only feel the slightest tap through the braid.