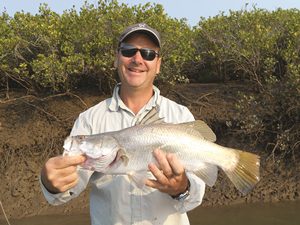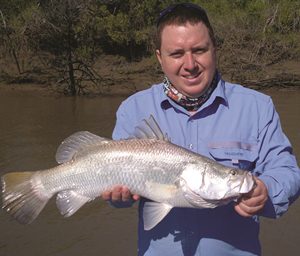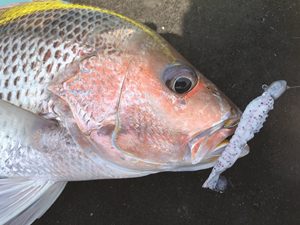 DUST off your baitcasters and change your hooks on your favourite barramundi lures because September has finally arrived! We can wave goodbye to winter because it's definitely time to let barra fever take over. Longer days, warmer early mornings and rising water temperature have fish such as barra and mangrove jack becoming more active and with longer bite windows.
With only two months until they are off limits again, now is the time to spend as much time as you can targeting barramundi and leave the jack until after the closure. Whether you're targeting smaller fish among shallow fallen timber or bigger fish on deep rock bars each one is exciting to catch. CQ barra
The mighty Fitzroy River in Rockhampton should be on every keen barra angler's list of places to fish, with the net-free zone in place for the past few years it's gone from strength to strength. The variety of structure and the shear area of water available to fish between the Fitzroy River and Port Alma has every option you could think of to find and catch a fish. CQ barra
Locally, Gladstone Harbour will be the best option to find consistent schools of good-sized barra, and you may have to cover a lot of water to find where they are. Getting them to bite can be the next challenge, with it taking a little out of the box thinking to entice a bite at times.
It may be difficult to swallow, when you can see fish on the sounder and them repeatedly ignoring what you're offering. Both the Calliope and Boyne rivers do hold good numbers of barramundi, though they are not found in the same school numbers as in the harbour.
Again, fishing shallow snags and rock bars will produce a small-sized fish while deeper rock bars and bridge pylons will give up larger fish. It doesn't matter if you prefer throwing around a few lures or soaking live bait – finding the areas where barra will hold is key.
I do recommend having a few options on board because it might be the difference between enticing a bite or getting a donut for the trip. This could be using a different style, colour or sized lure, and it's the same when bait fishing – trying different live bait types and sizes or even fresh cut baits can get a reaction. CQ barra
Awoonga Dam is an option as weather warms up and it's a bonus when you feel happy enough to jump over the side for a swim if it gets too hot. If you're after a few mangrove jack, Colosseum down to Turkey Beach holds great numbers of these fish in the smaller creeks.
Any likely spot holding good structure will be worth a fish and jack will happily sit in a few feet of water looking for an easy feed to swim by. Hard-body and weedless rigged soft plastic lures are the most effective way of targeting jack in the heavy cover they hide in. Fingermark have been around in numbers, with fish from 30-50cm common and most are falling to vibes fished in deeper rocky areas. Blue salmon are moving through the harbour and most of the river and creek numbers are lower than usually expected at this time of year. CQ barra
The harbour has been held the bigger schools, though once again finding them can be the challenge. Whiting can still be found over the yabby banks in the harbour, while not the biggest fish there are plenty around the 27-30cm mark to get a good feed from.
The odd flathead will show up along the drop offs of the sandbanks in the harbour, the mouth of the Lilley's and Wild Cattle Creek. Crabs were still being caught in good numbers during July and August, and they will get better as the water warms, and a bit of rain too will help get them moving. CQ barra
Hopefully we can all get out on the water and take advantage of the increasing water temperature and catch a few chrome beasts.
Cheers and happy fishing from Gladdy.