They say that any given spot rarely fishes the same two days running. This was the case when my son Mischa and I decided recently to duck up to the old ferry approach at Iluka during the slack high-water at night to chase jewfish on soft plastic lures. Double duck
I was using a 13cm Storm WildEye Swim Shad while Mischa had a 10cm FatBoy curly tail lure, which is identical to the original Mister Twister lures that have been around since the mid 1970s. To say that I laughed and scoffed at his choice of lure for jew on the way to the spot was an understatement. However, as so often is the case these days, I was well and truly left with egg on my face. Double duck
When we arrived, Mischa jumped out of the car, grabbed his rod and started fishing while I casually sat in the vehicle listening to the T20 World Cup cricket updates on the ABC. The radio announcer barely had time to say that David Warner had been bowled for a duck when Mischa yelled out that he was on to a fish. And once I turned the radio off, I could hear the braid singing through his runners.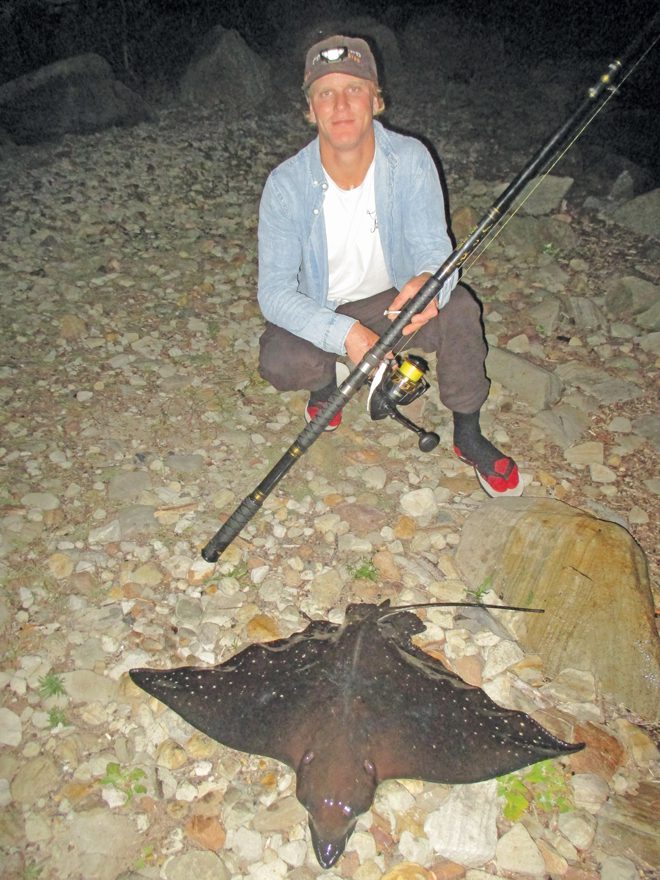 After a short fight, Mischa landed a nice fish that went a tad over 12kg. Naturally enough, I got my rod off the truck and started spinning to no avail and an hour later I had not so much as a bite and had to admit defeat… yet again. Then I had to listen to Mischa's ear-bashing all the way home.
The next night we were back at the same spot on slack high-water – only this time I ignored the cricket and started fishing straight away, only to hear Mischa's line peeling off again after only two throws. My evil thoughts worked a treat, as it turned out to be what I call a 'frog ray', and after thinking he must have foul hooked it, the lure was in fact firmly embedded in its mouth.
A half hour later, Mischa managed to snare a nice pan-sized flathead, which seriously rubbed salt into my already festering wounds. In two nights fishing 6m of water, he had hooked and landed three different species, while I didn't get so much as a mosquito bite. I couldn't bring myself to go back for a third night because I was already on a flogging to nowhere, so I stayed at home and watched the cricket on TV instead.
Elsewhere in the river, whiting continue to provide anglers with a nice feed, with the best fishing to be had at night when the little pickers are a lot scarcer. Luderick can still be found inside the river, however the breakwalls and headlands are far and away the best spots to be chasing these hard-fighting critters during the warmer months.
Bream are still plentiful during summer, though most of the fish are in poor condition after spawning during winter, with the beaches producing the better conditioned fish.