Hi Everyone, hope you have all had a good week, it was great to see the weather improve as the week progressed with plenty of sunshine and light winds on the forecast just in time for the weekend on the Gold and Tweed Coast. At the time of writing my report Saturday was looking like the pick on the days if you are keen to head offshore for a look, Sunday still looks good but there is a chance of Northerly winds picking up as the day progresses. I recommend that you have the latest forecast before heading out on the water. Let's check out what has been on the bite this week.
Sand Crabs have been on the move after the recent rains which is good news if you are looking at chasing a feed for Christmas dinner. Try setting your pots on the edges of the deeper main channels and edges of sandbanks throughout the Broadwater and Jumpinpin. Weed can be a bit of an issue, if you are finding large amounts of weed on your pots it is worth moving them around a bit as Sand Crabs will not tend to be attracted to these particular pots. I always recommend to use a bait bag to stop all the little fish, eels and crabs from destroying your bait giving you more soak time on the pots. If you don't like the idea of leaving your pots out overnight in case, they get raided the good news is Sand Crabs are very active during daylight hours and can be very successfully targeted during the day. I always try to set a few test pots in different water depths and areas until you can find better numbers to target. In Queensland you are allowed to run 4 pots per person onboard your boat. My bait choice is much the same as when chasing Mud Crabs, fresh is always best I reckon. Try using whole Mullet, Bonito and fish frames should all work well. You can check your pots regularly for activity, when setting my test pots usually 1 hour is a fair amount of time to see if they are in the area. Some good spots to try are edges of the Seaworld Channel, Wavebreak Island, Crab Island, Paradise Point, Aldershots, The Never Fails, Jacobs Well, Bedrooms, Canaipa Passage and Cabbage Tree Point.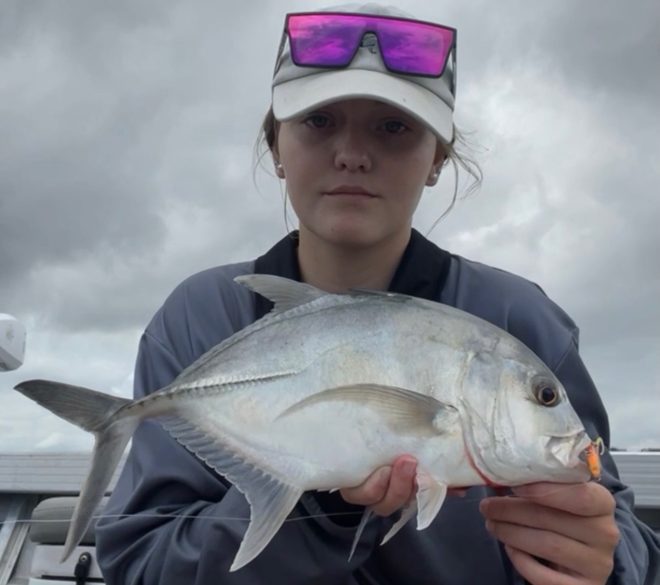 Heading Offshore will be worth a look if the weather forecast stays good, as the water warms up we should start to encounter more pelagic species during the next few months. I have heard of a few Spotted Mackerel hanging around Palm Beach reef early in the season which a good sign, the south easterly winds have done the job of pushing in some warmer quality water into the shallow coastal reefs. If the current is up it will be worth a look on the 36 and 50 fathom fads off the Gold Coast as they should be starting to hold better numbers of bigger Dolphin fish, early in the season there were plenty of little rat fish around. When fishing the fads for Dollies you can try a few different methods depending on how they are feeding, cubes of WA pillys for burley works well to fire them up, then try casting half or whole unweighted WA pilchards, live yakkas are a great option especially if there is a bigger Bull around, for the lure fishos soft plastics, poppers, stick baits and metal slugs are all worth a go. If you are lucky you may also encounter little Black Marlin which have also been showing up as they start their annual run south, this normally continues until March is it is a good season for numbers. If you are keen to go for a troll for a Marlin try heading north around Sullies Reef or the Cottons off Jumpinpin then work your way south trolling small to medium sized skirts at around 6 to 7 knots over the reefs. Keep an eye out for bait on the sounder and for birds working baits schools and hopefully a predator is in the area.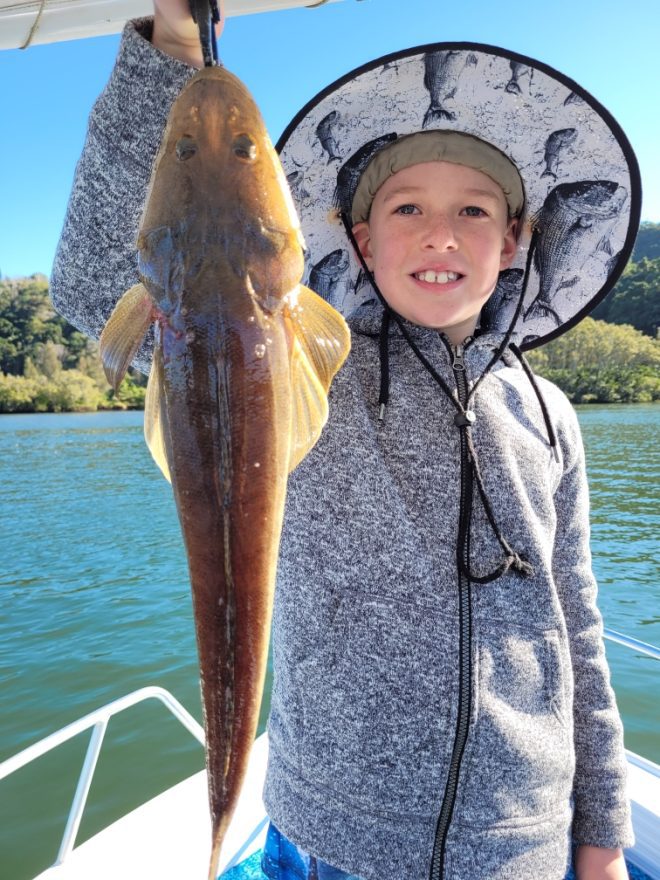 The Gold Coast Seaway has once again been the place to fish with some great catches of School Jewfish, Mangrove Jack and Flathead which have all been schooling up in pretty decent numbers since the rain hit and flushed out the local rivers. There are plenty of good eating sized Flathead around the 45 to 55cm hanging around the larger female fish, each female can have up to 15 male Flathead around it at on time. If you manage to catch and release a big Flathead, you should good numbers of smaller fish around. Live baits have been the best option when targeting Jewfish, Mullet, Herring, Pike and Yakkas work the best. Whilst targeting Jew anglers have been lucky enough to score a few nice Mangrove Jack during the past week which are a fantastic bycatch. Estuary Cod is also another species that will be hanging around during the summer months. Best to fish the last 2 hours of the run in and the first 2 hours of the run out.
Brad from Brad Smith Fishing charters reports he has been fishing the Gold Coast in the past week, as Tweed River is still quite muddy. It will start to clear with the bigger full moon tides.
His lure fishing charters have been producing some nice Flathead, Whiting, Bream and Trevally for his customers. Best lure has been Samaki forktail 70mm vibe in ginger uv squid colour.
This coming week will see some excellent fishing as the fish feed hard before they spawn.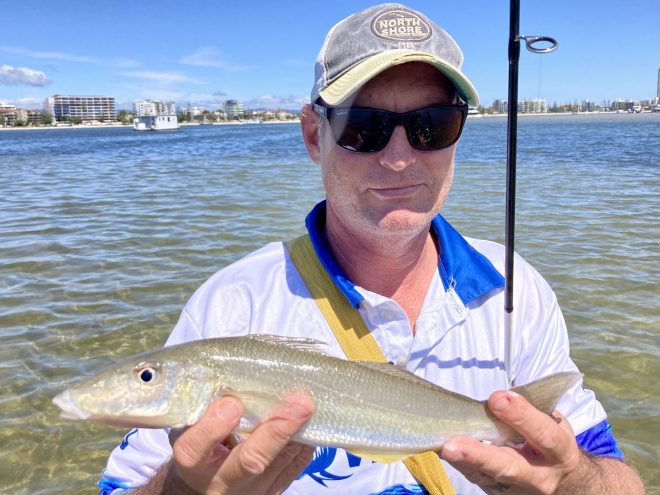 Clint from Brad Smith Fishing Charters reports this week the big summer Whiting has been my focus on charters, with plenty of Flathead and Bream appearing on the shallow flats too. Even on the back of the new moon there was still quality Whiting on the chew, albeit more shy than the moon lead ups. Patience is needed to pester them into submission. Full moon is coming up this week, and the lead up to it as Brad said will see some excellent fishing on the flats for big Whiting, Flathead and Bream. Nice size tides for most options, try vibes and plastics in mid sections of the river for Flathead and Jacks. The water is a good colour now after the rain, water temp Broadwater 25 degrees, Nerang River 27 degrees. The seaway is worth a go on the run out for Mulloway and Jacks, plenty of bronze whaler and bull sharks around too. It's a great time of year to be wading the flats with such warm water now, while some customers choose to fish from the boat where we anchor and still catch nice fish.
If you have any great catches or photos you would like to share, please email us and let us know how you went. brett@coomerahouseboats.com.au or brett@fishotackle.com.au
Stay up to date with all fishing regulations in Queensland https://www.daf.qld.gov.au/business-priorities/fisheries
Fisho Tackle and Coomera Houseboat Holidays now have Hire Tinnies follow the link to view http://www.coomerahouseboats.com.au/our-fleet-type/hire-tinnies/
Seabreeze is a great website to access a local forecast http://www.seabreeze.com.au/graphs/
Good luck with the Fishing. Brett