THE last month of winter is upon us. June and July provide excellent fishing around southeast Queensland and August should continue to produce just as well. Flathead
Flathead have been the most common capture, with excellent numbers turning up in all of the rivers and creeks around Brisbane. The ocean-fed rivers on the Sunshine and Gold coasts will see big numbers of spawning flathead move towards the entrances. Big female flathead will line up in deep water with huge numbers of smaller males to spawn over the next few months.
The Flathead Classic is on again this year and there will be plenty of anglers out pre-fishing for the competition.
The Gold Coast is an enormous area to chase flathead and there is always somewhere to get out of the wind. All of the main rivers hold flathead and the maze of islands around Jumpinpin Channel provides plenty of shelter and holds a lot of fish. It's an excellent time to play around with different lures and techniques to find out what the fish are feeding on. They can be quite temperamental with weather changes, especially the dreaded north westerly wind.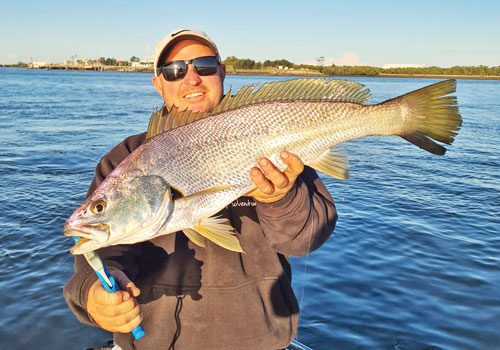 The water around the Jumpinpin area can turn from crystal clean to brown in a matter of an hour when a northwesterly wind picks up. The fish hate it and can shut down, particularly after a couple of days of wind.
The northwesterly breeze doesn't affect the fish as much in the rivers running off northern Moreton Bay – the water clarity isn't affected and the fish just keep biting.
Flathead have been widespread throughout the bigger rivers such as the Pine and the Caboolture, and also in Pumicestone Passage. Paddle tail soft plastics have been the standout for me, with baitfish profiles between 3-4" producing good results. Prawn imitations and curl tail plastics have also been working well.
It's a good idea to carry a variety of plastics on each trip, and a few different colours in each style of plastic will also help you get results. Some days, fish will only take a certain colour and if you don't have it, you'll be watching your friend catch all the fish.
The Brisbane River has been fishing well this winter.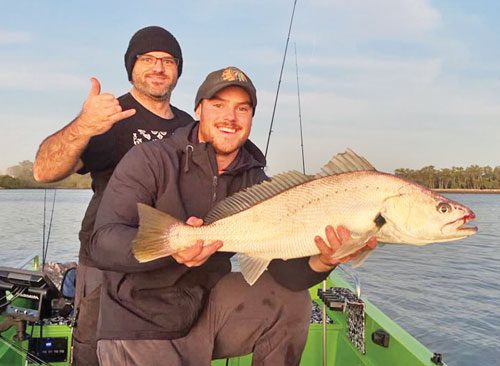 Snapper and jewfish have been the most common species caught by anglers fishing vibes and soft plastics. Threadfin salmon, tailor, grunter and flathead have also been turning up.
Most of the jewies have been between 60-75cm – I haven't found any legal fish yet this winter but that will change during spring.
Each year, good numbers of jewies between 80-90cm turn up towards the mouth of the river feeding on small prawns. At this time of year, I keep a few of these fish and their stomachs are always full of small prawns and mantis shrimp.
I rarely fish the Brisbane River without some sort of prawn imitation – they catch everything – even the smaller models entice big fish.
Snapper have been turning up everywhere there is bait. They will happily feed in close to the edges in 1m or so of water, so if you see any bait, be sure to have a few casts at it. Mangrove jack will be getting active towards the end of the month.
It can be a good time to target them because they haven't seen many lures swimming past their snaggy homes for quite a while. The northerly wind that starts up towards the end of the month can get them very excited.
Hope to see you on the water.