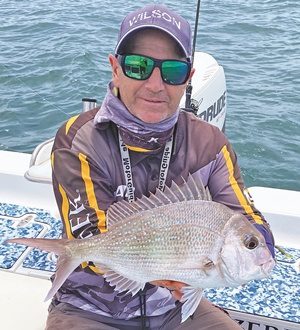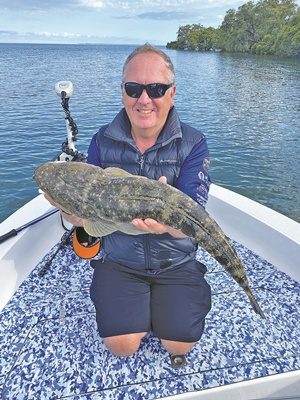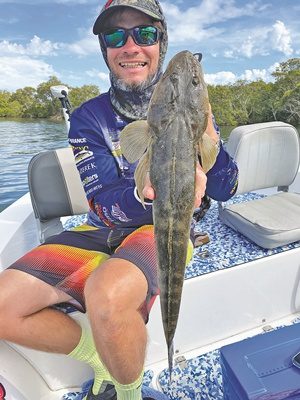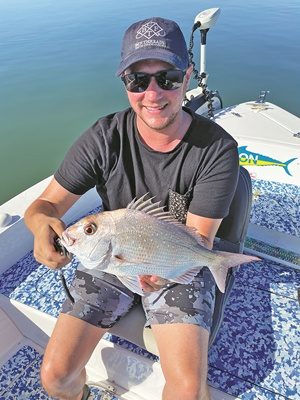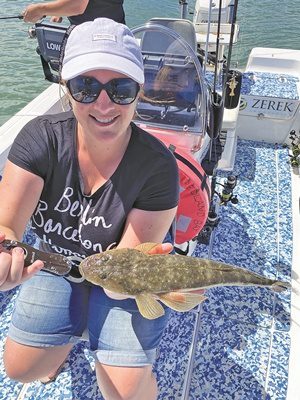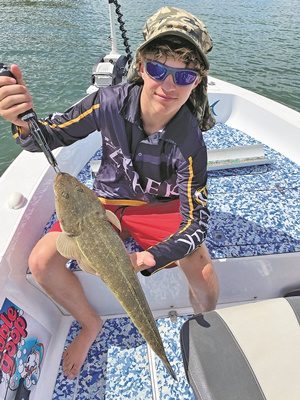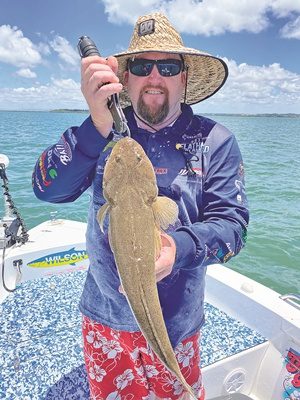 WELL, I suppose this is a happy new year and hopefully 2021 is going to be better than 2020, but we'll just have to wait and see how it all goes. At the time of writing, the weather was a bit all over the place.
But I was able to line up the odd charter and fishing tuition with the occasional small weather window, and on the right day the fishing was fairly good. That's not to say there were a few days the fish just didn't play the game – but that's fishing. flathead squire
The predominant fish were definitely squire and flathead – they've been in reasonable numbers around the southern Moreton Bay islands and in expected areas for this time of year. I've had a couple of anglers come out and do their fishing tuition on these particular species.
They've done quite well – learning a lot and catching a few fish for a photo, and releasing most to fight another day, with the odd one in the Esky for dinner. So, I thought this month I'd run through a couple of the techniques and what type of gear we use for this – I'm asked regularly what type of lures, line, rods we use to target these fish.flathead squire
First, we'll go with the old flathead. The rod and reel setup I prefer for this type of fishing is a 2-4kg or 4-8lb rod with a medium action, paired with a 2000 or 2500 spin reel. I find the Wilson Fishing Blade N Tails 4-8lb medium-action rod and ATC Virtuous 2000 reel are a very good match for this style of fishing – you're able to troll and cast with one outfit quite well.
Now, we want to spoil that reel with either 6-8lb braid and an 8-12lb leader when casting – I like to have a 10-15lb leader when trolling. When it comes to soft plastics, I prefer any type of curl tail or paddle tail lure. Colour-wise, darker colours in dirty water and nice bright colours in nice clean clear water.
Jig head size is going to depend on what depth you're in or how much tidal flow you're fishing in, but I find anything from a 1/8-1/4oz is fine and pair it with a 3/0 heavy duty Mustad hook. Next thing is where to fish for flatties. One of the easiest starting points is around mangroves on high tide.
Work around the mangrove line – the bait will be hiding up in the mangroves and the flathead will be lingering on the outside, waiting for a foolish small fish to swim into their area. Then on the low tide, work in the channel at the bottom of drains, where possibly more baitfish will be congregating – bigger predators are going to hang around there, waiting for an easy feed.flathead squire
So, in both of these areas you could be casting soft plastics and trolling hard-bodies, it depends on what you feel like using at the time – this is a brief description of the gear and areas to look at to target these fish. This is what my courses are all about – information and tips but also a lot more.
There is a bit more that goes into it and while it's quite hard to explain when writing, it's a start. Another thing with flathead – if you're working on the mangrove line and you're not having any luck, water temperature could be the problem. Remember, flatties don't like it when water gets too hot, so keep your eye on that.flathead squire
Squire or juvenile snapper have been around in reasonable numbers. They can be a little more finicky than flathead, and they tend not to enjoy discrepancies in barometric pressure. What I mean by that is – squire don't relish it when it's too high and when it's too low, they seem to sulk a bit, so volatile weather makes targeting them a little tricky.
We definitely have a healthy population around in summer, though they have an inclination to sit differently to the winter species we target. Instead of them hanging around the wrecks and significant pieces of structure, they have a tendency to spread out and work on rubble grounds, which we have a fair bit of in southern Moreton Bay.flathead squire
They tend to mimic cows in a field – just grazing around on flat bottom, nibbling away on mussels, razor shells and any crabs or squid they can pick up. They are a scavenger species, with grinding teeth for crushing up shells and that sort of thing. They're well equipped to live on this type of ground but have a propensity to be completely flat, hence being overlooked by many anglers.
Over a large area of ground your techniques might be a little different, trolling hard-bodies or drifting soft plastics work quite well because you're covering a lot of ground. The rubble grounds can be quite large and as they're flat, fish can be anywhere on them, making them hard to find.
Techniques that cover vast areas and a good quality sounder – plus knowing how to read it – will help pick up fish as you drift or troll over the top of them. When it comes to gear, I prefer a 3-6kg rod or 6-12lb, paired with a 3000-4000 spin reel. Again, the Wilson Fishing Blade N Tails and ATC Virtuous 2000 reels work very well for me for this style of fishing.flathead squire
When casting soft plastics, I favour any curl grub, jerk shads and paddle tails. One of my favourites is the Zerek Live Flash Minnow Wriggly, with each small paddle tail. Like I said before use a darker colour in darker water, and bright colours in clean and clear water. For jig head sizes, I go with the 3/0 and 4/0 heavy duty Mustad hook, but a lot of the time I'll be using a 1/4, 3/8 or 1/2oz when drifting with soft plastics.
When trolling, my lure of choice – as everybody knows – is a Zerek Ripper Diver. Plenty of lures are out there, but you'll need one that will dive to at least 5-8m to work the southern Moreton Bay grounds. Hopefully, you now have a few more ideas on targeting flathead and squire. Though remember, when you do one of my tuition courses, the information is more comprehensive and detailed.flathead squire
We talk about everything in a classroom situation and then I take you out in the boat to show you in an 'on the water' practical sense. Another tip is to use plenty of scent – several people think it works, several people say it doesn't – but if it gives you a chance of catching a fish, why not?
Anyway, with any luck jewfish will turn up soon and summer mackerel will start to show themselves – and maybe 2021 will be a year to remember for all the right reasons. As we all know with our busy jobs and lives, we are time poor, so if you can learn more to optimise your time on the water, then why not?flathead squire
Remember: knowledge is the key. If you're interested in any off or on-water tuition classes or you want to do a fishing charter, give me a call on 0432 386 307 or send me an email at seanconlonsfishing@hotmail.com
You can also check out the Sean Conlon's Fishing Charters and Tuition Facebook page.
Until next time, stay safe on the water.