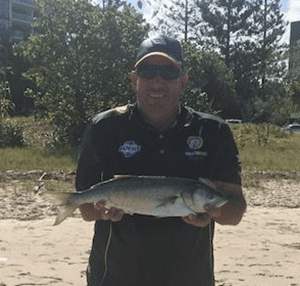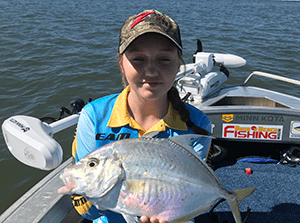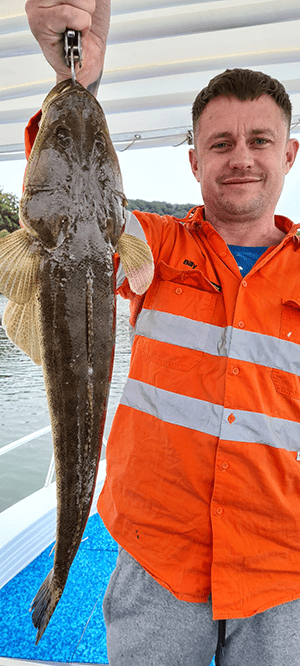 Hi everyone, hope you have all had a good week, with over 100mm of rain falling on the weekend over most suburbs on the Tweed and Gold Coast the flush out is great news for fishing over the next few months. For those keen to brave the cool nights and early mornings, bream have been on the bite in big numbers after the rain. Let's have a look at some options for the weekend.
With a big swell on the way for the weekend, offshore fishing will be off limits. The good news is the swell will stir up bait and feed for predators. Combined with the freshwater run-off pushing out of local rivers, the open ocean entrances like the Gold Coast Seaway, Jumpinpin Bar and the Tweed Bar will be great areas to target a wide range of species inshore like jewfish, trevally, tailor, bream and flathead just to name a few. The Gold Coast Seaway pipeline can hold jewfish, juvenile yellowtail kingfish, amberjack, spangled emperor and grass sweetlip making fishing this area a bit of a luck dip at times. It would be worth mixing it up a bit by trying a few different methods – live bait, dead bait, soft plastics, vibes and jigs will all work well at times.
Plenty of bream are being caught this week after the flush out – they love the fresh water, it just seems to make them feed harder. The Nerang River, Coomera River, Pimpama River, Logan River, Tweed River, Currumbin Creek, Seaway rock walls, Paradise Point bridges, Jacobs Well, Tiger Mullet Channel, Kalinga Bank and Short Island have all produced a good feed. Just remember to keep the berley trail going – mullet fillet, mullet gut, white pilchard, hardyhead, prawns, beach worms or yabbies all make great bait.
Tailor have been harassing bait schools again this week on the afternoon high tide in the main channels running off the Gold Coast Seaway and around Jumpinpin Bar, Crusoe Island and the mouth of Whalleys Gutter. The dusk bite has been producing some action on surface lures and metal slugs. If it is a bit slow you can tow some shallow diving lures around until you locate a school of tailor to cast at.
Hopefully, the rain has had a positive effect on the snot weed issue and will help to flush out the system and make fishing a bit more enjoyable for all anglers.
I have included the link to Fisheries Queensland with information on the snapper and pearl perch closure which commenced on July 15 and finishes August 16, 2020. Make sure you know your responsibilities https://www.daf.qld.gov.au/business-priorities/fisheries/sustainable/sustainable-fisheries-strategy/fisheries-reforms
Brad from Brad Smith Fishing Charters reports this week that we had a quite a cool week with the southwesterly wind blowing, and once again flathead were the dominant species. Trolling slam and spike lures worked well as did jigging around the 4.5-5.5m line with a combination of Ecogear ZX 40, VX 45 and Samaki Vibelicious vibe lures. We also got a couple of quality whiting on the vibes and some nice-sized tailor that are starting to move up the Tweed River.flush out
Clint from Brad Smith Fishing Charters reports our Broadwater charters have continued with daily hauls of tuskfish, flathead, flounder, winter whiting, tarwhine, arrow squid and others. We are super lucky to have so many tasty species available in calm water. We never go anywhere near bag limits, to ensure there are plenty of fish for the future. The snot weed has been annoying, but it is still fishable. If you encounter thick amounts keep moving, the fish do not like it and they move. Best lures have been Ecogear ZX 40 in 440 colour and Ecogear ZX 43 in 414 colour. On cloudy days, run-out tide and early morning I smear some SAX Scent Smithy's UV Prawn on the vibes, and on calm clear days and run-in tide I use SAX Scent Goldprawn. Yabbies are extremely effective bait at the moment and can be pumped.flush out