I'VE been flat-out working lately, which has really been getting on my nerves because I have had barely any time for fishing, though I've had a few brief opportunities for a freshwater fix.
Lake Macdonald
By all reports from my mates who fish Lake Macdonald regularly, the dam has been fishing fairly well. So when I finally got some time, I was looking forward to smacking the Lake Macdonald bass. Dad and I went out for a quick afternoon session.
We launched the boat at the botanical gardens boat ramp and only drove about 100m before we found a decent school of fish. These fish ranged from 30-40cm but it took a while for us to figure out what they wanted to bite.
Though we swapped and changed between blades, ice jigs and vibes, we didn't have much luck. Finally we tried the trusty Berkley Jigging Grubs, and with the second cast I hooked up. It was only a small fish but it was a start.
Dad then decided to rig a regular soft plastic instead of trying a Gulp. He decided on a Berkley Ripple Shad in Natural colour. With his first cast he caught a solid bass of about 40cm. I am fairly sure all the fish wanted was soft plastics; it pays to try different things until you get a hit.
Unfortunately I forgot the camera on that trip so couldn't get any good pics. A couple of days later my dad, Coops and I hit Lake Macdonald again. We picked a bit of a bad day with a 30-knot southeasterly wind, so didn't get very far with the electric.
Even though we tried where we caught the bass a couple of days before, none of us could get a hit. The fish had moved on, which was disappointing. We motored all over the place with the electric while trying to find the fish but to no avail.
So the three of us went to the Bubble Trail and got into a few fish on blades. We ended up with about seven small bass that were good fun.
Lake Borumba
Dad and I were keen to hit Borumba for a late afternoon fish. Fortunately our mate and neighbour Craig Tomkinson (Tonka) dropped in and said we'd better check the Seqwater website because he'd heard Borumba wasn't open due to a huge blue-green algae bloom.
After checking the web we found Craig was right and the dam was closed, and Seqwater was not sure when it would be opened again. That saved us a 40-minute drive but it was a bit of a bummer because I was really looking forward to catching the Borumba bass.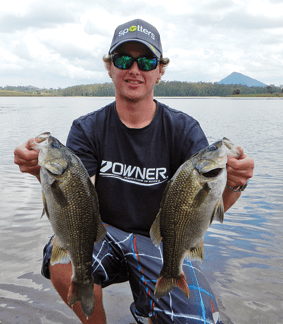 This was a good reminder for me to check the Seqwater website when water levels are down in dams. Hopefully I'll get back into some Borumba fishing soon.
Monduran Dam
Recently I was lucky enough to head to Monduran Dam with my mate Jackson for a much-anticipated barra fish. This dam is huge and upon arrival we met up with one of the locals to check it out a bit more.
Monduran or Fred Haigh Dam was constructed across the Kolan River in 1978, which created Lake Monduran. When full, the lake has a surface area of 5340ha, a capacity of 586,000ML and an average depth of 11m.
I have been to Monduran a few times over the years chasing barra but because it is so big it was great to have Ben Durkin with us as he knows the dam so well. Ben and his mate Matt McArthur won the ABT Barra Tour in 2014, which was an awesome achievement.
The tour consists of fishing three dams: Teemburra, Kinchant and Peter Faust.
I'm going to see if I can get to those dams too because they hold some massive barra. The Kinchant Dam comp was an all-night session, so that would have been interesting. Congratulations to Ben and Matt for their win.
Anyway, back to Monduran. Even though we had Ben showing us around and sussing out some great spots, we didn't manage to hook a fish. A few barra were spotted but they were very elusive, even though we tempted them with many different lures and techniques.
Oh well there is always next trip. Monduran is only about a three-and-a-half hour drive from the Sunshine Coast and it's definitely a place worth checking out if you want to chase big barra.