Hi everyone, hope you are all having a good week and enjoyed your Easter break, it was good to see some sunshine and a light wind earlier this week on the Tweed and Gold Coast. But unfortunately, we are looking at the wind strengthening from the southeast and the rain to return as it has every weekend for the past few months – it seems to be very persistent this year. Fingers crossed as we get closer to winter the rain will ease and we will see more calm sunny days to ahead of us. Good luck to all anglers fishing the Pirtek Fishing Challenge on the weekend – hope you can land your target species. Let's have a look at what to target this long weekend.
Now that the water quality is getting back to normal, fishos have reported some good hauls of tailor around Jumpinpin and about the last two hours of a run-in tide and the first hour of a run-out tide are the best times to target them. If you can time the tides around sunrise or sunset, this is when tailor are usually feeding at their best. Trolling shallow or mid-water diving minnows is a great way to cover territory and entice a bite if the fish are active in the area. Always keep an eye on the sounder for signs of bait and fish, an eye on the water for fish splashing while feeding and an eye on the sky for birds waiting to feed on bait and scraps that are pushed to the surface. Once you locate an active school of tailor feeding, try casting metal slugs or surface lures to temp a strike – this is a very fun way to fish and rewarding when you get to see the fish strike. If you prefer to fish bait, drifting to cover ground is recommended, again until you can find a school of fish. I recommend trying a combination of bait that are unweighted and also weighted to find the depth the fish are feeding at. Western Australian pilchard, blue bait, bonito strips, mullet fillet and even white pilchard all make good options. As tailor have razor sharp teeth, most anglers will use a wire trace when using bait. I normally stick to a mono leader as this will present the bait more naturally and if the fish are fussing, it can help to produce a bite. I only go to wire when the fish are thick and hitting anything you throw at them. Jumpinpin Bar entrance, Kalinga Bank, Crusoe Island, Bedrooms, the mouth of Tiger Mullet Channel and Canapia Passage are good spots to start looking for tailor. Gold Coast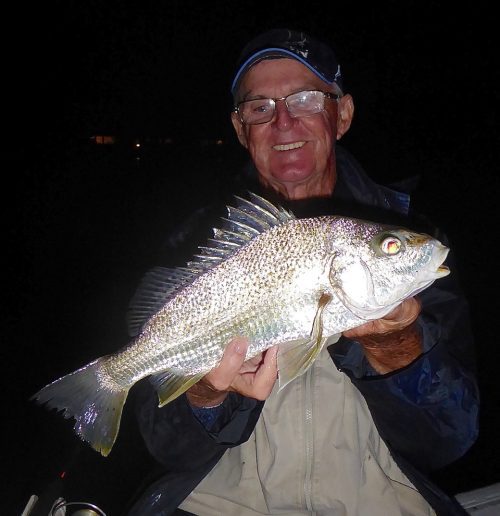 The Gold Coast Seaway is still holding a few nice school jewfish and mangrove jack mostly hitting live bait such as yakkas, pike, mullet and herring fished over bait schools around the pipeline and the hole on the north wall at the entrance. When fishing the Seaway, make sure you have the most up-to-date forecast and keep an eye on the swell rolling through. Gold Coast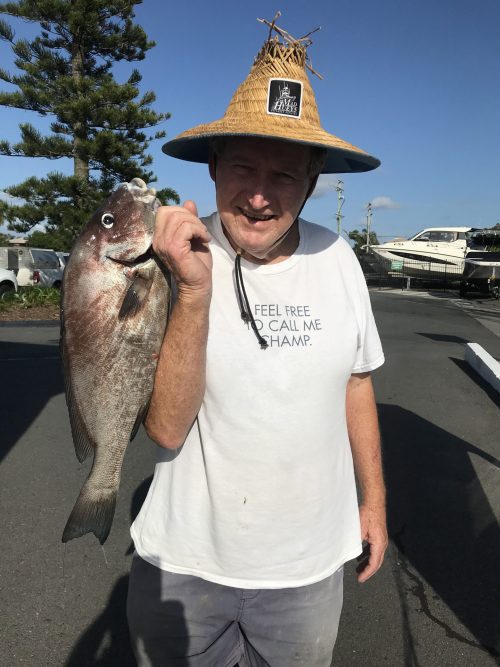 When the wind and swell finally drops next week, hitting the close reefs will be worth the effort with some great catches of spanish mackerel being landed earlier in the week during one of very few good weather windows we have had on the Gold Coast. Some good spots to try are Palm Beach Reef, Gravel Patch, Local Bait Reef, the 18-fathom and 24-fathom reefs are all holding good bait schools, which in turn attracts predators. The best way to cover ground is by trolling a combination of deep and shallow-diving bib lures or skirted metal head or resin head lures, until you can find fish in the area. Slow trolling well-rigged dead bait such as tailor and bonito or live bait of yakkas or slimy mackerel. Gold Coast
Brad from Brad Smith Fishing Charters reports it was once again a fun week on the Tweed River with big numbers of fish and a variety of species smashing our lures. The bulk of the fish taking lures were bream, in fact they were that thick in places we had to move positions to get away from them to find other species. Other species we caught this week were flathead, whiting, grunter, giant trevally and school jew. The best performing lures this week were Pontoon 21 Crackjacks and Samaki Vibelicious. Gold Coast
Clint from Brad Smith Fishing Charters on the Gold Coast reports similar to Smithy at Tweed that there were fish everywhere in the Broadwater. It's hard to not catch fish at the moment with yabbies, Samaki Vibelicious, Ecogear ZX40s and Ecogear Marukyu Isome worms. The channels have been fishing very well in depths of 5-7m for sand whiting, winter whiting, school flathead, flounder, squire, mud crabs, sand crabs and the usual tarwhine and bream. I will be doing plenty of trips walking the flats over the next few months, casting lures for flathead, whiting and bream. Hard-bodies such as Daiwa Double Clutch, Pontoon 21 Crackjacks, Pro Lure ST 72 and soft plastics provide great fun, and we'll also have a go for monster flathead using MMD Whiting Glides, John Costello's Soft Glides and Samaki Boombait Shads. It's such a fun visual relaxing way to fish, seeing a flathead chase down lures in shallow water. The last few trips I have done have resulted in 15-25 fish of various sizes.
Gavin from Sea Probe Fishing Charters reports plenty of dolphinfish are still on all fish aggregating devices, with pilchard doing the trick, and snapper, pearl perch and the occasional yellowtail kingfish on the 50s and 36s, also some spanish are still getting taken on the Diamond and Q1 reefs.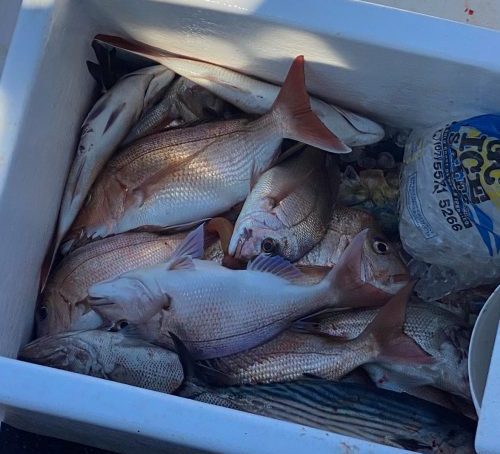 If you have any great catches or photos you would like to share, please email us and let us know how you went, brett@coomerahouseboats.com.au or brett@fishotackle.com.au
Stay up to date with all fishing regulations in Queensland https://www.daf.qld.gov.au/business-priorities/fisheries
Fisho Tackle and Coomera Houseboat Holidays now have Hire Tinnies follow the link to view http://www.coomerahouseboats.com.au/our-fleet-type/hire-tinnies/
Seabreeze is a great website to access a local forecast http://www.seabreeze.com.au/graphs/
Click here for more Gold Coast fishing reports!!
Good luck with the fishing.
Brett