Swell time – Well as the name suggests the swell arrived all along the east coast this holiday making offshore a no go for most boat owners. For the surfers the national park has been on fire with a consistent NE swell hitting the points. There have been a few opportunities for experienced skippers in bigger boats earlier in the week and the fishing has been varied. Fishing Noosa
Sunshine reef has been popular with both spotted and Spanish mackerel. These fishing taking floated baits and trolled lures like the Nomad DTX in sardine colour. When trolling using 40-60lb fluorocarbon leader is all you need as mackerel don't head for the reef. Dropping down to even 30lb when slow trolling whole bonito or garfish as going lighter really does get the bite.
From the reef there has been a continued run of coral trout with some getting around 70+cm. These fish are one of the best table fish going but hey are also one of the hardest fighting. Using 60lb leaders and 30-50lb braids allows you to lock up and drag the fish away from the reef. Our old friends, the taxmen are also big lovers of trout so go hard until you have them in the boat.
For those that don't like to gaff reef fish, a suitable landing net is a must. The Berkley snapper catch and release is a personal favorite of many local anglers. With its rubber mesh providing a soft surface to fish intended for release. This mesh does not smell and is quickly washed after use.
Surf fishing has had mixed results and the consistent swell has dug out some big holes and gutters all along the coast. The usual dart and bream are in good numbers for the light tackle anglers. For the heavier tackle anglers there are smaller jewfish to be found at night time on live and bigger dead baits of squid and mullet. When using baits, you will also find shovel nose rays and sharks but you will find the fish eventually if you persevere.
River fishing has been showing signs of change with golden trevally and queenfish showing up. This is the time of year we see queenies ahead of tailor so you can expect to see them maybe next week after the big full moon tides. Both queenfish and tailor love surface lures and are responsible for big surface eats and spectacular surface displays. Look at the zip baits skinny pop and keep this moving with a high rod tip and quick short, sharp pops.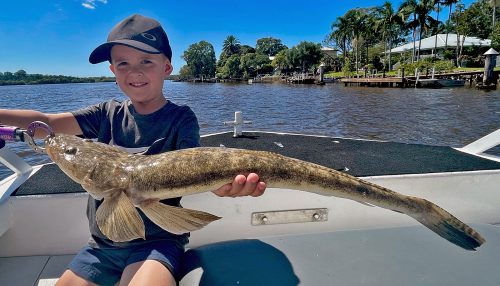 Bait anglers will do well with unweighted whitebait a=on small gang hooks. Many anglers feel the need for wire trace when dealing with tailor but you would be best to keep a pack of pre-made traces to one side to see how aggressive the fish are. If looking for a fine wire gang hook swe have 1/0-3/0 which are best for presentation so be sure to ask for them when next in.
Flathead continue to be found around the mouth and the sand bags of the dog beach. Much like tailor they love whitebait and even prawns on light running sinker rigs. For all these fish you can run 12-14lb leaders with FC Rock leader he perfect choice.
With the weather cooling down in the evenings it won't be too long until we start to see huge bream coming down the river to school up. These fish can reach 40cm and over and should be returned as they are over 30 years old and the dominant breeding fish. If you want to try bream fishing try flicking super light curl tail soft plastics around the pontoons and jetties on 4-6lb lines for some great fishing action.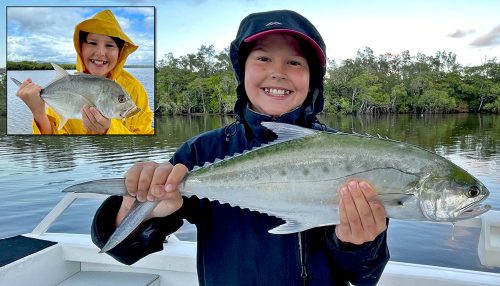 Now for all the latest information log onto www.fishingnoosa.com.au for up-to-date bar and fishing reports, don't forget to drop into Tackle World Noosa, Noosa Boating and Outdoors and Northshore Bait & Tackle in Marcoola for all the right equipment, bait and advice to get you catching. Be sure to follow us on Facebook and remember Tight Lines and Bent Spines!